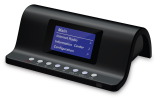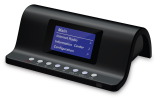 Internet Radio Adaptor 2001
Member Details
Shenzhen,Guangdong,China,Asia
Manufacture, Trade, Service
Chinese Supplier

Free Member
Product Details
Company Profile
Product Description
Product Description

Specifications
1. LCD display: 128 x 64 DOT Matrix
2. Power Input: 100-240V, 50/60KHz
3. Frequency Response: 60Hz-20KHz

System Data
1. Network Interfaces: 802.11 b/g wireless
2. Newwork Security: WEP, WPA, WPA2
3. Supported Bit Depth: 8-bit, 16-bit, stereo or mono
4. Supported Audio Formats: RM, MP3, WMA
5. Internet Radio Services: Mediau
6. Support RCA Connectors Line out
7. Built-in 10/100M Ethernet interface

Features
1. 10 Favorite stations preset
2. Receive the worldwide radios
3. Alarm Clock function with Snooze
4. External audio input (Aux in, USB, SD card)
5. Streaming music directly from your PC
6. Support multilateral languages (14 nations)
7. Auto upgrade software by firmware
8. Full function remote control.
Send your message to this member
From*

toMs. Christy Lan
Message*