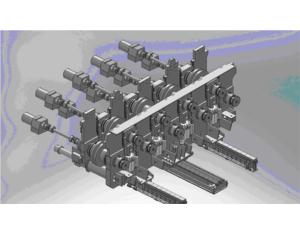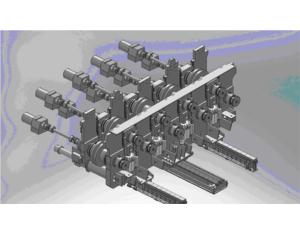 Structure Steel Leveler
CCCME Member
Product Details

Company Profile
Application
This equipment used for leveling the strip after cooling bed.
2. Reference
3. Technical Requirement
3.1. Main drive: main drive is lower roller is driven by one motor with union reducer; upper roll first roll single drive, other upper roll are passive roll.
3.2. Housing: housing is casting, front and back do not depart, simple structure with high strength, good stiffness. The housing support 7 leveling roller, there installed with three sets of screw down on the housing top.
3.3. Upper lower roll: upper and lower roll are moving part and working part for the mill, the end connect with universal shaft. The front end installed with hole pattern on the roller bushing to leveling. In the middle, there is rolling bearing support. In order to satisfy different specification steel height, upper and lower roll center distance can be adjusted, that is upper roll chocks is connected with screw down, can be moved up and down along the housing sliding groove. Lower roll fixed. At the same time, upper and lower roll all with axial adjustment device, the device realize axial adjustment through driving the back end worm and gear, thread in the worm link the pushing ring to push the roller bearing.
Considering to save the time of changing the roller ring, so the roller bushing is not fit directly with the roller, but installed in the taper sleeve, the sleeve fit with the roller front surface. When changing the roller, just need take out the sleeve and change the prepared sleeve.
3.4. Screw down device: the function of the screw down is to adjust up and down for upper roll shaft. In order to ensure the front and back end synchronized moving, so when the motor two ends shaft extend link left and right screw rod rotate. The weight of the upper roll is bear by screw down front and back screw rod, and the power is downward, when the leveler is working, leveling force make the upward pressure for front rod opposite with the weight downward power, so if before the strip enter into the leveler, the clearance between front nut and rod is not released ahead of time, then the screw will have strong force of impact when leveling, and effect the mill running. So the front screw rod must installed with balance device.
3.5. Vertical roller: vertical roll and housing are separately parts. Each pair on both input and output end, the vertical roll function is to guiding the material and prevent side bending of the strip.
4. Specification
housing structure: cantilever design
roller distance : 1200mm
roller diameter: 900mm
roller number: 9
leveling speed: 0~6 m/s
DC motor power: 160KW
motor rotate speed: 750r/min
screw down speed: 30mm/min
screw down stroke: 200mm
vertical roll diameter: 500mm
vertical roll moving speed: 4.3mm/s
screw down and vertical roll moving motor: 2.2KW
Send Inquiry to This Supplier
Title

From*

toyang bixia
Message*