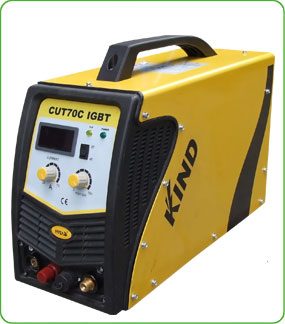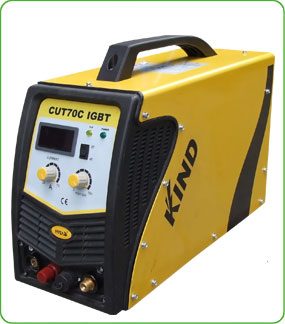 Air Plasma Cutting Machines Cut-50C/70C(single tube IGBT)
Chinese Supplier

CCCME Member
Product Details
Company Profile
| | |
| --- | --- |
| Items | CUT-70C |
| Input Power Voltage(V,HZ) | 380±20%V 50/60 Hz |
| Rated Input Power Capacity(KVA) | 9.5 |
| No-load voltage(V) | 280 |
| Output Current Adjustment Range(A) | 20-70 |
| Output Voltage Adjustment Range(V) | 108 |
| Duty Cycle(%) | 60 |
| No-load Consumption(W) | 30 |
| Efficiency(%) | >85 |
| Power Factor(COSΦ) | >0.93 |
| Arc Startig | No Contact |
| Arc Starting Current(A) | 5.5 |
| Suggestion on air compressor capacity(m3/min) | 0.25 |
| Weight(Kg) | 21 |
| Measurement(mm) | 550×210×340 |
| Insulation Class | F |
| Protection Class | IP21S |
| Max Cutting Thickness(mm) | 25 |
Air Plasma Cutting Machines Cut-50C/70C(single tube IGBT)
Cutting Manner:Can cut with ordinary compressed air
Scope of Application:widely applied to many fields, such as Petroleum Industry,Chemical Industry,Power Supply,Metallurgy,Shipbuilding,Boilers,Pressured Vessels,Pipes,Vehicles and Aerospace,etc.
Applicable Materials:mainly used to cutting Carbon Steel, Alloy Steel, Stainless Steel, Cast Iron, Aluminum, Copper as well as each metel plate, etc.
Precise Controll System:
Adopted advanced full-bridge inverter technology with single tube IGBT.
Adopted reliable PWM control technology on control circuit to ensure constant ?output current , stable cutting current, precise control and excellent performance.
Advanced Inverter Technology
Small size,light weight,portable and cost-effective
Voltage-pressure compensation makes strong capacity of anti-power fluctuation.
High duty cycle ensure working continually.
Three defenses ?(anti-dust, anti-moisture ,anti-corrosion) function to the internal structure greatly improved the machines working reliability under the harsh environments.
Excellent Cutting Performance:
Smooth cutting edge and high cutting precision
IGBT control in pilot arc and electronic switch for HF maintain the stable arc.
Adopted non contact arc starting , superior performance in instant arc? and strong arc operation can cut the unsettled, rusted and painted metal easily.
Environmental friendly,more effective and efficient than flame cutting machine.
Perfect Protection System: Automatic protection on under-voltage, over-current,over-heating, ensure the welding machine's working safety, durability and reliability
Perfect and User-friendly Design
New designed plastic panel looks more elegant and also greatly improved the protection class.
Digital disply makes the related data clear and intuitive, high precision in regulating control.

Send your message to this member