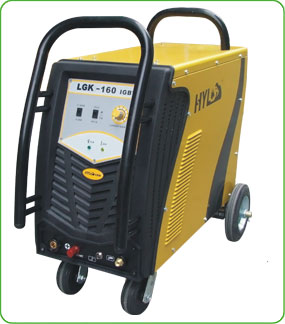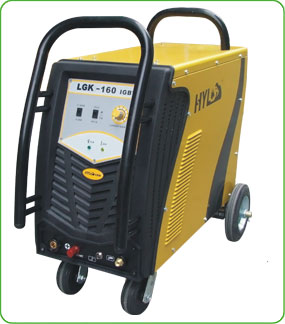 Inverter IGBT AIR Plasma Cutting Machine LGK160(module IGBT)
Chinese Supplier

CCCME Member
Product Details
Company Profile
| | |
| --- | --- |
| Items | LGK160 |
| Input Power Voltage(V,HZ) | 380V±10% 50/60Hz |
| Rated Input Power Capacity(KVA) | 15 |
| No-load Voltage(V) | 350 |
| Output Current Adjustment Range(A) | 30-160 |
| Output Voltage Adjustment Range(V) | 144 |
| Duty Cycle(%) | 60 |
| No-load Consumption(W) | 100 |
| Efficiency(%) | 85 |
| Power Factor(COSΦ) | 0.93 |
| Arc Startig | No contact |
| Suggestion on Air Compressor Capacity(m3/min) | 0.36 |
| Weight(Kg) | 55 |
| Measurement(mm) | 650×330×620 |
| Insulation Class | F |
| Protection Class | IP21S |
| Max Cutting Thickness(mm) | 35 |
Inverter IGBT AIR Plasma Cutting Machine LGK160(module IGBT)
Cutting Manner : Can cut with ordinary compressed air
Scope of Application: widely applied to many industries such as Petroleum, chemical Industry, Power Supply, Metallurgy, Shipbuilding, Boilers, Pressured Vessels ,Pipes, Vehicles and Aerospace, etc.
Applicable Materials: :mainly used to cutting Carbon Steel, Alloy Steel, Stainless Steel, Cast Iron, Aluminum, Copper etc.
Advanced Inverter Technology
Welding current adopted full bridge inverter technology with dual IGBT and soft switch to ensure the highly stable welding current in fluctuated input voltage and variated length of arc, strong capacity in self-adjustment of plasma arc.
It is portable with small size and light weight
High efficiency and high power factor, It is a kind of high efficiency and energy saving equipment.
High duty cycle ensure the continuous working in long time.
Precise Control System: Pulse Width Modulator(PWN) controller with closed-loop control system ensure the machines' working stability.
Excellent Cutting Performance:
Smooth cutting edge and high cutting precision;
stable output and small cutting tension and deformation
Adopted non-contact arc starting , superior performance in instant and strong arc start , can cut the unsettled, rusted and painted metal easily.
Environmental friendly, more effective and efficient than flame cutting machine.
Integrity Protection System:
Perfect Protection System: Automatic Protection on under-voltage, over-current, over-heating, over-loading, phase lack and gas lack ensure the welding machine's working safety, durability and reliability
EMC electromagnetic compatibility function with powerful grid filtering ability reduced power supply contamination, and internal circuits and components are well-protected by excellent anti-interference design , which secured the machines' stability and reliability.
perfect user friendly design,Auto-locked and non-auto-locked function, alleviate welders' working intensity.
Send your message to this member