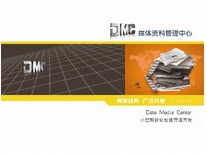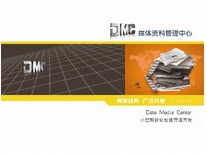 DMC Media Management System
Member Details
Beijing,China,Asia
Chinese Supplier

Free Member
Product Details
Company Profile
Production network and the perfect combination of media asset management: Use the characteristics of different industries, can form up to eight units have editing equipment production network card, the perfect combination of media assets, use of the system.
The use of object storage: The system stored data is stored using a custom object is no longer restricted to a particular type can be video and audio data, image data, animation data, documentation (TXT / DOC / PPT / XLS / PDF, etc.) , courseware and other types of information can also be custom object classes; storage object group can contain multiple different types of data types, users can easily store the combination of various types of information needs, full use of system resources.
Real-time browsing a variety of objects (which can refer to directly in the catalog, search interface, real-time browsing various objects, including video and audio information, images, data, animation data, documentation (TXT / DOC / PPT / XLS / PDF, etc.) to ensure that the user catalog , download the contents identified.
Simple: The system software uses the B / S architecture, deployment is simple, save the tedious installation process; easy operation.
System safety and reliability: for different operational and technical users the ability to maintain the characteristics vary greatly reduces the complexity of post-use and maintenance of, and essentially maintenance-free.
Storage expansion easy: the need to increase storage space can be easily resolved by increasing the storage module. For users who need mass storage tape library can be used to increase the number of flow solutions and the corresponding software modules.
Send your message to this member
From*

toTIAN JING
Message*
Specialized Industries
Software

Software

Labor Cooperation

Software

Software

Labour service co-operation(Human Resource support)