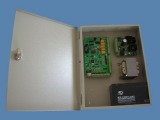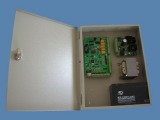 Access System (DCU2000-64)
Member Details
Zhejiang,China,Asia
Manufacture, Trade, Service, Organization
Chinese Supplier

Free Member
Product Details
Company Profile
64 Doors Access Controller with TCP/IP--Hengtong DCU2000-64.

1. Wiegand card-readers and fingerprint scanner supported;
2. Main controller can control 2 unilateral doors, 1 bidirectional door or 2 interlocking doors for preventing tailer;
3. Controller support expansion function, add controller's amount via connection control module; Every controller can connect 62 control modules at most, and every module control one door (just as lock, magnetic contact, fingerprint scanner or card-reader etc. ), every controller can control 64 doors at most;

4. RS485 and TCP/IP interface offered; Management center can connect 16 controllers via RS485, and connection controller's amount is not limit via TCP/IP;
5. Controller can set freewill 2 doors to realize the function of preventing tailing and interlocking, single controller just can realize 32 double doors;
6.15 schedules can be set with week days, 4 intervals for everyday, 2 special schedules, and 200 holiday's control;

7. The setting of door opened all along: Closed when time out, and closed in holiday;
8. Pass group setting: Preset pass project for convenient management;
9. Grouping open setting: Some period of time for special occasion that several cardholder must swipe cards at the same time, then the door just can be opened;

10. Alarm when the door opened overtime, abnormal open and error swiping card five times; Alarm and exit the system when inputting the error login password three time;
11. Remote control: Management center will remotely control some doors or all doors opened or closed in emergency;
12. Offer the interface for fire alarm, open preset door;

13. Offer alarm output interfaces, can linkage light, annunciator and record equipment;
14. Surveillant center surveilles the work status of every door at any moment;
15. Small exterior of control module can enclose in standard 86X86mm case;
16. Can save 10000 pieces of user data;

17. Can save 20000 pieces of record and data (just as in and out, alarm and reset).
18. Offer the OEM, ODM and SDK.
Send your message to this member
From*

toMs. Joan
Message*
Specialized Industries
Software

Software

Software

Drainage works of Yinhe Holiday Villa

Pain Treatment Management

Software