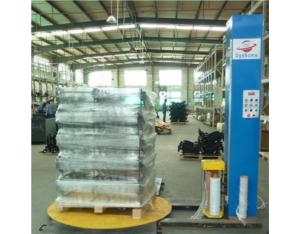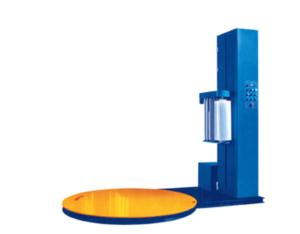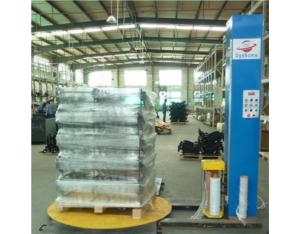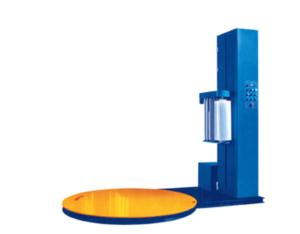 Pre-stretch wrap packing machine
Product Details

Company Profile
Automatic Pre-stretch wrap packing machine are used to wrap stretch film around a loaded pallet PLC control 0-12rpm variable turntable speed by frequency changer Turntable 1650mm Diameter Structural steel plate 85mm Height floor to top of turntable
Pre-stretch wrap packing machine
TP1650F-L pre-stretch wrapping machines are used to wrap stretch film around a loaded pallet. Film provides extra support while the products are being transported & storaged to protect them from tip, spill or from being damaged. Additionally, wrapped loads can easily be separated and identified. Stretch pallet wrapper is widely used in chemical industry electronic industry building materials home appliances papermaking foodstuff & drink etc.
Technical parameters
Packing Height: 2000mm
Turntable Diameter: 1650mm, Height: 85mm
Packing efficency 20-40loads/hour
Turntable speed 0-12rpm
Turntable loading(max) 2000kg
Film carriage system: Pre-stretch
Up-down frame Heavy duty double-chain carriage lift, calm and safty
Control system PLC controller
Machine weight 700kg
Machine dimension 2545mm*1650mm*2270mm
Power/voltage 0.75kw, AC220V/0.75kw
Machine Specifications could be met.
Control System
PLC control
Photo-eye auto-height sensing pallet height
Separate top, bottom & up-down Wrap Counter options
Overwrap time is up to create an overwrap
Reinforce wrap times is set to better secure 2 loads placed on top of each other
Film Tension Control adjustment on the panel
Separate start, pause and emergency stop buttons
Power indicator
Manual carriage up/down
Variable Turntable Speed
Carriage up/down speed control
Manual/automatic exchangeable
Turntable
1650mm Diameter Structural steel plate
85mm Height floor to top of turntable
Turntable drive
0-12rpm variable turntable speed by frequency changer
Position turntable alignment.
Soft start
Film carriage
Powered pre-stretch system up to 250% to min film consumption
Carriage door opens for effortless roll change and thread film
Film delivery variable speed by separate DC Drive Motor
Electronic film tension control adjustment on panel
Film dancer-bar with variable speed output
Film carriage Drive
Heavy duty double-chain carriage lift, calm and safety
Film carriage variable speed by frequency changer
Main components and electrical performance characteristics of the major components
PLC OMRAN
Inverters(0.4, 0.75) OMRAN
Relay OMRAN
Photoelectric switches OMRAN
Proximity Switches OMRAN
ATTENTION: Configuration changes can be requested.
Wrapping size(L*W)

(500-1200)mm*(500-1200)mm

Packing height

L type: (500-2000)mm

H type: (500-2400)mm

Y type: (500-higher than 2400)mm

Packing efficiency

20-40 loads/hour

Turntable speed

0-12rpm

Turntable diameter

Diameter: 1650mm height: 85mm

Turntable loading(max)

2000kg

Up-down frame

Double-chain, Up-down speed variable

Film carriage

Pre-stretch

Control system

PLC

Machine weight(max)

700kg

Machine size

2650mm*1650mm*2400mm

Packing size

2650mm*165