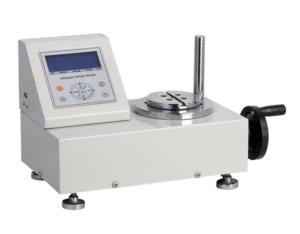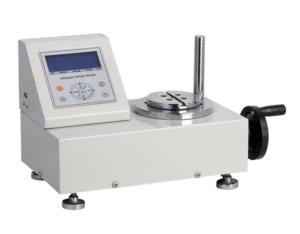 Digital Torsion Spring Tester
Product Details

Company Profile
l Specifications
1. Angle Resolution: 0.1°
2. Torque dish diameter: 100mm
3. The tested spring height: <80mm
4. Torsional horn maximum read values: 9999.9°

l Main features

1. High precision, high resolution, quick sampling speed and large screen show
2. Adopting high precision torque sensor, with torque direction show. High precision revolving encoder, arbitrary Angle measurement.
3. Can be installed freely upper and lower limit torque values and maximum, minimum rotation angle value, when beyond the scope of setting value, the words flashing and buzzer alarming.
4. Three kinds of parameters show (Torque value, Rotating angle, Spring stiffness)
5. Three units can be switched (N·m, kgf·cm, Ib·in)
6. Realtime, peak, automatic peak three types can be switched.
7. Using the USB interface and PC communications, synchronous test function can be connect to computer test. Computer synchronous displayed test torque and angle torque, time angle and time graph as well as detailed record of measurement parameters in the testing. It can save, print, doing all sorts of analysis.
8. Peak holding,remove automatically function, remove free time setting.
9. Large storage, Can save 99 groups test data.

10. Without operation automatic shutdown function, time can be set free.

Send Inquiry to This Supplier
Title

From*

toCOCO Zhang
Message*