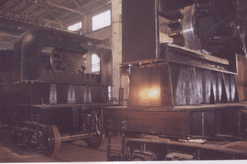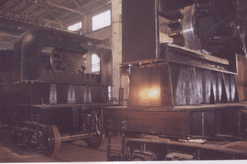 Motor-driving Tilting Slag Pot Car
Corporation/Limited Liability Company
Chinese Supplier

Free Member
Product Details
Company Profile
Motor-driving Tilting Slag Pot Car: It is a special vehicle used for transporting blast furnace slag. The car has the function of motor-driving tilting.
24M3 motor-driving tilting slag pot car is one of the large capacity electric metallurgical cars developed by our company. The use of this car has further optimized the layout of the tapping field of blast furnace and is conducive to realize the mechanization of blast furnace. It has decreased the slag amount, shorted the iron slag ditch length and reduced the iron slag ditch cleaning effort. At the same time, the security vulnerability has been eliminated and the overall performance is improved.
The car has gotten the patent of: "large capacity motor-driving tilting slag pot car". (Patent number: ZL201020546633), and has obtained the "utility model patent certificate" (Certificate number: 1797287).
Ivy Xu

Qinhuangdao Yutian Science and Technology Co., Ltd.

Tel: 0086-335-8015998
Send your message to this member