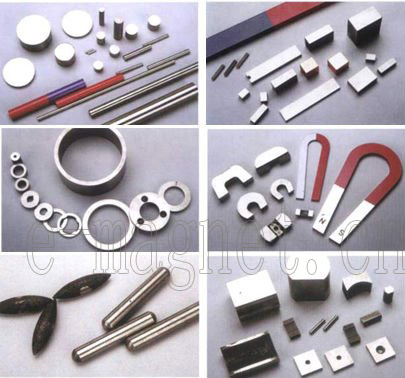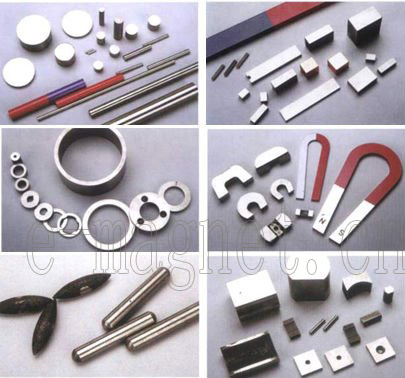 Cast Alnico Magnet
FOB Price:

1 0.02-3.00

Supply Ability:

20000 per Day

Payment Terms:

,L/C,T/T,
Corporation/Limited Liability Company
Chinese Supplier

Free Member
Product Details
Company Profile
Cast Alnico Magnet
General Description

Permanent cast alnico magnet is a kind of alloy magnets made from Al, Ni, Co, Fe and other trace metal elements and may be produced through either sintering or casting process. The product has remarkable resistance against corrosion and high tempperature, and is mainly used in certain precision instruments.
Characters:
1, Compact crystal, high intensity, good chemistry Stability, strong anti-corrosion.
2, Even elements, excellent and stable magnetic performance;
3, Excellent temperature stability (temp. coefficient of Br is the smallest among all of the other permanent magnets. )
4, Highest usage temperature reach 500 centigrade.
5, Suitable for small volume and complex shape and magnet assemble for sintered Alnico.
Specification:
Grade

Br

Hc

(BH)max

Curie Temp

Temp.Coe

US standard

IEC standard

[mT]
[Gs]

[KA/m]
[Oe]

[KJ/m3]
[MGOe]

[oC]

[%/oC]

MMPA
Equivalent

IEC
Equivalent

LN10

650
6500

42
530

10.0
1.20

810

0.030

Alnico 3

Alnico 9/3

LNG11

720
7200

37
480

11.2
1.40

810

0.030

Alnico 1

Alnico 8/4

LNG13

700
7000

50
620

13.0
1.60

810

0.030

Alnico 2

Alnico 12/6

LNGT18

580
5800

90
1130

18.0

860

0.025

[I.Alnico 8]

Alnico 17/9

LNG16

800
8000

53
660

16.0
2.00

850

0.025

[Alnico 4]

/

LNG34

1180
11800

44
550

35.0
4.30

860

Send your message to this member

From*

toYingjun Liu
Message*

Specialized Industries

Ferrite Magnet Block

Magnetic Material

Magnets

NdFeB Magnet

Ferrite Magnet

NdFeB Magnet (stick)