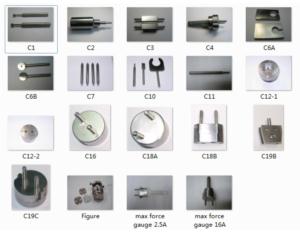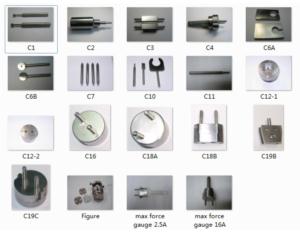 NFC 61314 French standard plugs and socket gauge
Product Details

Company Profile
NFC 61314 French standard plugs and socket gauge
1.Application:
LCX offers a wide range of gauge to meet the most common standards including those from IEC,EN,UL,GB,DIN,VDE and other similar international standards.Such standards require the checking of size & definition etc,these gauges are constructed from senior stainless steel and appropriate steel with a hardness of at least 60HRC and a roughness according to standard require.

Brithsh Standards Test Gauge is strictly designed and manufactured according to

the relevant standard requirements of NFC 61314

.

This plug and socket test gauge is mainly used to test and inspect whether the structure and size of plugs and sockets conform to NFC61314 standards. And the mainly

application industries is electronics, electrical appliances, plugs and sockets and other similar areas.
2.Features:
Gauge dimensions, tolerances, material, hardness, surface roughness conform to the standards requirements;

Surface corrosion and abrasion resistance can resist normal contact corrosion and not embroidered patch (the operator hand may exist in the sweat, the corrosion effect equivalent to NACL salt solution or NH4CL salt solution corrosion);

Material hardness is more than 60HRC;

Material thermal expansion coefficient is small,dimensions and tolerances is stable and reliable
3.Quantity:
NFC613-14/C1

Gauge for checking impossibility of single-pole insertion of plugs (6A/16A)

NFC613-14/C2

Gauges for size of entry holes for plug pins (5.3mm/5.8mm)

NFC613-14/C3A.B.C

Gauges for distance to point of first contact ( 5.75/5.0/5.25mm, 6A; 5.45/5.60/5.75mm, 16A)

NFC613-14/C4A.B.C

Gauges for minimum opening contact tubes

(3.94mm, 300/150g; 3.80mm, 400/200g; 4.60mm, 400/200g)

NFC613-14/C5

Gauge for acceptance of two-pole plugs (6A/16A)

NFC613-14/C6

Gauge for maximum opening of contact tubes(16A)

Free Member

0

Chinese Supplier

Location:Shenzhen,Guangdong,China
Business Type:Corporation/Limited Liability Company
Main Products:Spring impactor ,Ball Pressure Test Device,Test directly finger ,Test Probe ,UL testing means ,Standard test finger pin and stick ,Stability tester

      Shenzhen chuangxin Equipment Co.,LTD. is a supplier of high Quality testing equipment which is not generally available on the market. Our business is the designing, development, and manufacturing of special test equipment with reference to IEC, CEE, EN, DIN,…standards. Such as IEC60061, IEC60884, IEC61032 …
 

Our company is professionally engaged in the design, development, manufacture and distribution of following products: GAUGES AND TEST PROBES, IP probes, Fingers and pins, Gauges for Appliance Couplers, Gauge for caps and other test equipment.With strong technical resources, strict management systems and perfect production quality guarantee systems, our company provides guarantee for our customers with comprehensive quality and service. We will adhere to the persistent policy: offering thoughtful services with added value for our customers, bringing us benefits, increasing the value of your brand products.

Contact US:
Email: szcx17@163.com

MSN: whq5658@163.com

More+

Send Inquiry to This Supplier

Title

From*

tohong
Message*