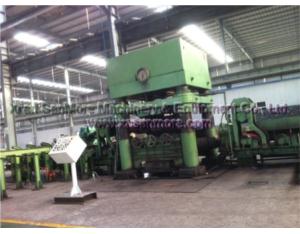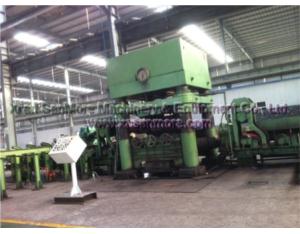 SMV2 High-precision Straightening Machine
Product Details

Company Profile
This device is a two-roll vertical straightening machine, mainly comprised of straightening machine and feeder system, and equipped with the corresponding electric control, hydraulic, pneumatic and lubricative devices.
Main characteristics:
1. Adopt convex-concave roll, and the rolling curve is comprised of straightening, tumbling and transition sections, with both straightening and tumbling roles. As a line-contact device, it can achieve full-range straightening and tumbling.
2. Adopt double rolls pressing/straightening principle with constant-pressure load control, turn rigid frame into flexible one, and ensure required pressure on straightening and tumbling of bars. What's more, it can reduce head-tail necking phenomenon and protect mechanical equipments.
3. Adopt electric adjustment and digital display for roll clearance, characterized by high sensitivity and reliability, and convenient operation and maintenance.
4. The hydraulic system, equipped with hydraulic station, adopts ram pump as power source. The overload unloading adopts direct-acting overflow valve, which may maintain the pressure and buffer.
5. The feeder system adopts anti-scratching protective measures, and elevating charging basket adopts plate-dragging organ, which may arrange the materials regularly and also reduce the impacts and noises.
SMV2 Series Two-Roll Bar/Tube/Section/Wire/Plate Straightening Machine (Straigthener)
Specifications: SMV2 Series
Bar diameter (mm): 3-15/8-40/12-60/15-80/30-100/50-150/80-200/130-250;
Yield strength (N/mm2):
not more than 1100/1100/1100/1100/1100/1100/1100/1100;
Original curvature (mm/m): not more than 4/4/4/4/4/4/4/4;
Surface roughness (Ra):
not more than 3.2/3.2/3.2/3.2/3.2/3.2/3.2/3.2;
Straightening precision
(mm/m): not more than 0.3/0.3/0.3/0.3/0.3/0.3/0.3/0.3;
Roughness after tumbling (Ra):
not more than 0.4//0.4/0.4/0.4/0.4/0.4/0.4/0.4;
Straightening speed (m/min): 5-30/5-30/5-30/5-30/5-30/5-20/5-20/5-20;
Main motor power (KW): 15*2/37*2/55*2/75*2/110*2/180*2/400*2/480*2.
Note: Due to restrictions on parameter table on this B2B platform, so we cannot provide clear parameter table. But if you want to know more about our products, please contact us at any time!