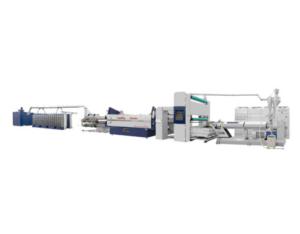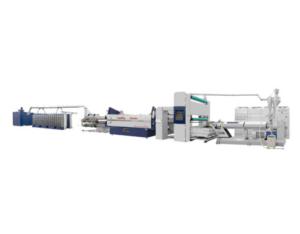 PLASTIC TAPE EXTRUSION STRETCHING LINE
CCCME Member
Product Details

Company Profile
SJPL-Z Plastic tape extrusion stretching line is specially designed for PP and HDPE with high quality and excellent performance.
Perfect tape quality lowest consumption best economic benefit
Available:Woven sack chemical bag foods bag cement bag leno bag jumbo bag geo-textile tarpaulin carpet backing tape artificial grass tape
High Precise T-Die
Simulating extrusion and one-off process molding by CNC guarantee the tape quality.
Intelligentized Control System
The function of data saving, fault alarm can be controlled by touch screen with simple operation.
Haul-Off System
Special design stable flow device and water remove system create the condition for high speed production.
High Speed Winder
By inverter controlled stable tension winding units, the bobbin is formed with equal tension and smooth surface. Speed can be reached 550m/min.

MAIN TECHNICAL PARAMETERS:
Model

SJPL-Z90×33-1000×10

SJPL-Z110×33-1500×10

Max. extrusion volume

280kg/h

450kg/h

Extruder motor power

90kw

110kw

Screw diameter

90mm

110mm

Die lip length

1000mm

1500mm

Max. production speed

280m/min

280m/min

Number of winder

176 spindles

240 spindles

Overall dimensions (L×W×H)

32000×3700×3000mm

35000×3900×3600mm

* Related with the melt pump

**Related with the fiberness of raw material and finished products
Standard Equipment

Optional Device

Granulate loader
Extruder
Automatic filter changer
Holding unit
Water quench
Film haul-off
Slitting unit
Hot air oven
Standard stretching section
Protective cover for stretching section
Lonisation bar
Edge trim recycling
Winder

Other extruders
Multiple component dosing unit
Melt pump system
Equipment for processing HDPE
Extended hot air oven
Chilling godet system
Stretching section with additional godets
Oil heated annealing godets
Film thickness detecting system
Fibrillator
Winder Monitoring system
Automatically controlled flat die
Three-folding device
Water chiller
Cooling tower
Specification and dimensions are subject to change without prior notice.
We always adhere to the designing idea of high quality,high efficiency & low consumption,and protect the environment and promote sustained development.
Send Inquiry to This Supplier