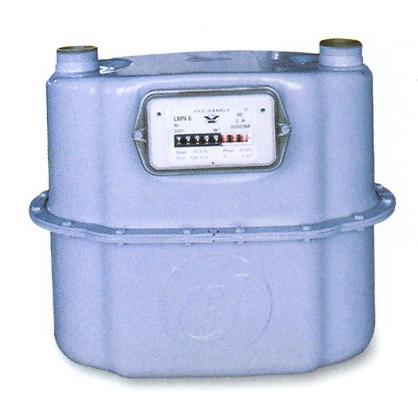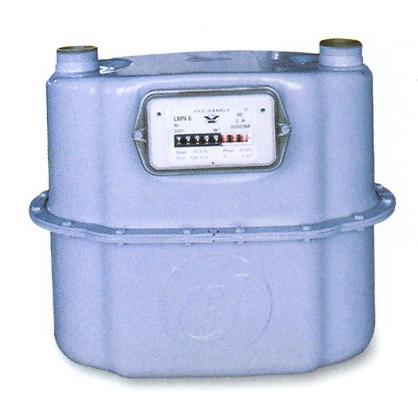 LMN series gas meter-N Series
Member Details
Shenyang,Liaoning,China,Asia
Corporation/Limited Liability Company
Chinese Supplier

CCCME Member
Product Details
Company Profile
LMN series gas meter is big flow-rate gas meter, it is suitable for industry and business, and it combines assemble gas meter produced according to requirement for market in the state. The gas meter includes seven types such as LMN-6、LMN-10、LMN-16、LMN-25、LMN-40、LMN-65、LMN-100,all these products adopt left-side inlet. The series gas meter is volume diaphragm gas meter, it is suitable for measuring the flow rates of liquefied petroleum gas ,natural gas and town gas, it accords with GB/T6968-1997《Diaphragm Structure Gas Meter》B level standard which equal to OIML.R31(1995) standard.

Main technical property
A. Seal Pressure: There is no leakage when the gas meter was inflated pressurized 30kPa at general situation
B. Durability: Gas meters run 2000 hours according to Qmax as flow-rate checking, the test might be discontinuity, but it should be completed within 100 days, after the test of durability, the gas meters should accord with the following requirements:
(1) After the test of durability, the maximum permissible error is: Qmin≤Q≤0.1Qmax —6%~+3% 0.1Qmax≤Q≤Qmax ±2.5%
2) Among the range from 0.1Qmax to Qmax, the difference between the maximum and minimum value of the maximum permissible error is not permitted over than 3%.
3) Among the range from 0.1Qmax to Qmax, permissible error value on different test points are not permitted over than 1%.

Products Structure
LMN-6、10、16、25、40、65、100 types meter is assemble gas meter produced accord with the requirement of market in the state. The material of slide valve and slide valve set adopt special material bakelite to replace the normal M5802 bakelite, the product is more stable and reliable in the features of seal, repetition and durability. The product consists of three parts :outer casing, measuring unit and counter set, the outer casing is made of good quality of stretched cold rolled steel sheet to guarantee reliable seal for gas meter, the casing of gas meter is connected by activity bold structure to guarantee reliable seal, at the same time ,it provide convenient conditions for repair after sales.

Technical Features
A. The products adopt resistance welding and hydraulic pressure rivet to improve connected intensity and guarantee seal reliability.
B. The outer casing adopts electrophoresis coating technology to improve its antisepsis and service life.
C. Choosing the special plastic to replace metal material to save number of parts and improve its antisepsis and durability.
D. LMN-25、40、65、100 gas meters adopt test of computer controlling to avoid man-made permissible error caused by high flow-rate and low differentiate rate and to guarantee veracity of test result.

Material
A. Adopts aluminum alloy to make allot air room ,and guarantee the stability of slide valve set and to keep air being allotted stable and reliable.
B. LMN-6、10、16 Slide valve and slide valve set adopt bakelite which the company participated in the research of the material.
C. Rubber diaphragm is made of special rubber material, after its features of durability and antisepsis and plasticity has been checked ,it can be permitted to be produced and thus to guarantee the service life of the gas meter.

Wide range for adaptability of gas
On account of various kind of gas in our country and great difference between impurity content of gas. Harmful impurity in some area exceeds standard of the state .The gas meter has great drive power and strong anti-bur, and high adaptive Ability for gas. In order to guarantee its stability and security, special technology and structure ,material have been applied to make the product more reliable than others in the field of security and service life. Our aim is "Quality first, Customer first", we are pleased to provide the top class products and service to customers.
Send your message to this member