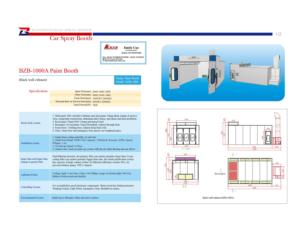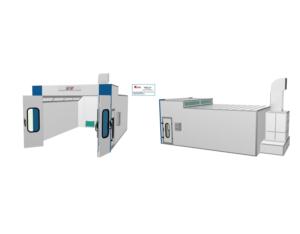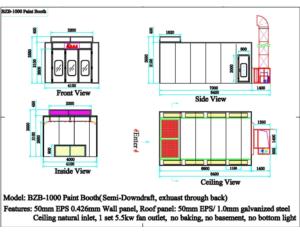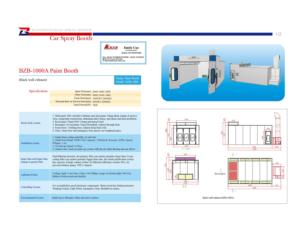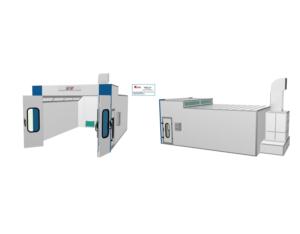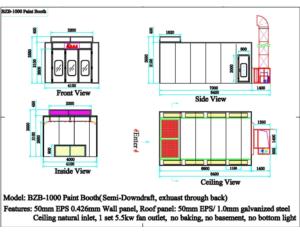 BZB-1000A Spray Booth, paint booth(Semi-Downdraft)
Product Details

Company Profile
BZB-1000 Paint Booth(Semi-Downdraft, exhuast through back)
Name: Paint Booth
Model: BZB-1000
Specification:
Inside Size(mm): 6900×4000×2800
Outside Size(mm): 8400×4100×3400
Front Door(mm): 3000(W)×2600(H)
Emergency Door(mm): 650(W)×2000(H)
Total Power(kw): 7kw
Cabin System
1) Wall panel: EPS colorful 0.426mm steel skin panel, 50mm thick, tongue & groove style, compound construction, aluminum-alloy frame, anti-flame and heat-insulation.
2) Roof panel: 50mm EPS/ 1.0mm galvanized steel.
3) Basement: No basement. Semi-Downdraft, exhuast through back.
4) Front Door: 3 folded glass door.
5) Glass: Main door and emergency door glasses are toughened glass.
Air Circulation System
1) Ceiling natural inlet, no inlet fan.
2) Outlet Fan Model: YDW-5.6S; Capacity: 15000m3/h; Pressure: 825Pa; Speed: 900rpm, 1 set.
3) No-load air Speed: 0.25m/s.
4) Exhausted ducting: each air make-up system with 4m air outlet ducting and one elbow.
Air Purification system
Dual filtering structure, the primary filter can capture granules larger than 10 μm. ceiling filter can capture granules bigger than 4μm. the whole purification system has capacity of large volume of dust. Its filtering rate reaches 98%. air pressure balance gauge, TSP≤1.4mg/m3.
Lighting System
Ceiling Light: 8 sets*4pcs=24pcs 36w Philips Lamp; no bottom light, 800 Lux. Ballasts Professional and durable.
Controlling System
It is assembled by good electronic components. Main circuit has Multi-protection. Working Switch, Light Witch, Emergency Stop, Breakdown Alarm.
Environmental System
Multi-layers fiberglass filter and active carbon.
Send Inquiry to This Supplier
Title

From*

toEmily Cao
Message*