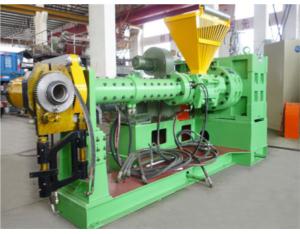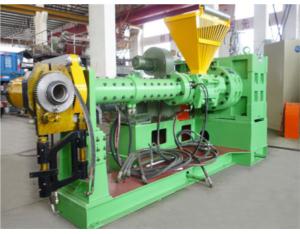 Pin-barrel cold feed rubber extruder
Product Details

Company Profile
Pin-barrel cold feed extruder is used for inner tube, tire tread and other rubber product .Pin can make mixing thoroughly.
Pin-barrel cold feed rubber extruder is used to extruding such half-finished rubber products as tread sidewall, inner tube, etc.
General design and features:
1.The extruder is Pin-barrel type, the extrusion head can be chosen for the single extruder according to the requirements to extrude different kinds of rubber products or feeding rubber.
2. The barrel is composed of several zones, In the feeding zone, the spiral slots work with side rolls to enhance feeding capability. In plasticizing and extrusion zones, different numbers of pins are fitted. The barrel is of the dual metal structure and bored circumferentially.
3.The screw materials are nitriding steel and nitrogen treatment makes it more wear-resistant.
4.The gears in the reducer are made of alloyed steel, whose teeth are hard.
5. A hot water circulation device automatically controls temperature in each zone.
6.The machine is drive by a DC motor.
Dalian AoQian General Rubber&Plastic Machinery Co., Ltd is one of the important members of Dalian rubber and plastic machinery industry,also is the main members of the production of general-purpose rubber machine in China.
The company mainly produces: Rubber Kneader, , etc.
Send Inquiry to This Supplier
Title

From*

toTony Cai
Message*