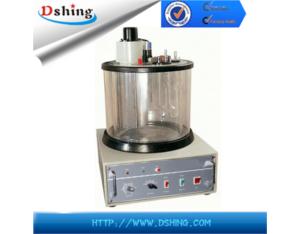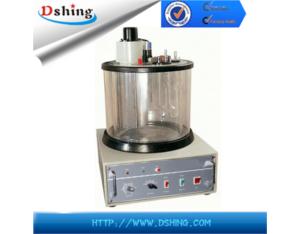 DSHD-265D Kinematic Viscometer
Product Details

Company Profile
A:Brief description:
DSHD-265D Kinematic Viscometer is designed according the industry standard of People's Republic of China SY/T5651 Technical Condition of Petroleum Products Kinematic Viscosity Tester.
DSHD-265D Kinematic Viscometer is applied to determine kinematic viscosity of liquid petroleum products (Newton liquids) at a constant temperature as per national standard GB/T265 Petroleum products-Determination of kinematic viscosity and calculation of dynamic viscosity. Also it can be used to do determination as per ASTM D445.
B:Technical advantages
1.It adopts five grades of temperature control: 20℃,40℃,50℃,80℃,100℃.The temperature control accuracy can reach ± 0.01℃.
2.It adopts hard glass vessel and heat preservation cover(double-layer vessel).Good heat preservation and easy to observe the sample.
3.It adopts desktop and all-in-one machine design,convenient to use.
4.It adopts electric stirrer to ensure the uniform of bath temperature.
C:Technical specifications and parameters
1.Power supply: AC(220±10%)V,50Hz
2.Heating power: 1000W(auxiliary heating), 650W(temperature control heating)
3.Stirring motor: power 6W,rotating speed is1200RPM
4.Temperature control range: room temperature~100℃
5.Temperature control point:20℃,40℃,50℃,80℃,100℃
6.Temperature control accuracy: ±0.01℃
7.Constant temperature bath: 20L, double-layer vessel
8.Ambient temperature: -10℃~35℃
9.Relative humidity: ≤85%
10.Temperature sensor: high accuracy thermistor
11.Overall power consumption: ≤1800W
12.Capillary viscometers: 7 pieces in total,inner diameter: 0.6mm,0.8mm,1.0mm,1.2mm,1.5mm,2.0mm,2.5mm
13.Overall dimension: 530mm×400mm×670mm(bath is included)
D:More Kinematic Viscometer :
DSHD-265H Kinematic Viscometer
DSHD-265D-1 Kinematic Viscometer
DSHD-265D Kinematic Viscometer
DSHD-265C Kinematic Viscometer
DSHD-265B Kinematic Viscometer
DSHD-265-2 Capillary Viscometer Washer
DSHD-265-3 Automatic Capillary Viscometer Washer
DSHD-265G Low-temperature Kinematic Viscometer
Send Inquiry to This Supplier
Title

From*

toangel
Message*