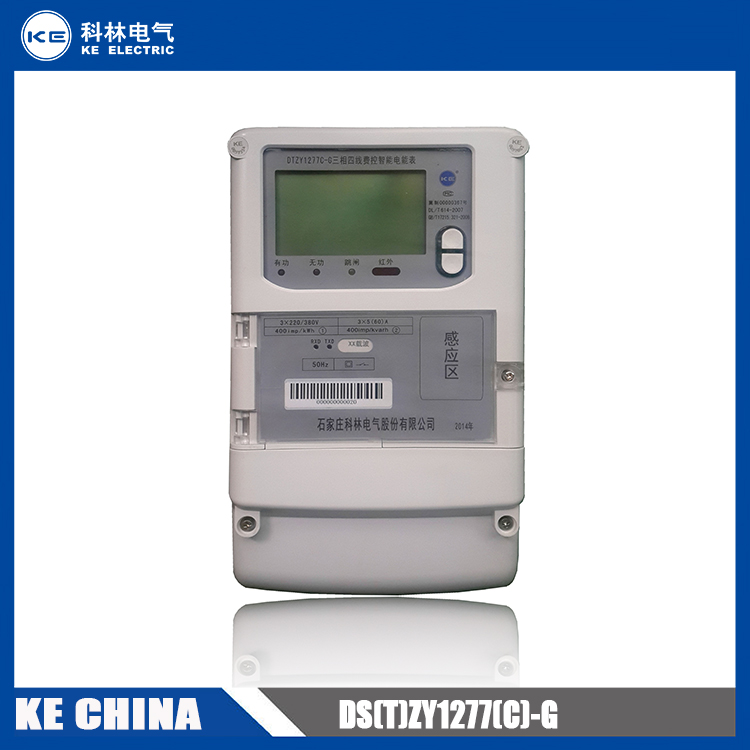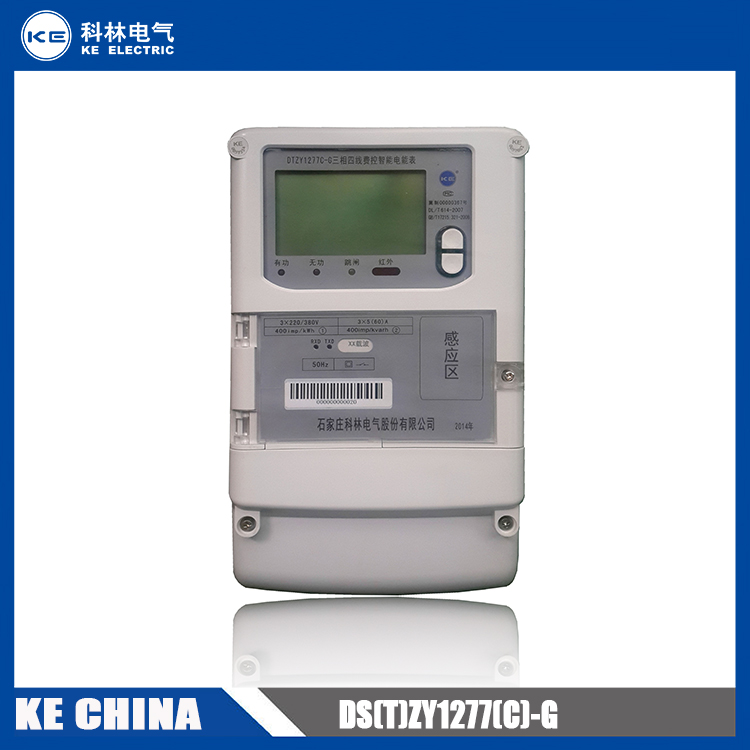 Three Phase Tariff Control (GPRS Meter)
Partnership
Chinese Supplier

CCCME Member
Product Details
Company Profile
DTZY1277-G three phase tariff control smart meter mainly applies to power plant, substation and various enterprises which have a high reliability and stability measurement demand, 0.4kv distribution transformers and common commercial users. It communicates with control center, supports Q/GDW130-2005, protocol and local communication conforms to DL/T645-2007 protocol. Through GPRS wireless network, the meter achieves remote meter-reading, remote tariff control and anti-stealing alarm.
Energy Measurement: Forward and reverse active measurement and four-quadrant reactive measurement; time sharing payment; single-phase forward/reverse active measurement.
Demand Measurement: Within specified time interval, measuring the maximum demand of single direction/bi-direction, maximum demand at different time, date and time when it occurs, at the same time; storing data with time scale, 12 account days' data of maximum demand.
Time Consumption Rate: Supporting 4 rates (peak, high, normal, bottom). 2 time zones can be set within one year and at least 14 periods within 24h.
Measurement monitoring: Measuring voltage/current (including neutral line) of the total or single phase, active or reactive power, power factor and any other parameters.
Data Freeze: Supporting fixed time freeze, daily freeze, temporality freeze, hourly freezing, etc. data at certain time can be stored.
Load Recording: The recorded data can be combined randomly and different time intervals setting, Available to record 3 days data in case the time period is set less than 15 min.
Event Recording: Recording the exact time when programming, cover opening, power fail, timing, tripping, etc. and the corresponding meter state when those occur; freeze and alarm.
Clock Timing: Built-in the temperature compensation element in clock circuit; Automatic change-over between calendar, timing and lead year time broadcasting.
Front Display: LCD screen with large size; backlight reading; flexible to set display items.
Communication Module: RS-485, GPRS wireless and infrared communication port, each interface is independent.
Remote Tariff Control: Adopting RS-485 and wireless module to achieve data communication; supporting handheld communication and remote switch on/off.
Anti-stealing Alarm: Operating state monitoring, automatically submitting information of stealing, illegal operation and faults, etc.
Item

Technical Requirement

Standard

GB/T17215.321-2008、GB/T17215.322-2008、

GB/T17215.323-2008、DL/T614-2007

Reference Voltage

3×220/380V

Current

Transformer Connecting Type: 1.5(6)A

Direct Connecting Type: 5(60)A, 10(100)A

Accuracy Class

Active 0.5s, 1.0 class reactive 2.0 class

Operating Temperature

Specified Temperature: -25℃~+60℃

Limit operating temperature: -40℃~+70℃

Relative Humidity

≤95%(no condensation)

Frequency

50Hz

Static Loss

<1.5W,10VA

MTTF

≥10 years

Dimension

290mm×170mm×85mm

L×W×H: 290mm×170mm×85mm
Send your message to this member
From*

toToni Kross
Message*
Specialized Industries
LY2513 DC Low-Ohm Meter

DDS188 U2 single-phase-phase watt-hour meter

KEMA Certification, Three Phase Multi Function Power Meter (DTSD546)

DDSY877 Single Phase Electronic Prepayment Kilowatt Hour Meter

Current Transformer Coil Type (CCT2)

Meter for Electricity