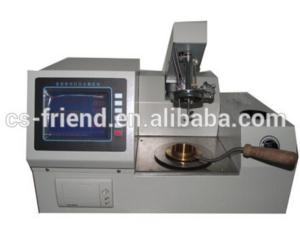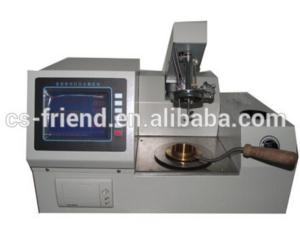 Automatic closed cup flash point tester of petroleum products
Product Details

Company Profile
Scope of application
Applied standards: GB/T 261-2008, ASTM D93-02
Application range: applies to the determination of flash point of petroleum products. This product can measure the flash point of petroleum products in the range of 40-370°Cas required by the standards.
Function characteristics
1, According to GB / T 261-2008 standard for different types of samples A andB two experimental procedures to choose from;
2, Innovation introduced the U.S. imports XECOM data processing chip, fast and accurate processing of the data;
3, Innovative use of the furnace tilting system automatically experiment after the furnace cooling rate faster greatly shorten the time interval between the repeated experiments;
4, The instrument has a self-diagnostic function, automatic prompts to equipment failure;
5,The instrument has self over-temperature protection, over-Measuring range can be arbitrarily set;
6, color liquid crystal display, real-time simulation of real-time trace shows a function of time warming up and test curve, operator interface prompts;
Technical parameters
1 Power supply: AC 220V ± 10%, 50Hz (also can be customized to 110V)
2,Range: room temperature ~ 300 ° C;
3, Repeatability: 2 ° C;
4,Reproducibility: 4 ° C The visibility: 0.1 ° C;
5, Accuracy: 0.5 ° C;
6, Heating rate: meet GB/T261-2008 standard
7 Ignition way: electronic ignition gas flame
8, Ambient temperature :10-40 ° C;
9, Adapt to the environment humidity: <85%
10 Total power consumption: not more than 300W "
please leave your contact details when send inquiry!
Send Inquiry to This Supplier
Title

From*

toLeo Yu
Message*