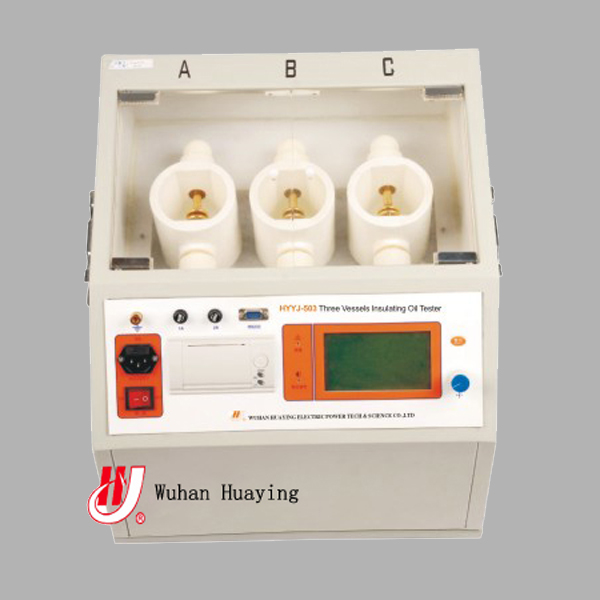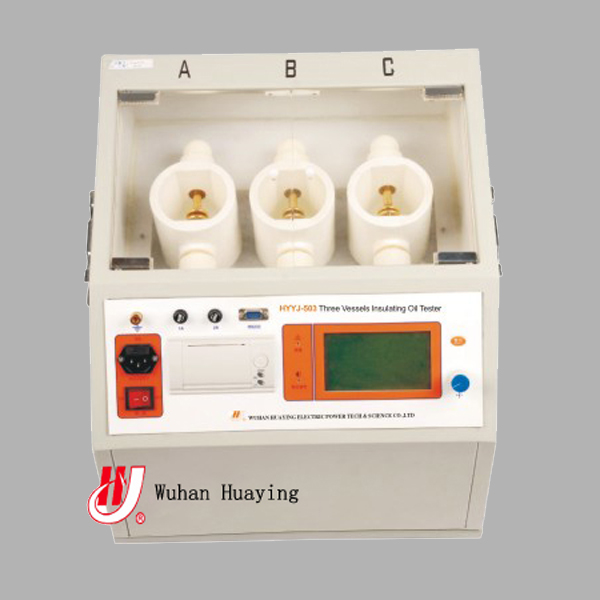 Transformer Oil Tester HYYJ-503
Chinese Supplier

Free Member
Product Details
Company Profile
Ⅰ. General introduction
GDYJ-503 Insulation Oil Breakdown Voltage Tester can test three cups of oil at the same time.LCD screen can display test procedure and test result. All the human interaction operations complete by the rotating mouse .
The Insulating Oil Breakdown Voltage Tester is very easy for customers to measure the breakdown voltage of all kinds of oil by GDYJ-503. You can print the test result by the micro printer internal the tester. Of course, you can upload the test data to PC from RS232 for data analyzing. The special circuit design makes the tester has a good performance at stability and anti-noise
Ⅱ. Functions
1 Breakdown test of user-defined
2 Proof test
3 Calibration interface for customers
4 Unloading data to PC and making word report automatically.
5 Result print
Ⅲ. Technique index
1 Input voltage: AC 220V±10%
2 Output voltage: AC 0~80KV
3 Make a choice and combination at random between A,B and C cup.
4 Rate of voltage rise: 2KV/s±10%
5 Measuring precision: 3 class
6 Times: 1-6
7 Mixing time: 0~99 second
8 Placing time: 0-9 minute 59second
9 Save 50 groups of data
10 Voltage limit setting for proof test: 20KV----70KV
11 Hold time for proof test: 0minute -----10 minutes
12 Environment temperature: 5-40°C
13 Relative humidity ≤80%RH
14 Size: 420×380×410mm3
15 Weight: 28kg
Send your message to this member
From*

toChloe Shuyue Wang
Message*
Specialized Industries
LED Controller A002

SOLAR TRACKING CONTROL SYSTEM 1kw

complete electpo-mechanical project for hydropower

Hybrid Slip Ring Manufacture in China

Frequency Driver (Mini Series)

Drive Inverter VDS VFD Frequency Inverter AC DC Converter (ED3000-FP)