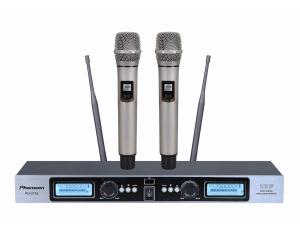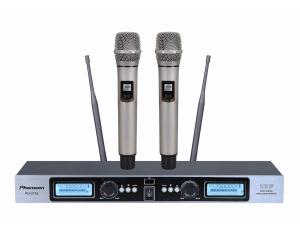 PU-2755 Wireless microphone with 400 adjustable channels
Product Details

Company Profile
1.Wide band frequency (600MHz-900MHz), total 400 channels,  one frequency band can be installed in 200 compartments. 2.The real digital wireless microphone (voice and signal are fully digital encrypted transferred),  strongly confidential transmission, can search the cleanest frequency point for each microphone faster  and better to ensure microphones sound with higher consistency. 3.Each channel has an independent ID code, the same frequency points from outside will not interfere with the receiver. 4.The receiver with built-in microphone battery capacity synchronous display function. 5.The receiver screen display the output volume settings synchronously. 6.The receiver with 10 SQ controls and visual display on the screen. 7.The receiver has automatically search frequency function. 8.Plating handheld microphone, study and durable. 9.After heat treated for the brazing metal net and reinforce with hexagonal screws would effectively prevent  the microphone not easy to be damaged when fall from height or being intense collision. 10.Microphone cartridge, the capacity of climate resistance is strong and the stability is good. 11.Handheld, lavalier and headset can be chosen to match w
PU-2755 400 frequency UHF Wireless Microphone

1.Wide band frequency (600MHz-900MHz), total 400 channels,
one frequency band can be installed in 200 compartments.
2.The real digital wireless microphone (voice and signal are fully digital encrypted transferred),
strongly confidential transmission, can search the cleanest frequency point for each microphone faster
and better to ensure microphones sound with higher consistency.
3.Each channel has an independent ID code, the same frequency points from outside will not interfere with the receiver.
4.The receiver with built-in microphone battery capacity synchronous display function.
5.The receiver screen display the output volume settings synchronously.
6.The receiver with 10 SQ controls and visual display on the screen.
7.The receiver has automatically search frequency function.
8.Plating handheld microphone, study and durable.
9.After heat treated for the brazing metal net and reinforce with hexagonal screws would effectively prevent
the microphone not easy to be damaged when fall from height or being intense collision.
10.Microphone cartridge, the capacity of climate resistance is strong and the stability is good.
11.Handheld, lavalier and headset can be chosen to match with the receiver to meet the requirement of different occasion.

Specification:
Frequency Range: UHF 620-950MHz
Frequency Response: 40Hz-18kHz
Frequency Stability: ±0.005%
Modulation Mode: wide- band FM
Modulation Range: 25MHz
Total channels: 400,Left 200 channels, Right 200 channels
Working distance: 60m
Channel spacing: 250 KHz
Dynamic Range: 100dB
Maximum Deviation: ±45KHz
AF Response: 65Hz-15KHz (±3 dB)
Total Harmonic Distortion: <0.3 %
Audio Output : 0-±500mV
Receiver
Power supply: AC 100-240V, 50/60Hz
DC Adaptor output power: 13-15V, 500mA
Power consumption:5W
S/N Ratio: >98dB
P/N Ratio: >80dB
F/N Ratio: >80dB
Receive sensitivity: 5dBu
Transmitter
Frequency Oscillation Mode: PLL
Transmitter Power: High 30Mw, Low 3mW
Modulation Mode: FM
Band width: 50MHz
Frequency Interval: 250KHz
Maximum Deviation: ±45kHz
Harmonics Radiation: <-55dBc
Battery Voltage: AA 1.5V×2
Battery Life: 8-10 hours

Appropriate Situation
KTV project installment, bar and stage performance, celebration and meeting host and other outside activities.
Phonsion Electronic Co., Ltd
Add: 2/F, No.C5-1, District 2,
Enping Industrial Zone, Enping,
Guangdong, China
Tel: +86-750-7816 818
Fax: +86-750-7125 866
Mobile:+86-
13172238568
Skype: phonsion168
QQ: 1718639227
Website: