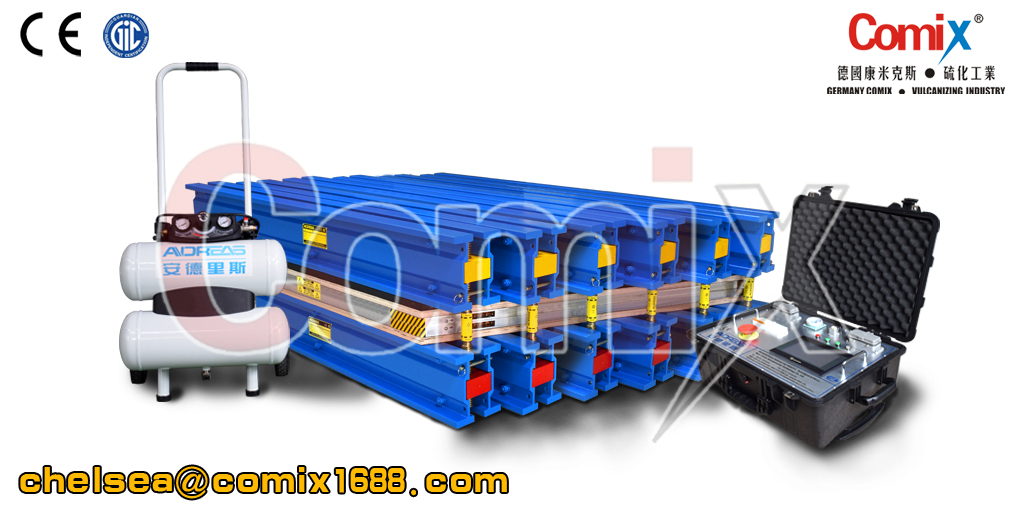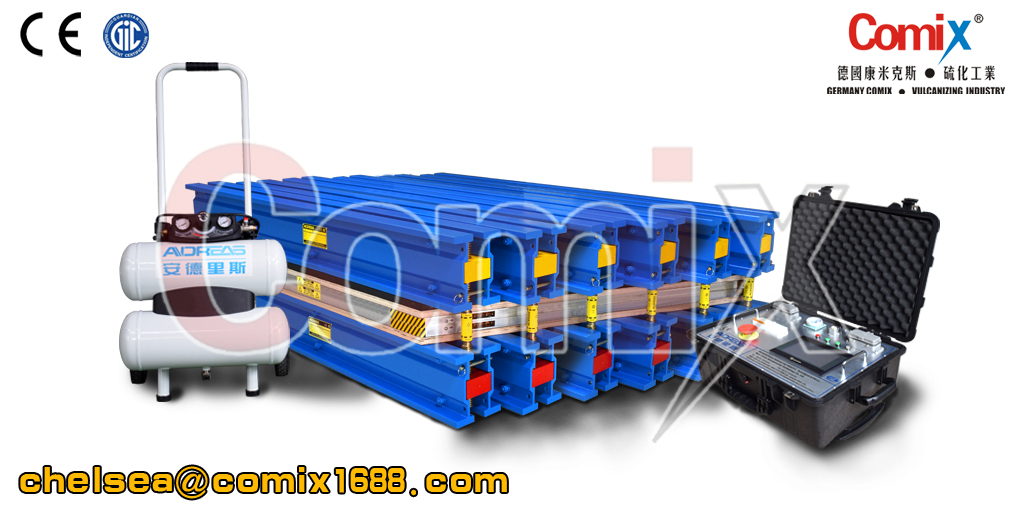 ADRS Portable hot vulcanizing press machine used conveyor belt vulcanizer for coal mine
FOB Price:

1 5000.00-0

Supply Ability:

1000 per Year

Payment Terms:

L/C,T/T
Corporation/Limited Liability Company
Chinese Supplier

Free Member
Product Details
Company Profile
Products Show
ADRS Portable hot vulcanizing press machine used conveyor belt vulcanizer for coal mine
Introducing one of the most advanced vulcanizers in the world. ADRS vulcanizing machine adopt significantly lighter and stronger advanced composite materials. Rugged and corrosion proof, this unique system greatly reduces the potential of injury. The ADRS vulcanizer can be configured for 100 psi or 200 psi with the unique connector system. ADRS heating elements utilize a unique technology that reduces energy consumption by 40% allowing the use of smaller power supplies, reducing overall cost per splice.
COMIX Advantages
ADRS Portable hot vulcanizing press machine used conveyor belt vulcanizer for coal mine
(1) Core technology - computer temperature control box

--- Using high-tech temperature control technology, integrated computer touch screen "CPU, PLC,
module" control, high precision electric heating temperature, control the difference in
temperature within 1 degrees! Can prevent high temperature form burning conveyor rubber
belt.
--- electronic control system, advanced technology, temperature control precision, even heating,
high belt joint strength, surface smooth level off, greatly improve the quality of sulfide,
shorten workers operating time, reduce labor intensity, improve work efficiency!
--- Man-machine interface, cure state two-dimensional animation, multi-language automatic
translation. Cured state two-dimensional animation, the belt any time to monitor the curing
process at a glance.
--- Reception inside with wireless two-way transmission, GPS positioning and other functions,
homes, instantaneous system software to meet customer transnational free upgrades,
maintenance, testing requirements!
--- With automatic detection, abrupt stop function. Heating, heat preservation (sulfide), cooling,
fault inspection showed that don't have to worry about spare parts replacement and repair after
damage.
--- Computer CPU control lines are used "24V" low voltage circuits, protection of workers personal
safety, do not worry there will be frequent operation dangerous high-voltage leakage. Security,
peace of mind, effort, time!

(2)ADRS vulcanizing machine adopts brand components, "Schneider, Wei Lun
Tong, Comix" and other imported electrical parts manufacturing.

(3)The warranty period as our company manufacturing defects in the buyer does not work
properly, We committed to an unconditional free trade for computer box (direct
replacement without repair).

(4)The newest air pump is more portable and easy operation, and best reduce every splice cost!
Other machines we can supply: more information pls freely to visit our website
Packing:

Working photos from customers
Technical Parameters
ADRS Portable hot vulcanizing press machine used conveyor belt vulcanizer for coal mine
1.Machine Maximum size: from 300MM-6000MM;
2.Voltage: 220V 380V 415V 660V 50HZ;
3.Fast Cooling time: 15 minutes (from 145 degrees down to 70 degrees or less);
4.Time for temperature raise (from normal temperature to vulcanizing temperature) no more than 25 minutes;
5.The temperature difference of sulfide surface: ±2°c.
6.Temperature adjustment range: 0~300°c.
7.Vulcanizing pressure: 0~2.5 MPa(details refer to users' specifications and factory markings);
8.Time of heat preservation for vulcanizing could be adjusted according to thickness of the rubber belts;
9.Splicing length of rubber conveyor belt for vulcanizing jointing could be connected together by single or several pieces if necessary;
10.Rubber conveyor belt as well as tension in kilogram required for vulcanizing jointing when ordering products.
11.Users could order spare electric pumps additionally according to requirements.
When Oder
ADRS Portable hot vulcanizing press machine used conveyor belt vulcanizer for coal mine
Services guarantee
ADRS Portable hot vulcanizing press machine used conveyor belt vulcanizer for coal mine
Only starting point for cooperation, the service does not end.

Your enquiries, we will give feed back at the first time

Your requests, we will meet at the first time.

Your goods, we will arrange at the first time.

Your questions, we will solve at the first time.

Contact Details
ADRS Portable hot vulcanizing press machine used conveyor belt vulcanizer for coal mine
MISS Chelsea

FAX:+86 0510--83783186
TEL:+86 0510--83809086
MOBILE: +86 18168863306
Skype: comixchelsea
Whatsapp / Skype / Viber : +86 18168863306
Email: chelsea@comix1688.com

comixchelsea@gmail.com
Certificates
ADRS Portable hot vulcanizing press machine used conveyor belt vulcanizer for coal mine
Send your message to this member
From*

toChelsea Wang
Message*
Specialized Industries
Bead Apexing &Flipping Machine

Pin Barrel Cold Feed Rubber Extruder

small rubber cutting machineZhanjiang Weijinhigh quality & good performance

Hexagonal Double Wire Bead Winding Machine

COMIX 300mm PVC PU rubber vulcanizing machine/vulcanizing press

Rubber Machinery