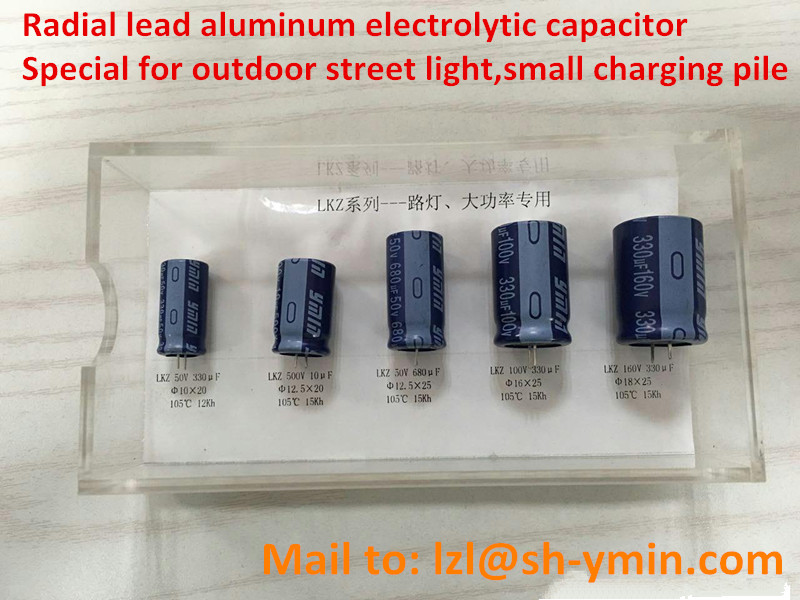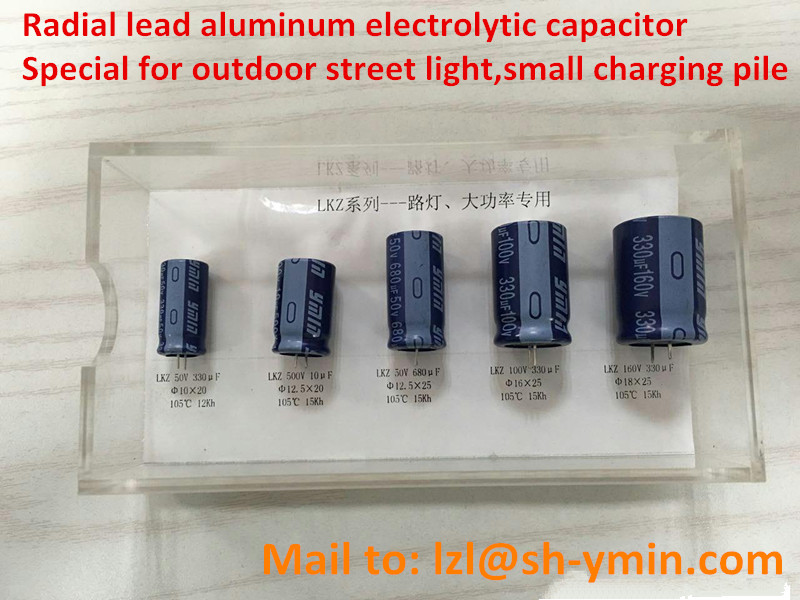 LKZ Radial Lead Aluminum Capacitor for Charging Pile 10000 hours enduring outdoor low temperature
FOB Price: Get Latest Price
Supply Ability:

180000000 Case/Cases per Month

Payment Terms:

L/C,T/T,Western Union
Individual(Sole proprietorship)
Chinese Supplier

Free Member
Product Details
Company Profile
Radial Lead LKZ Series, specially used for miniature small power charging pile.

1.Our LKG,LLK,LKL series can be well used in LED driver for street lighing.

2. We developed 500V,550V,600V capacitors of which life can reach 105C 10000hrs~12000hrs, temperature range is -40C~+105C, this can well meet requirement of EMS,PFC,wide temperature,long life,high reliability for LED driver in street lighting.

3. We developed special series LKZ for LED driver in street lighing or EV charging pile, LKZ series can endure much higher ripple current.

4. LKZ is more reliable and more competitive, and is much more suitable for LED driver in steet lighting.

5. LKZseries can guarantee 8~10 years working life for LED driver in street lighing, LKG ,LLK and LKL series can guarantee other working life grade or super long life requirement.
Product Feature
Electrolytic capaitors used for LED driver in street lighting must meet below requirement:

1.Endure high voltage in input: need to use 450V-600V capacitors to solve EMS and PFC in filtering.
2. Endure ripple current: ability of enduring ripple current need to improve 20%~30% in same size.
3. Wide temperature range: better performance at -40C, it can meet starteup requirement of lighting.
4. Anti-overload ability: it can endure the sudden voltage change.
5. Low ESR: it needs low ESR and high frequency capacitors to meet requirement of low ripple voltage and accurate current in output.
6. Long life: 105C 10KH~20KH(130C 3KH ~ 5KH);
Most Advantage:
The life of ymin capacitor is almost the same with Rubycon capacitor at normal temperature, ymin specification change is much smaller and more reliabale at super high temperature;
We solve the major problems of not enough uniformity,not high reliability and not good safety than happens in Chinese capacitors companies.
For more details pls contact below for efficient reply:

Person: Miss Vickie Lee
Mail: lzl@sh-ymin.com
Skype: vickielee027@hotmail.com
Mobile: +86-18301883489
Tel: +86-21-33617848
Google+: https://plus.google.com/u/0/109613179295945875967/posts
Send your message to this member
From*

toVickie Lee
Message*
Specialized Industries
Power saver capacitor CBB65 capacitor

Capacitor

metalized film for capacitor used

Huge Capacitance Capacitor Lighting Radial Lead Aluminum Electrolytic Capacitor RoHS

Capacitor

High Frequency Capacitor Snap in Aluminium Electrolytic Capacitor for AC Wave Inverter