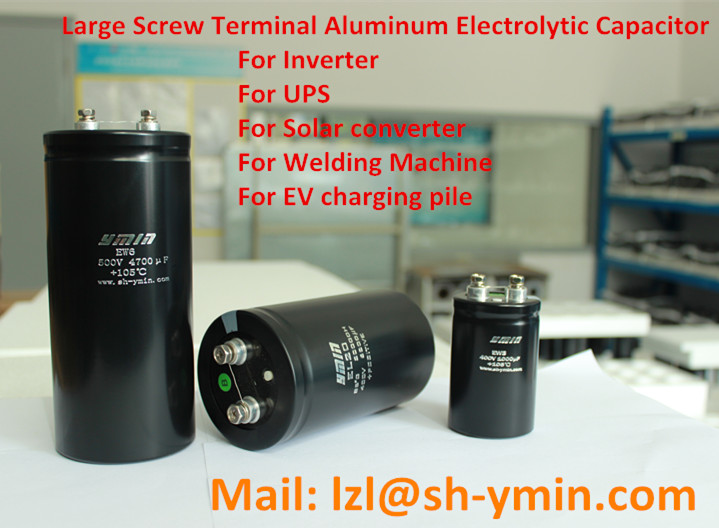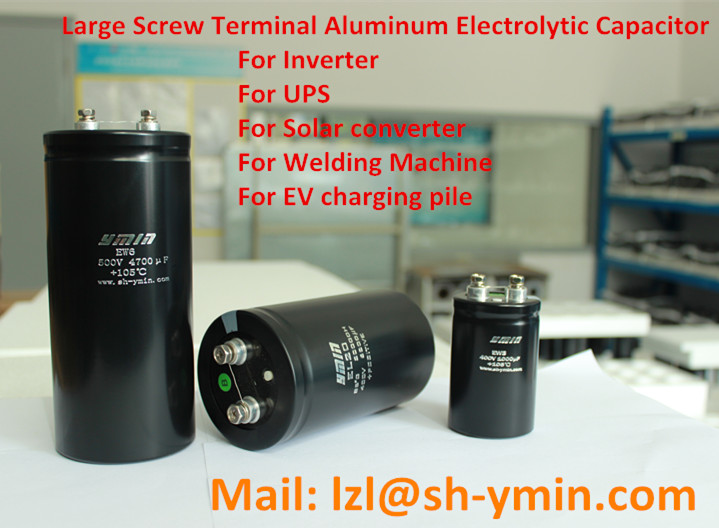 Screw Terminal Type Aluminum electrolytic capacitor for UPS etc.
FOB Price:

1 1.00-0Case/Cases

Supply Ability:

10000000 Case/Cases per Month

Payment Terms:

L/C,T/T,Western Union
Individual(Sole proprietorship)
Chinese Supplier

Free Member
Product Details
Company Profile
Characteristics
Voltage range : 200V-630V
Life Range: 3000h,6000h, 20000h
Capacitance Range: 1000uf-47000uf
Temperature Range: -25°c to 85°c, -25°c to 105°c
Leakage current: Less than or equal to 0.01CV
Maximun DF 20°c: 0.15
Application Guide
For Power supply
For inverter
For welding machine
For solar inverter
For charging poles
For Photovaltaic and so on.
Our Advantage :
1. 3 to 7 days quick delivery among competitors in China.
2. great strong quality,favorable price.
3. Main clients are YASKAWA, HARVEST, RENLE, SOCOMEC, OSRAM, PHILIPS-INDIA, NVC, GE etc.
4. The life of YMIN capacitor is almost the same with Rubycon capacitor at normal temperature
5. We can offer free samples for testing if necessary!
Based on the close cooperation with our counterparts in Japan and South Korea in technology, we are advanced in products performance on enduring high temperature, high voltage, high ripple current and high frequency.
Shanghai Yongming Electronic Co.,Ltd.
No.258 Guangcun Rd,Yangwang Industrial Park, Fengxian District, Shanghai, 201406,China
Cell:+86-18301883489 Skype:vickielee027@hotmail.com WeChat:vickie-luck
Email: lzl@sh-ymin.com Website:
Google+: /0/109613179295945875967/posts
Progress---little by little and day by day!
Send your message to this member
From*

toVickie Lee
Message*
Specialized Industries
AC motor capacitor

Low Current Leaking SMD Capacitor SMD Aluminium Electrolytic Capacitor for LED Ceiling Light RoHS

CBB61Series Metalization Polypropylene Film Capacitor

Motor Running Capacitor

Motor Run Capacitor (CBB60)

safe free sample CBB65 capacitor with M8 screw high quality china made