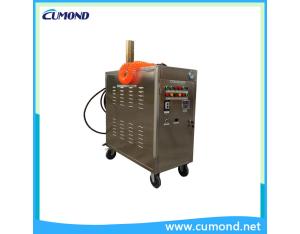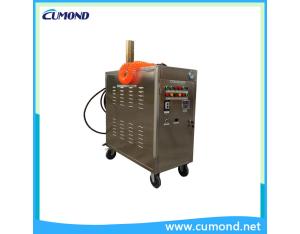 Mobile LPG steam car washer
Member Details
Changsha,Hunan,China
Product Details

Company Profile
1.No bolier,more safe to user. 2.Battery powered 3.It only takes 30 seconds on preheating time.
Features and advantages:
1. It is equipped with plunger pump from Germany. The steam pressure can reach 20kg, much higher than the traditional steam pressure.
2. Conserve water, no sewage, and protect the environment.
3. No-boiler design, much safer with no explosions, cracks or leaks from a boiler steamer.
4. Instant heating to start with1 minute heating time, rapid evaporation of steam, much faster than boiler steamer, save energy 20%.
5. It can move freely with trundles and brake, and water filling is more convenient.
6. Totally adjustable steam from very wet to very dry for all types of cleaning, easy to contral and operate.
7. Automatic alarm when overpressure, over voltage, overheat, LPG leak and water shortage in water tank. It's much safer.
8. It is equipped with micro water system, more clean,powerful cleaning effect with foaming and waxing.
9. It can also wash cars normally in cold weather with anti-freezing functions.
10. Good quality and after-sale service. Continue work for 24 hours with adjustable temperature and pressure. Clear inner structure, assembly parts have long service life, also easy to maintain and change.
11.48V(12AH*4PCS) battery powered,it is rechargeable and no external power supply,good for outdoor washing services.