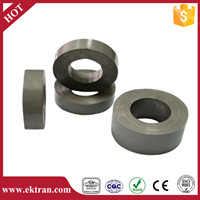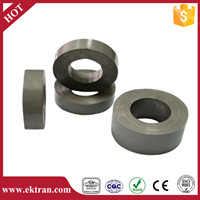 customize various iron core silicon stell crgo core
LLC(Ltd Liability Corp)
Chinese Supplier

Free Member
Product Details
Company Profile
Customize various CRGO Silicon steel iron core/toroidal core /cut core/ rectangular core/epoxy coating core
It will be used in the production of G.O.S.S.'s toroidal cores consists of 3% silicon-iron alloy. Manufactured with a grain orientation facilitates very low power loss ideal for high efficiency transformers.

· Up to 30% more flux for the same magnetizing force.
· Increased rating for a given size of transformer.
· Better regulation.
· Reduction in size and weight.
· Reduced assembly time, storage and handling costs.
Limits of Tolerance
ID: ±0.8mm

OD: ±0.8mm up to 150mm Or ±1.2mm up to 200mm
H: -0+0.8mm for cores up to 60mm or -0+1.2mm for cores over 65mm
Performance Guarantee
Non-Impregnated toroidal cores are normally offered with the following standard guarantee:
0.3mm Grade M4 50Hz 1.5 Tesla limit: 19.0 A/M

Magnetic Degradation
Occurs when toroidal cores are impregnated with varnish or epoxy coated.
Light impregnated varnish +15%
Epoxy coated +40%
Send your message to this member
Specialized Industries
PLM-240P-60 SERIES

Screen printer spare parts of MPM motor

FUJI NXT H08/H12 Nozzle Assembly 1.8m MELF Nozzles AA19G00

JUKI AF16FS FEEDER AF05HP in stock

MSR 82MM Feeder Emboss/Paper 10485BL151/10485BL052

OUT DOOR AMPLIFIER CASING SERIES