THDS Hot Axle Box Detector
Manufacture, Trade
Chinese Supplier

CCCME Member
Product Details
Company Profile
THDS Hot Axle Box Detector (HABD) system is the flagship product of HTK Railway Technologies Co., Ltd. The system is designed to work under harsh railway environment for measuring temperature of axle boxes when the train is passing by the site.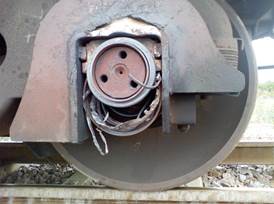 Fig. 1 A broken down bearing successfully detected in South African Railway by Harbin VEIC's HABD
In the past decades, HABDs have been proven to be an effective solution for preventing trains' derailment. They are now extensively installed and operating in all major railway networks in the world and playing vital roles in safeguarding railway transportation. So far, VEIC Technology has installed over 2500 HABDs in China Railway, South Africa Railway (nation-wide), NSW Railway of Australia and Metro Rail of Hong Kong.
THDS HABD is the latest model developed on the base of VEIC's HTK-499 HBD since 2010s. Both hardware and software are upgraded comparing to its predecessor, HTK-499 HBD.
Configuration and Operation
Below figure shows a real THDS HABD site in China Railway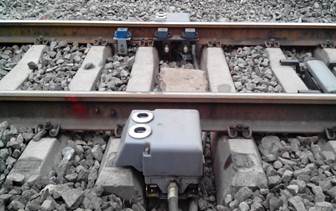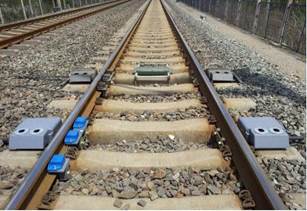 Fig. 2 A THDS-B HABD site
The configuration of THDS HABD system mainly consists of wayside sensors and electronic equipment. Below figure 3 indicates a general system configuration.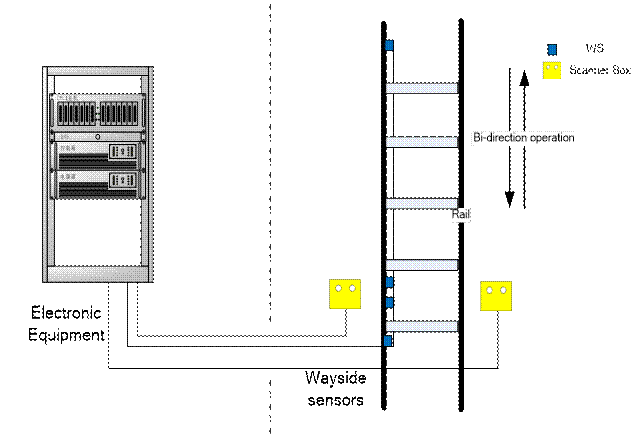 Fig. 3 THDS HABD configuration
Wayside Sensors
The wayside sensors includes temperature sensors X 4 (usually called scanners), wheel sensors X 4 (or 5 in case of bi-direction operational), and associated wires & cables, scanner boxes and brackets. All of the equipment is installed on to the rails.
Scanners and Dual-scanner Configuration (DSC)
Scanners provide to measure the temperature of axle boxes through collecting the infrared energy radiated from the axle boxes. There are two types of scanners. One type is the thermistor scanner that contains a thermistor sensor applicable for detecting a train with speed lower than 120 KM/H.
The other type is the MCT scanner containing a Mercury Cadmium Telluride (MCT) photon conductive sensor that works more reliable than the thermistor sensor and suitable for detecting faster trains (above 120 KM/H) thanks to its quick respond speed.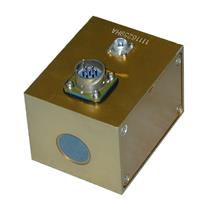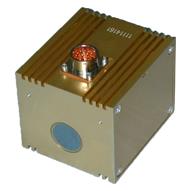 Fig. 4 Wayside temperature sensors: thermistor scanner (left) and MCT scanner (right)
Two scanners will be fit into one scanner box that is called Dual-scanner Configuration (DSC). Both scanners provide to measure the temperature of one axle box. The scanner boxes are installed on two brackets that directly clamped on two rails.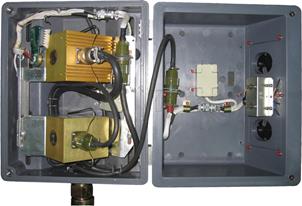 Fig. 5 A scanner box containing two scanners
In DSC, the two scanners can be either two thermistor ones (THDS-B), or two MCT ones (THDS-C), or a combination of a thermistor and a MCT (THDS-A).
The scanner that is far from rail is defined as outer scanner (OS) and the other is inner scanner (IS) that is closer to the rail.
Both scanners are set with an elevation of 45° from level. See figure 6 below.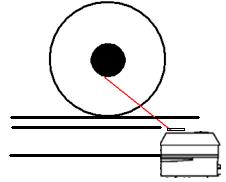 Fig. 6 Elevation 45° from level – scanners' configuration
The outer scanner is configured with an angle of 6° from vertical to "look" at the journal head of axle box. The inner scanner is configured to "look" at the center of the axle box.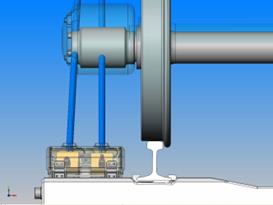 Fig. 7 Dual-scanner configuration
From the above figure, DSC will spot on two places on an axle box, journal head and center, so it makes the measurement reliable and accurate to avoid missing any hot axle box.
Wheel Sensors
The wheel sensors (WS) in THDS-X HABD are of passive type without requiring power supply. Each wheel sensor contains a piece of permanent magnetic steel winding with wires. A steel object closing to the device, like a wheel, will trigger it to generate a signal. The WS is to be mounted on a bracket that is clamped directly on the rail.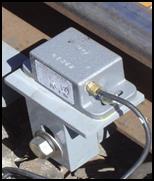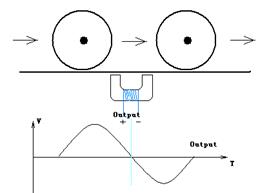 Fig. 8 Wheel sensor
The wheel sensors on a HABD site are classified as outer WS and inner WS. The outer WS is installed about 50 meters away from inner WS which task is to detect a train's presence and then wake up the system. Where the system is operational only on single direction, one outer WS #1 is required. In case of bi-direction operational, two outer WS #1 and #5 are needed at each direction of track, UP and DOWN.
There are three inner wheel sensors WS #2, #3 and #4 with a fixed space from each other. The task of inner WS is to count and record axles' footprints so as to 1) figure out a train's consist and calculate the train's speed, and 2) allocate axle signatures to scanners' collections for purpose of locating bearing temperatures by axles and vehicles.
Only two inner WS work whilst the third one is a redundant. In case of one of the working WS is failed, the third one will automatically take its place for axle counting.
Electronic Equipment
All the electronic equipment is accommodated in standard 19' sub-racks of a cabinet. The cabinet will be housed in a container at trackside. The electronic equipment includes:
One detector computer associating with one LCD monitor,
One DC power supply,
One control box,
One AVI reader (optional) and,
Two lightning protections.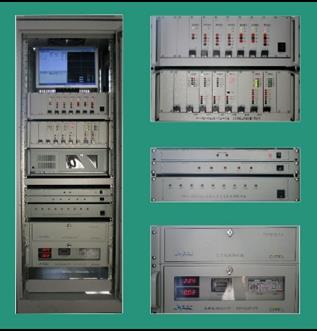 Fig. 9 Electronic equipment
The HABD system will be in a sleep mode when the track is vacant. The system only carries automatic self-check and scanner's self-calibration through measuring the reference temperature at a configurable time interval that is normally set as five (5) minutes.
When a train approaches the HABD site, and the train's first wheel rolls above the outer wheel sensor (WS#1 or #5, depending on the direction (up or down) the train comes from, the wheel will trigger the outer wheel sensor which will then wake up the system. The HABD system will stop automatic self-check and –calibration and be in a ready state to detect the coming train. All the components are power on and the flappers and shutters are open that are operated and controlled by the CTB inside the control box.
When the train's wheels roll above WS #2 and #3, the scanners start to measure the temperature on axle boxes. WS #2 and #3 counts the axles.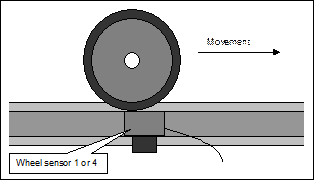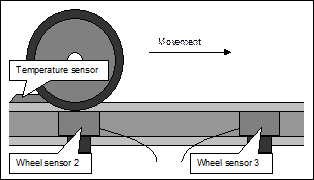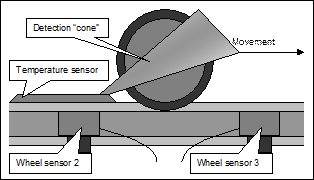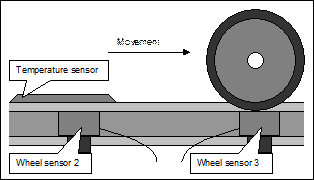 Fig. 10 Wheel sensors detect train's presence and operate with temperature sensor
The signals from both scanners and wheel sensors will come into PPB inside the control box in cabinet. After being initially processed by PPB, the signals will be sent up to the ADB for being converted to digital signals that will be processed by the IPC.
After the train passed the site, the detector computer starts to process the signals collected from the scanners and wheel sensors. Detection results are displayed on a LCD monitor and transferred to the railway operator. The data processing takes only a few seconds subject to length of the train. After all the train data is processed, the system returns to sleep mode and waiting for the next train.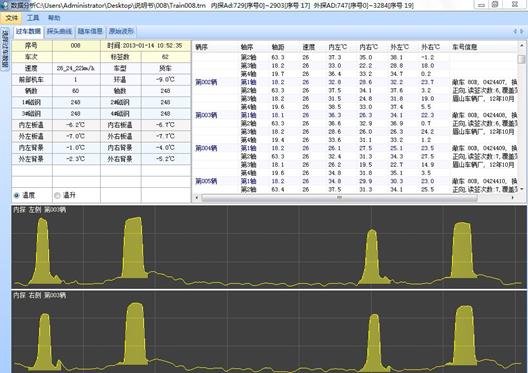 Fig. 11 Detection results displayed on the LCD monitor
In case of no hot axle box, the system will send a normal train report to CTC including the following information.
ü Report sequence No.;
ü Train sequence No.;
ü Site name;
ü Train pass time (hh/mm) and date (dd/mm/yyyy);
ü Train ID (if AVI available);
ü Train information incl. train speed, train running direction (up or down); number of vehicles in the train fleet, types of vehicles (wagon, passenger, locomotive or unknown) and type of bearings (roller or friction);
Absolute temperature and temperature rise of all axle boxes excluding locomotives;
In the event one or more hot axle box is detected, a train report containing alarm will be sent to CTC. In addition to the above information contained in a normal train report, the following alarm information will be provided.
ü Location of the hot axle box in the train fleet by vehicle number counted from the first vehicle after locomotives (excluding locomotives), axle number in the vehicle and left or right side;
ü Absolute value of the temperature of the hot axle box;
ü Temperature rise of the hot axle box;
ü Alarm level: warm, hot or extreme hot;
An alarm for warm axle box prompts to trace the axle box that has a risk to grow to a hot box. An alarm for hot axle box alerts to stop the train in the next station for manual check and verification. An alarm for extreme hot axle box requests to stop the train immediately.
Algorithms and thresholds are developed to determine if an alarm should be generated and its level. The algorithms and thresholds have taken into consideration of a combination of absolute temperature, temperature rise and differential temperatures.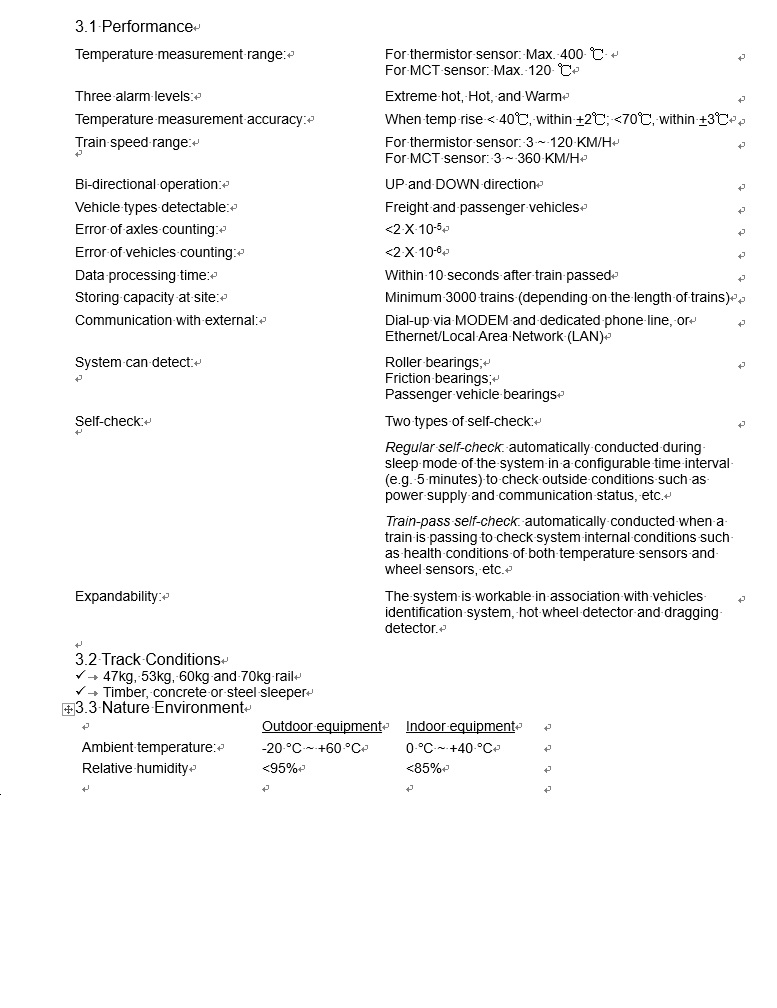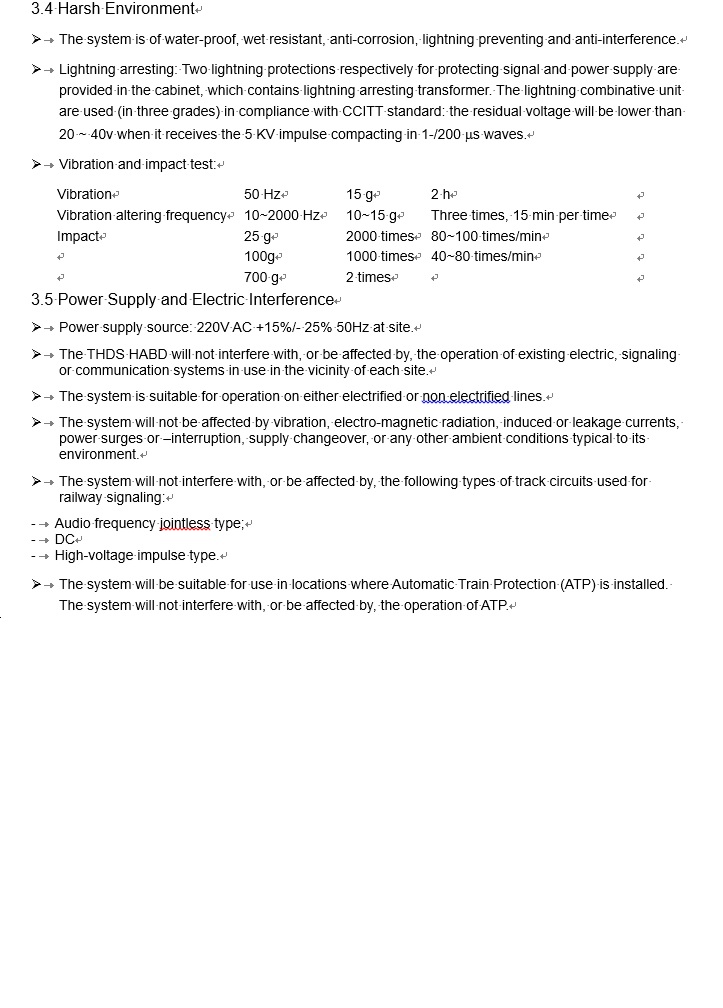 Send your message to this member
From*

toZHANGYING
Message*