JWJ-C Axle Counting System
Manufacture, Trade
Chinese Supplier

CCCME Member
Product Details
Company Profile
The JWJ-C Axle Counting System supplied by HTK Railway Technologies, is a trackside system designed to automatically and reliably detect clear or occupied tracks on various rail lines such as trunk lines and branch lines in stations, factory lines and light/metro rails.
The system can work with all types of fully automatic and half automatic interlocking systems by providing accurate and reliable track blocking information through replay interfaces in parallel.
JWJ-C ACS has been a proven product with thousands installations in the past decade. So far, JWJ-C ACS have been installed in China Railway, trunk line of Viet Nam Railway and light rail of Hanoi.
The system got approval from China National Railway Bureau and passed safety assessment by ATKINS, an international independent safety assessment organization.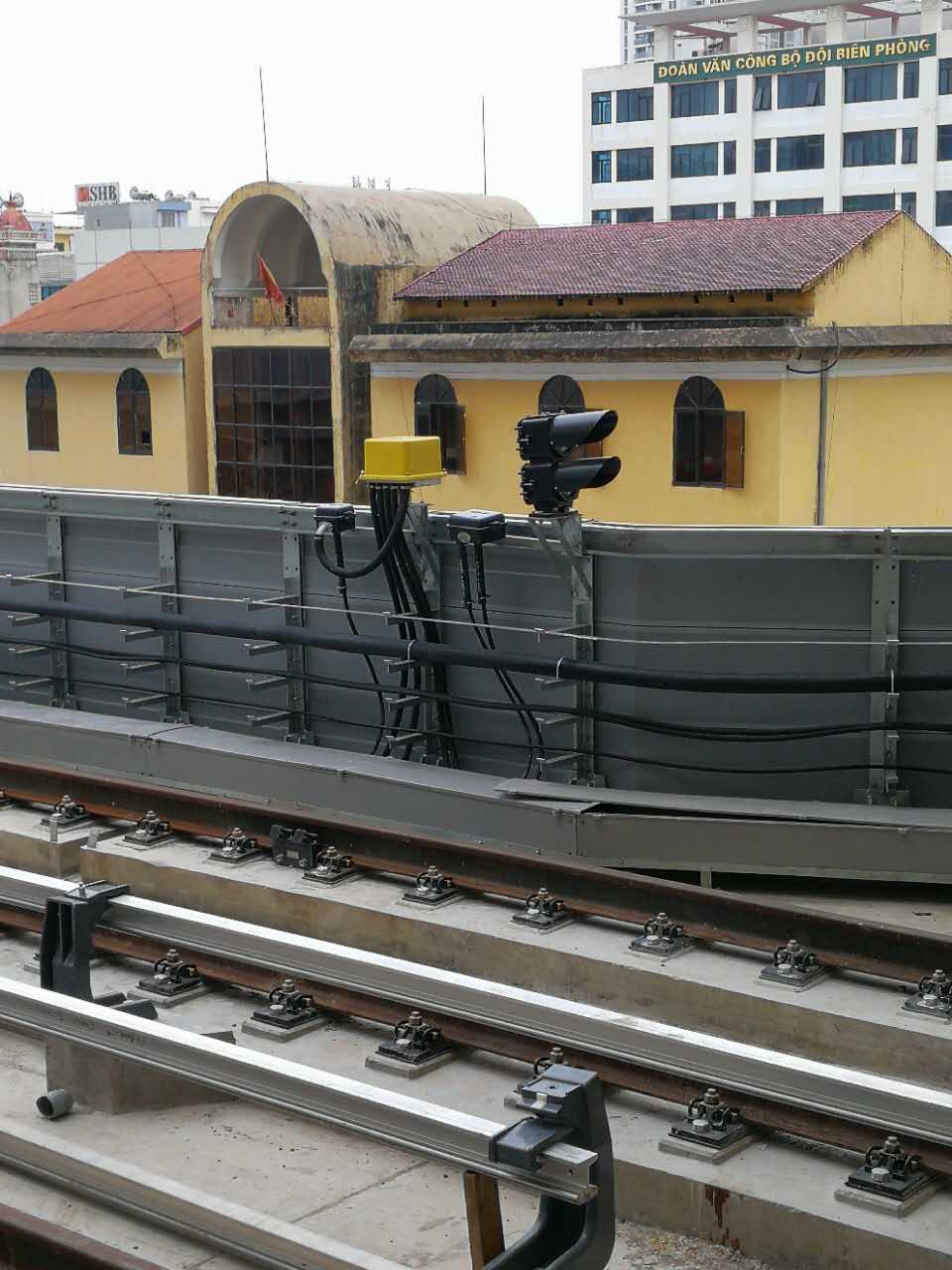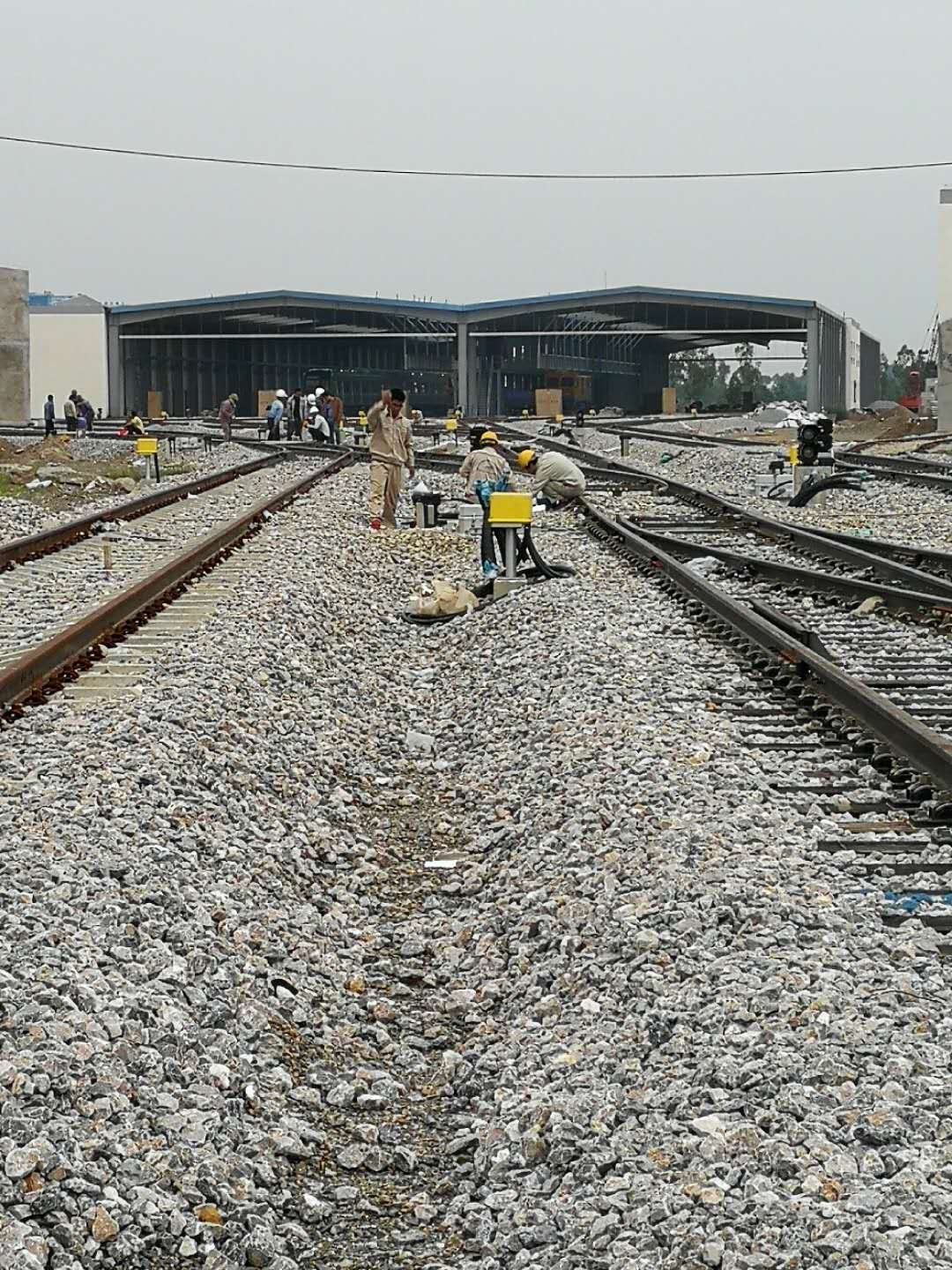 Fig. 1 JWJ-C Axle counting system site in Viet Nam Railway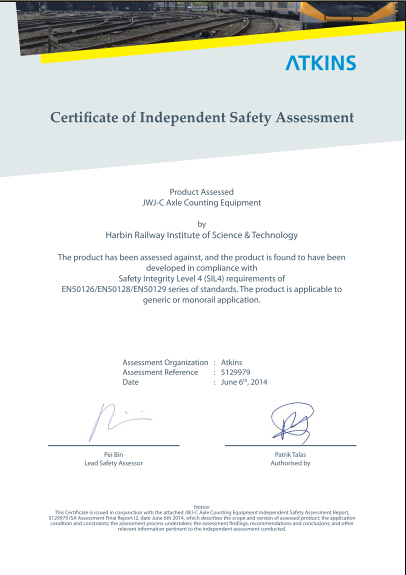 Fig. 2 Certificate of Independent Safety Assessment by ATKINS
How the system works
When a train approaching the detection point and wheels rolling over the wheel detector, the alternating electromagnetic field generated by and between the transmitter and receiver of the detector will be changed. Also changed is the voltage induced in the receiver's coil of the detector.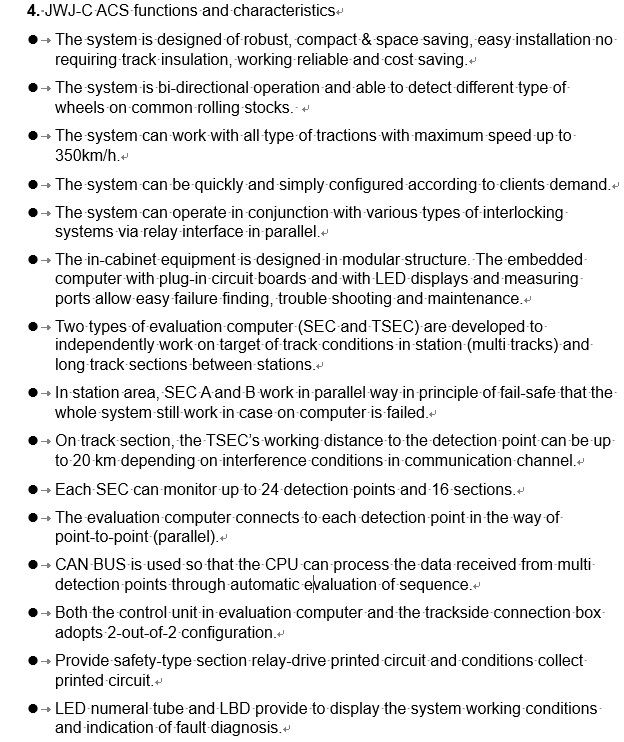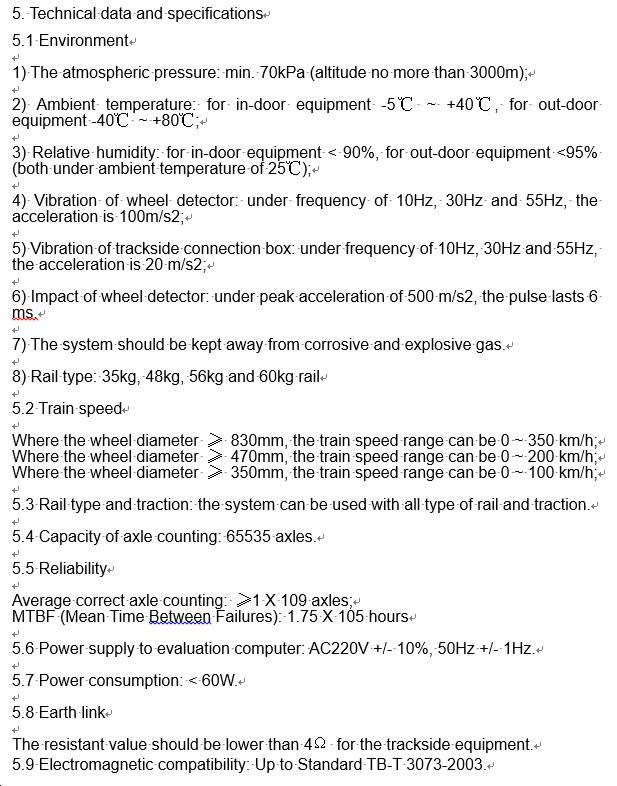 The JWJ-C ACS consists of two parts: detection point equipment at trackside and evaluation computer associated with power supply, communication and UPS, etc. accommodated in a 19" cabinet.
One detection point includes:
Dual wheel detector; and A trackside connection box.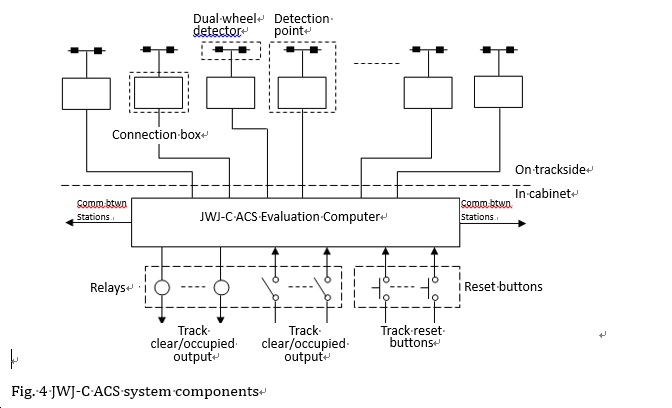 Wheel detector
Each unit of wheel detector contains two components: one is transmitters (TX1 & TX2) in dual mounted at outside of rail and the other is receivers (RX1 and RX2) in dual too at gauge side.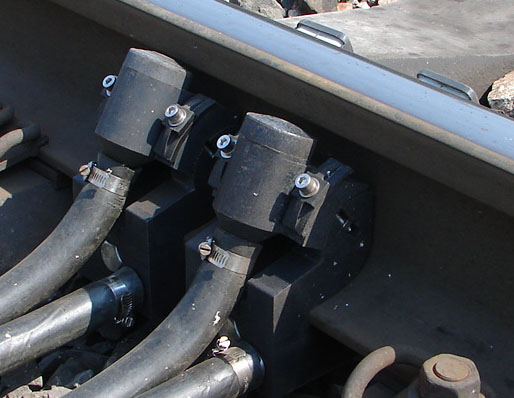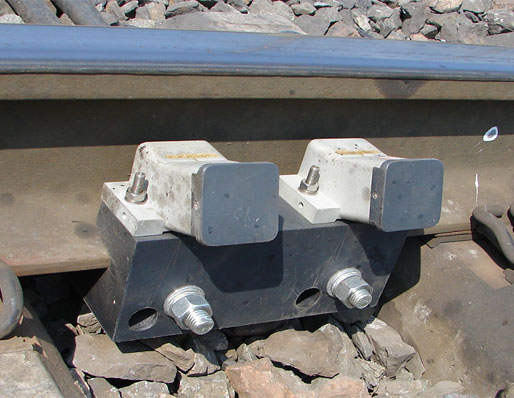 Fig. 5 Dual transmitter at outside of rail Fig. 6 Dual receiver at gauge side of rail
Both transmitters and receivers are insulated from the rail when being mounted on rail to eliminate interference from traction return current on electric line.
Specifications of wheel detectors
| | |
| --- | --- |
| Working principle | Phase detection |
| Working frequency | 31.25 KHz, 34.25 KHz |
| Working temperature range | -40 ~ +80℃ |
| Protection level | IP68 |
| Anti-explosive level | EXE II BT6 |
| Train speed | 0 ~ 350 km/h |
| Rail type | All types |
| Mounting | Clamped directly to the rail with insulation |
| Anti-interferences | Anti-vibration, aging-proof, anti-corrosion, water-proof, theft-proof |
| Insulation | The insulation resistance between the magnetic core and the enclosure is no less than 500 MΩ/500V |
| Train conditions | The wheel and rail wear, gauge differences, wheelset movement will not affect the normal working of wheel detectors. |
Trackside connection box
The connection box is installed at trackside to receive the signals from the receivers of wheel detector and initially process (modulating amplitude and frequency) the signals then send to the evaluation computer.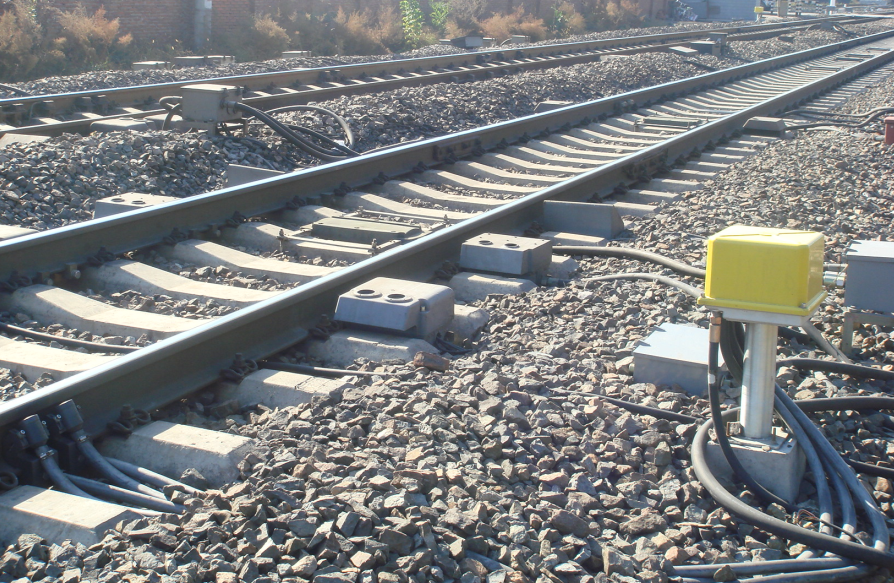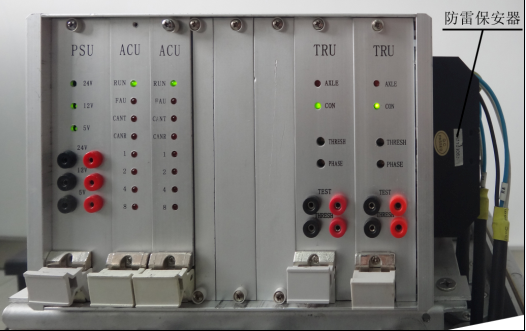 Fig. 6 Connection box and the front panel of the connector
Specifications of trackside connector

Power supply

AC220V (-20% ~ +15%), 50Hz

Power consumption

Max. 12W

Working DC voltages

5V (1±5%); 12V (1±3%) and 24V (1±3%)

Signal transmitting

Transmitting voltage: AC 12V ~ 40V

Transmitting frequency: f1=31.25 KHz (1±1‰)

f2=34.25 KHz (1±1‰)

Signal wave shape: sine

Signal receiving

Receiving voltage: DC 55mV ~ 700mV without wheel pass

DC – 55mV ~ -700mV with wheel pass

Communication interface with evaluation computer via CAN BUS

Protocol: ISO11898, CAN version 2.0

Rate: Max. 10kbit/s

Distance: Max. 3 km (double twist cable)

Error control and verification: CRC and ARQ

Communication interface with evaluation computer via MODEM

Protocol: ITU-T v.23, two-wire, full duplex

Rate: 1200 bit/s

Transmitting voltage: <=0dB (adjustable)

Receiving sensitivity: >= -20dB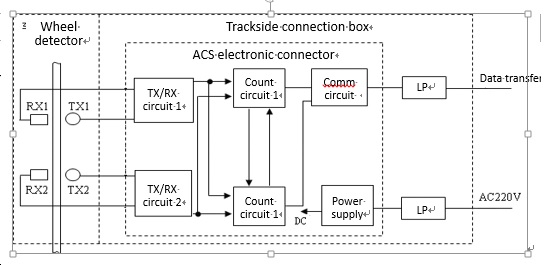 Fig. 7 Components structure diagram of a detection point
The evaluation computer provides to process the received signals to detect out if the track section is clear or occupied then send the instruction to interlocking system via relays.
There are two types of evaluation computers: Station Evaluation Computer (SEC) and Track Section Evaluation Computer (TSEC). The SEC is to detect clear or occupied tracks in station area. SEC will be able to operate with up to 24 detection points.
TSEC is used to detect track section between stations. The operating distance of TSEC is up to 20~30 km depending on conditions of interference in communication channels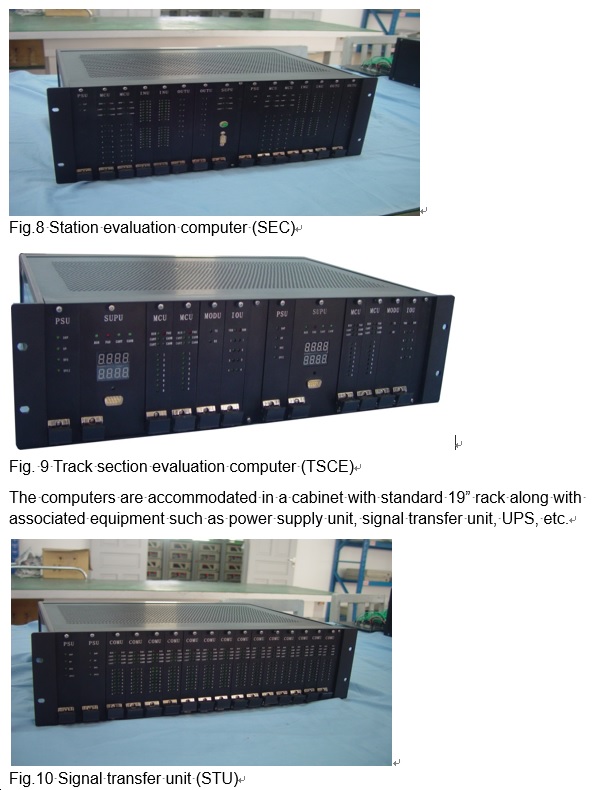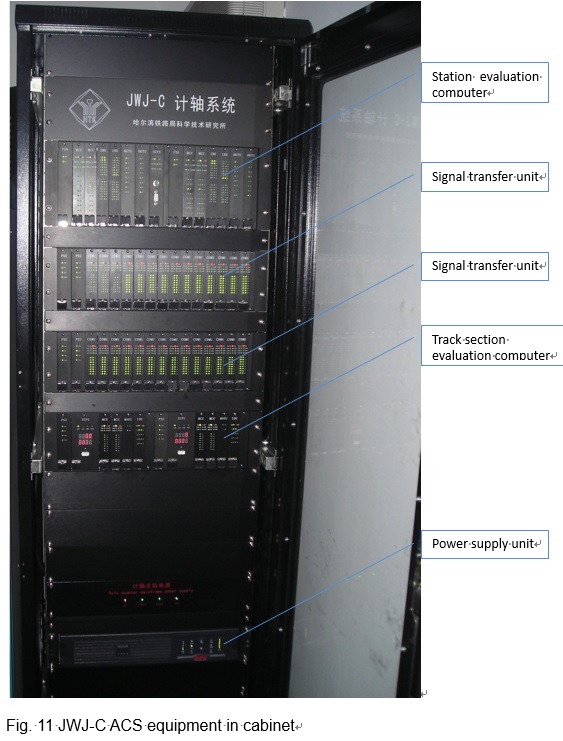 Send your message to this member
From*

toZHANGYING
Message*