The NEW BIBF500 Fully-automatic BIB Bag Filler Bag in Box Filling Machine
Product Details

Company Profile
Newly designed Fully-automatic Bag-in-Box Filling Machine, an ideal WEB Bag Filler for filling drinking water, edible oil, syrup and wine in 3-25L bag
The NEW Fully-automatic BIB Bag Filler | WEB Fed Bag-in-Box Filling Machine
Different from the previous version, the exit of filled bags exit of new Bag-in-Box filling machine BIBF500 was designed on the different direction - directly on the other end of empty bags entry and also on taller height. The changes make the filling machine match our carton packaging line better. Besides, the previous version works by cuting bags apart before filling, but the new filling machine works by cutting bags apart after filling and capping, which makes it easier for users to fill different sized bags.
The NEW Fully-automatic BIB Bag Filler | WEB Fed Bag-in-Box Filling Machine is especially for filling spout-prepared bags with a wide range of liquids like drinking water, post mix syrup coke, edible oil and beverage. It features fully-automatic by employing PLC and touch screen control system. The whole process of continuous bags feed, decapping, vacuumization (optional), nitrogen injection (optional), filling, capping, cutting apart from continuous bags and transiting to the conveyor can be completed automatically, no human operation required.
This machine can cap various spigots including Vitop and Scholle's. It is designed with CIP (Clean in Place) function and circuit connection.
Features:
1) Fully-automatic, continuous WEB type bags fed.
2) Easy to use. The touch-screen control system makes operation easy.
3) Self-test and protecting function.
4) An electromagnetic flow meter system employed improves filling precision and truly achieves the quantitative filling.
5) Grade 304 stainless steel body and 316L stainless steel fluid-contact parts.
6) Filling a different capacity bag acceptable only by changing the setting.
7) Perfect spout clamping system ensures reliable running of the machine and meanwhile no damage to the bag spout.
8) Options of vacuumization and nitrogen injection available for specific products use.
Specifications:
Applicable bags: pre-cut continuous module or WEB type bags, spout-prepared, 3-25 litres. (Spout is called "Gland" or "Flange" too.)
Filling capacity:
500 bags/hour for 5 litres
400 bags/hour for 10 litres
300 bags/hour for 20 litres
Power: 3KW
Compressed air: 6-8bar, 1.5m3/h.
Procedures:
1. Automatically feed bags.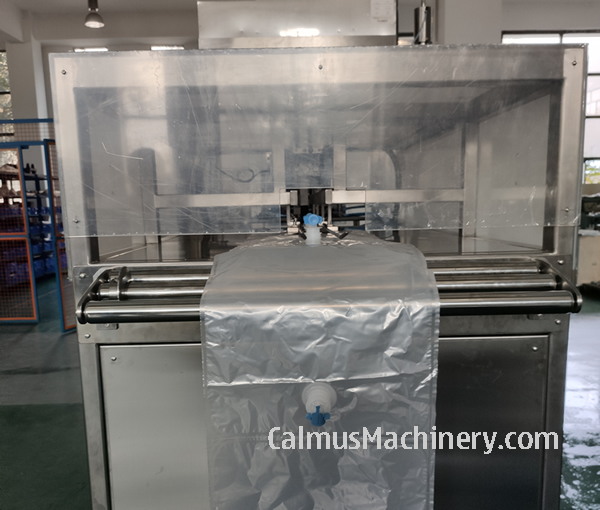 2. Automatically decap, fill, cap and then cut apart from the continuous bags.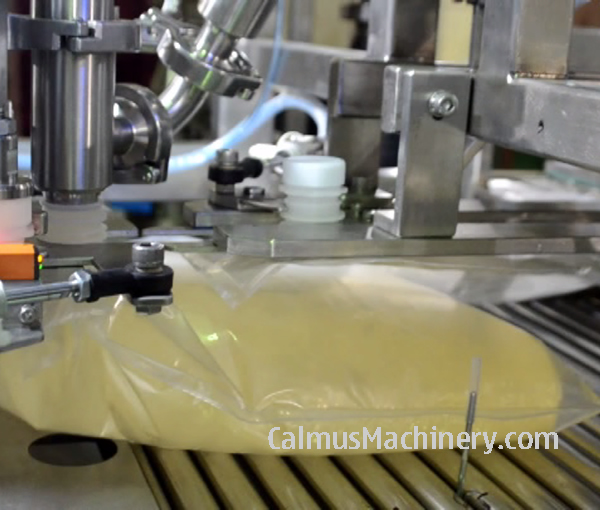 3. Automatically exit filled bags.
Fully-automatic. Grade 304 stainless steel construction and grade 316L stainless steel fluid-contact parts. World famous brands of key components and many are imported.
Absolutely EU quality standard, but less than half of EU price.
We also supply the matched box packaging line.