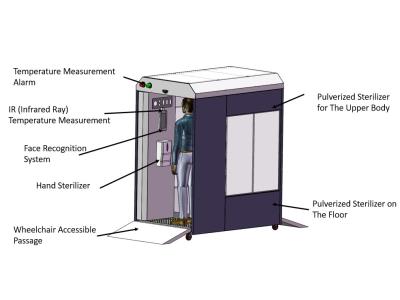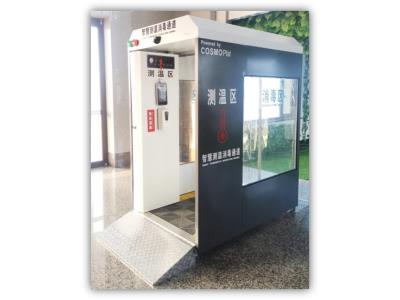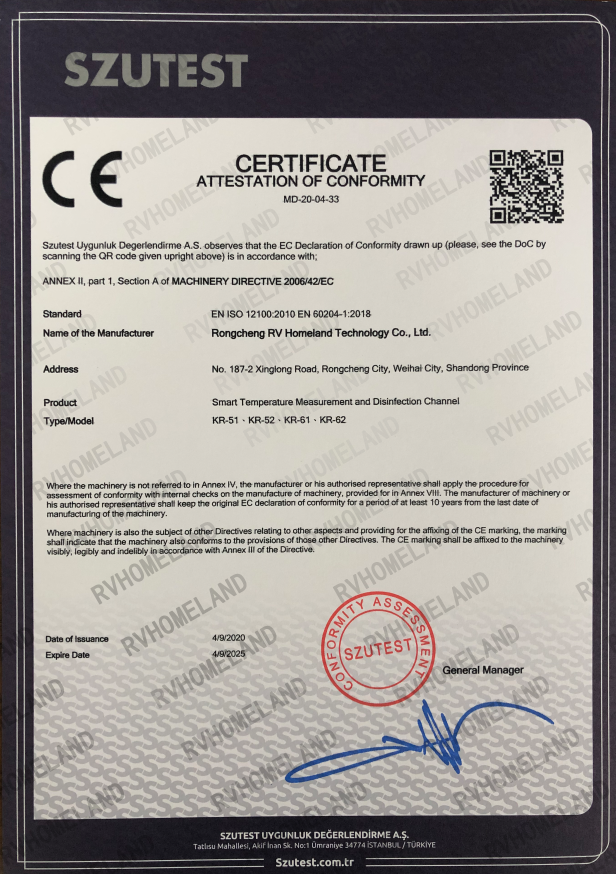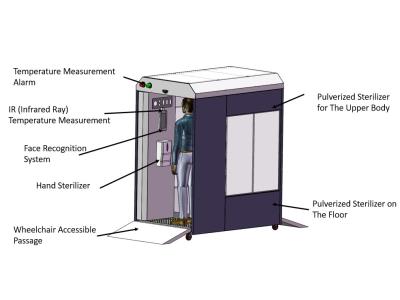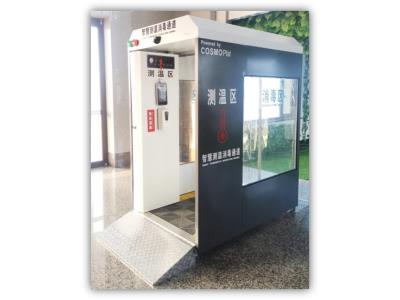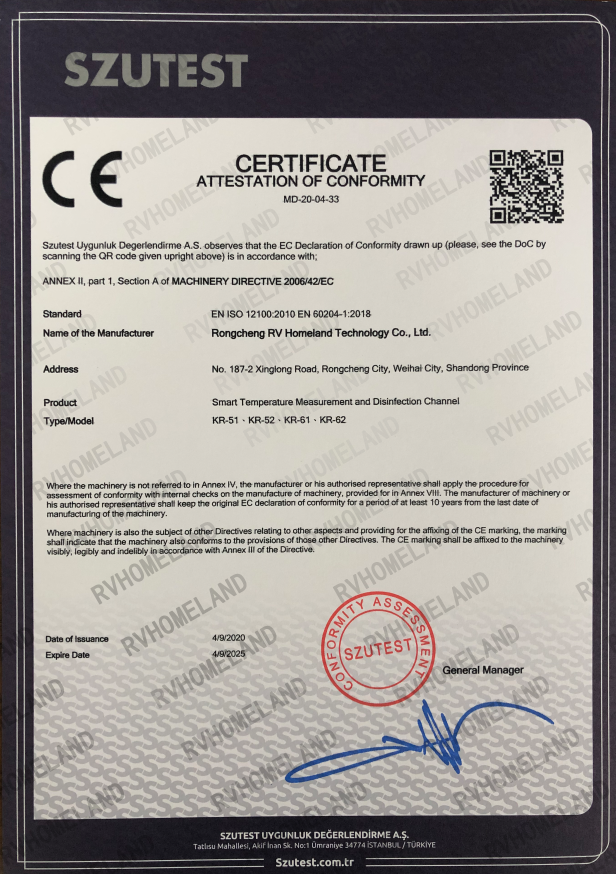 Smart Temperature Measurement and Disinfection Channel
Product Details

Company Profile
Haier (COSMOPlat)
Smart Temperature Measurement and Disinfection Channel
Operation Manual
Haier Digital Technology Co., Ltd
Rongcheng RV Homeland Technology Co., Ltd
Section 1 Overview
1.1 Product Introduction
The system uses the principle of non-contact infrared detection to determine whether the temperature of personnel is abnormal. This equipment is suitable for hospitals, schools, communities, factories, supermarkets, shopping malls, stations, airports, banks, hotels, exhibitions and other densely populated places. It can preliminarily scan people with abnormal temperature and prevent cross infection of various viruses.
1.2 Product Features
Accurately and quickly judge whether the forehead temperature of human body is abnormal in high temperature and intelligent voice prompt, upload to the background control center according to the requirements.
Using face recognition system to make statistic attendance and register visitors.
Automatic induction spray to hands and the whole body for epidemic prevention and disinfection.
It can identify dangerous behaviors, for instance not wear masks.
1.3 Technical Standards
l Electrical appliances refer to EN60950 Safety Standard
l Anti-interference refers to EN50082-1 Standard
l External power supply: 110v-230v
l Frequency: 50 / 60Hz
l Power consumption: 50w-200w
l Working environment: Constant temperature environment (5℃~50℃)
l Transportation total-weight: approx. 362kg
l Overall dimension: (mm) 1800 (L) × 1200 (W) × 2270 (H)
l Channelsize: (mm) 1800 (L) × 930 (W) × 1900 (H)
Section 2 Equipment Component
See the attached drawings

Section 3 Equipment Characteristics
Infrared human body Temperature Measurement, sound and light alarm
Using high-precision infrared spectrum sensor for human body, calibrated by blackbody radiation source, it can realize non-contact multi-point Temperature Measurement, quickly and reliably, effectively avoid cross infection, and collect temperature in real time. Peak extraction and comparison output signal lamp and beep prompt.
Hand special contact induction alcohol sterilizer
The Temperature Measurement area of the equipment is specially equipped with a hand sterilizer, which is non-contact induction spray, safe and sanitary, and can effectively sterilize. Food grade disinfectant and solution shall be used in strict accordance with European Standards to ensure human body safety.
Function of Auto-induction spray
Infrared Ray object induction sensor is installed for auto-running of pulverization machine and spraying sanitizer into the Channelwhen any entry has been detected. Low angle of attack structure is designed to spray outlet to avoid discomfort caused by spray to the face.
Function of Shoe Sole and Wheel disinfection
Bottom-installed pulverized disinfection ventilators are installed in Channelfor disinfection of shoe sole and wheel of wheelchair and trolley.
Function of Auto-supplement
20-L capacity container with auto-supplement, dual-solution starvation indication and delay functions are realized for the pulverization box are installed to realize low manual operation and non-stop work.
Function of Equipment Status
Indication of operation, solution starvation and illumination are realized for real-time operation status inspection. Empty heated prevention function is realized to prevent possible damage caused by improper operation.
Function of ChannelIllumination
LED illumination has been installed in the Channelfor application at dark atmosphere and night.
Function of movability
2 universal wheels, directional wheels with brakes and 2 foldable Hill-start Assists are installed for convenience of moving and relocating and reduction of storage space. Nylon tyres are installed for adaption to all road conditions.
Function of quick setup
The equipment use 220V AC electricity, and the power lower than 1000W. Installation and setup are easy and fast, just extend socket connected and add disinfectant in to make it work. Disinfectant is easy to be added in and drained out. No staff needed, simple operation, easy to learn and use.
Section 4 Statement of Special Notice
This equipment adopts infrared detection module to measure the temperature of the tester, and the temperature accuracy scale is ≦0.2 centigrade.
The equipment is only used for the preliminary scanning of people with abnormally high temperature when the indoor mass stream of people passes. It is recommended to use the equipment within the indoor temperature of 5℃-50℃. That does not ensure the result when used outdoor.
This product is just a surface temperature scanning, not an accurate medical diagnosis equipment. The test results only reflect the real-time temperature assessment of people in a specific situation. The seller shall not direct or indirect losses be held responsible for any data errors caused by the test results.
Relevant departments also need to re-check the preliminary scanning results through other temperature measuring equipment to ensure the reliability.
Send Inquiry to This Supplier