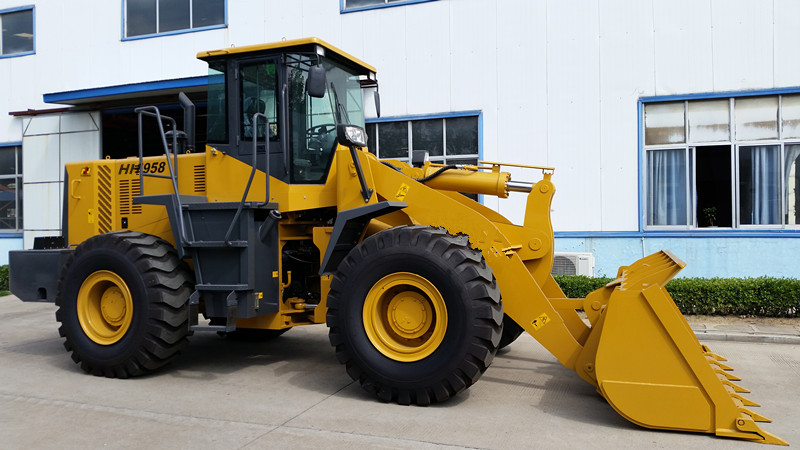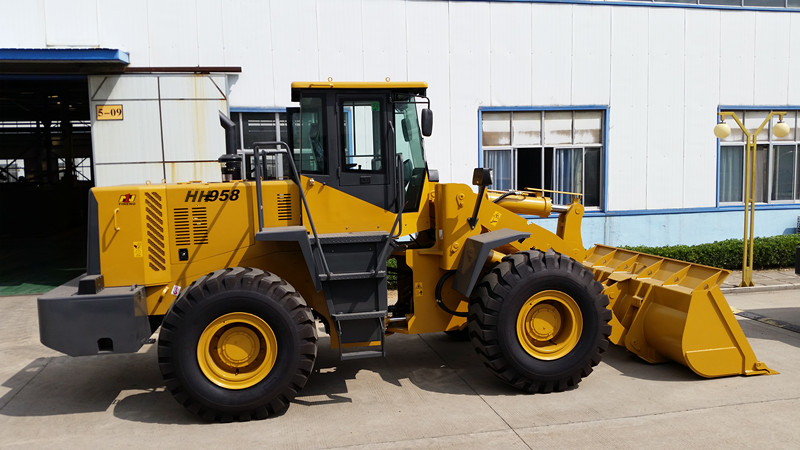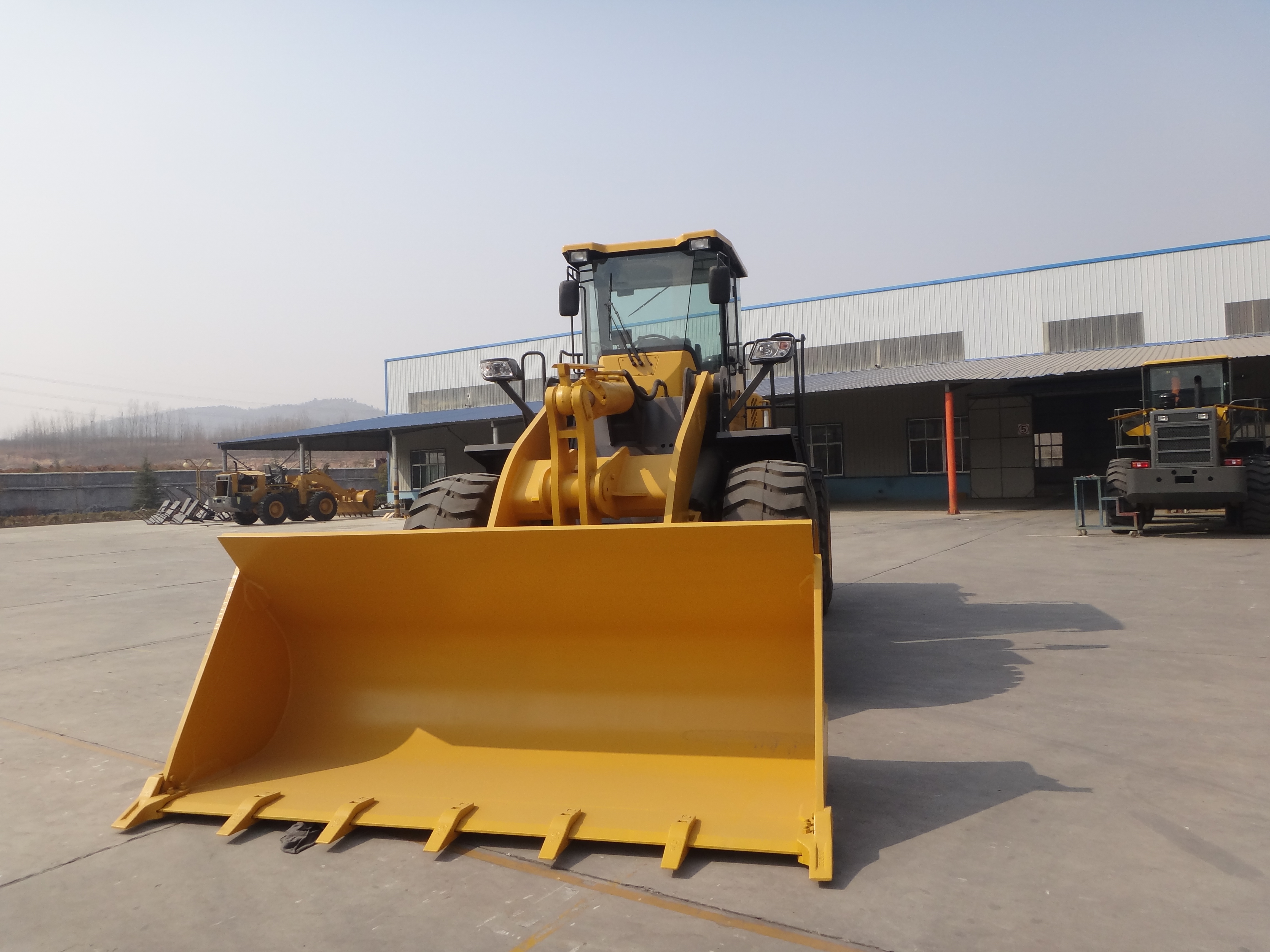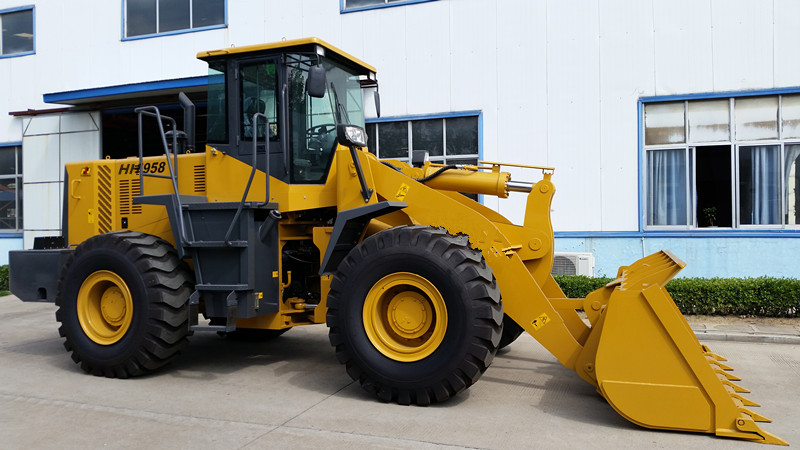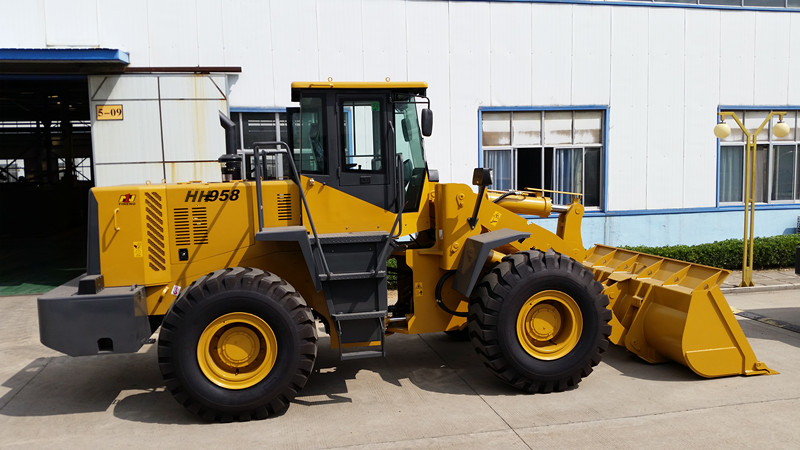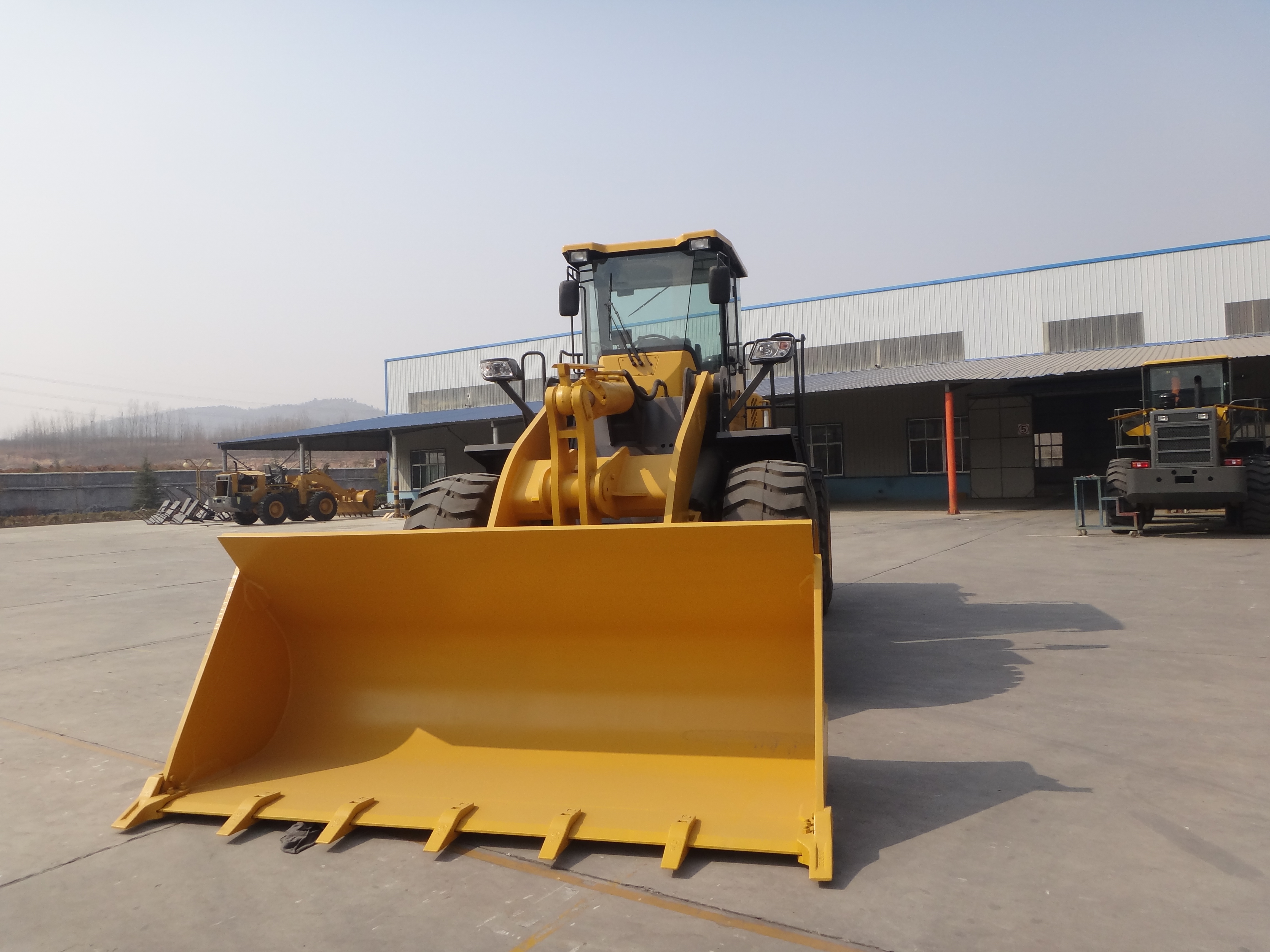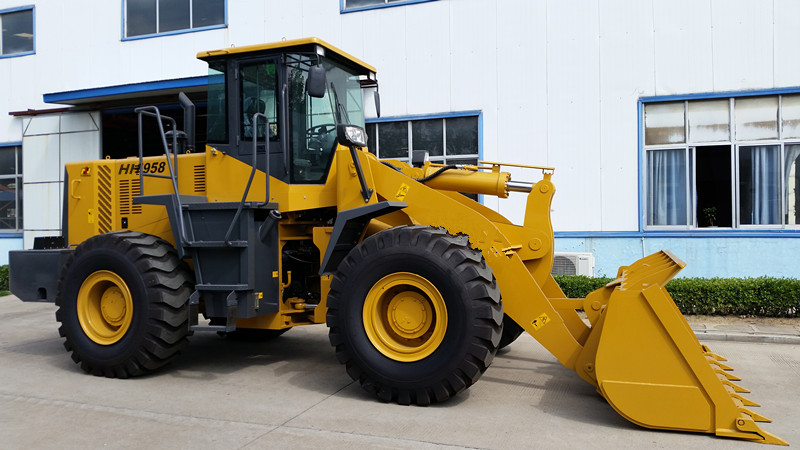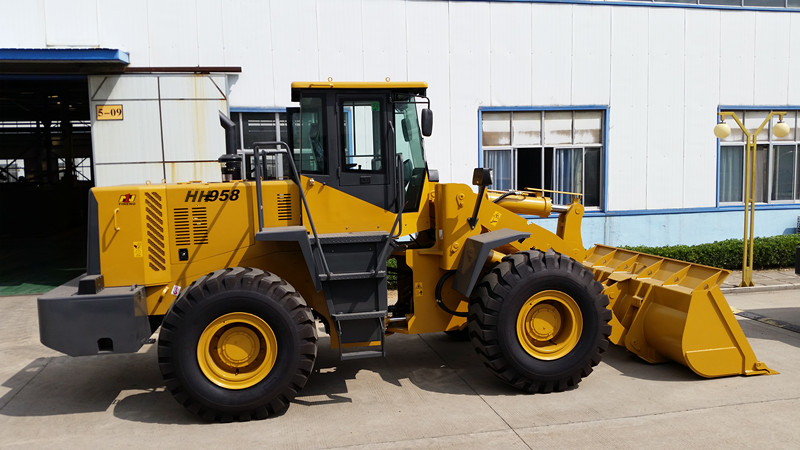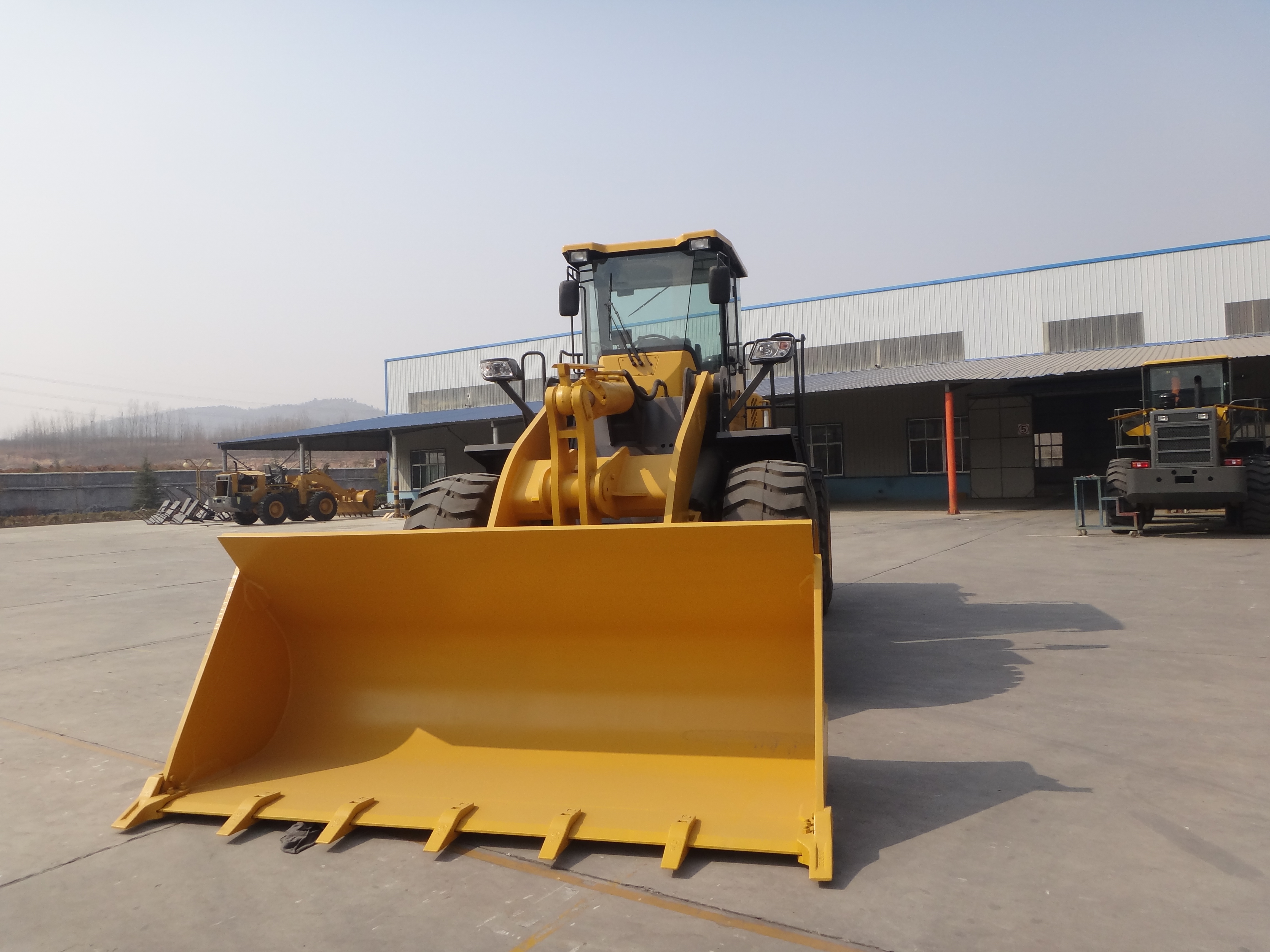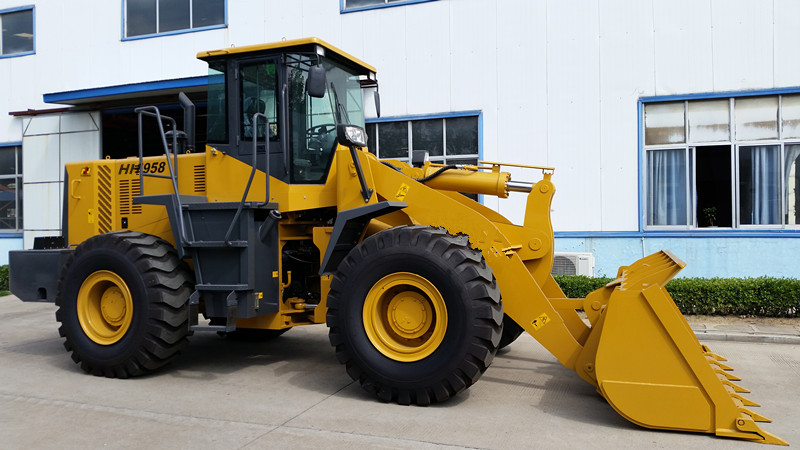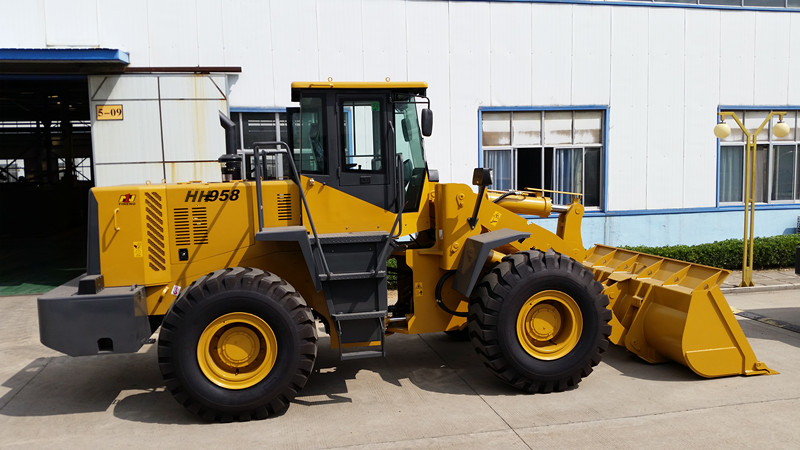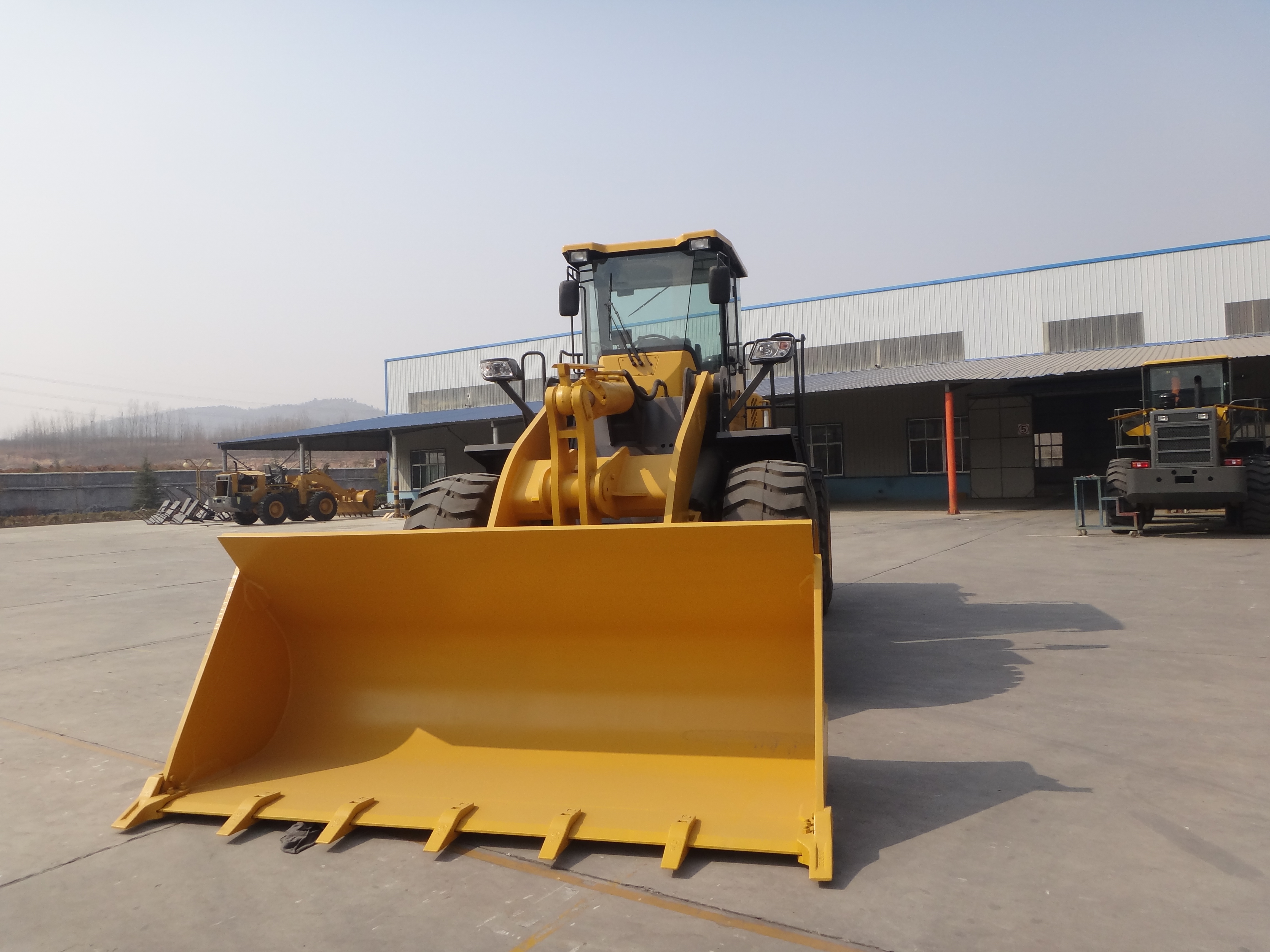 Strong power 5000kg Wheel Loader
CCCME Member
Recommended by CCCME
Product Details

Company Profile
Strong power 5000kg Wheel Loader
HH958 Wheel Loader
HH958轮式装载机
1. Features: 产品特征:
* Shangchai Caterpillar tech SC11CB220G2B1 engine is adopted, large torque backup and strong power.
*采用卡特技术生产的上柴SC11CB220G2B1发动机,储备扭矩大,动力强劲;
* Single stage, 4 elements, twin turbo ZL50 torque converter and planetary gearbox from Hangzhou Advance Gearbox Group, compact structure and high reliability.
*采用杭齿ZL50单级四元件双涡轮液力变矩器,行星式变速箱,结构紧凑,可靠性高;
* Gear-shift with 2 forward and 1 reverse controlled by flexible shaft eases much labor.
*软轴操纵换挡,前2后1档位,操纵轻便;
* Strengthened axles owning large bearing capacities and high reliability.
*加强型驱动桥,承载力大,可靠性高;
* Twin pump merging hydraulic system makes lower consumption and excellent performance.
*双泵合流工作液压系统,节能效果显著;
* The coaxes flow-amplified, hydraulic compensated steering makes operation easy and performance reliable.
*同轴流量放大全液压转向系统,操纵灵活,稳定性好;
* Both travel system and working hydraulic system are forced-cooled, improving the efficiency obviously.
*行走及工作液压系统强制冷却,提高工作效率;
* Air over hydraulic brake system; eight caliper disc brakes.
*气顶油助力制动系统,8个钳盘式制动器;
* Air break control, expand hoof type parking brake and emergency brake.
*断气操纵涨蹄式驻车制动及紧急制动;
* Working device with automatically leveling ability at high position.
*具有高位自动放平性能的工作装置;
* Bucket articulated points take sealed, lubricated, dust-proof layers, which owns good durability.
*工作装置铰接部位采用防尘密封润滑结构;
* Integral, luxury instrument board.
*整体式豪华仪表台;
* New, luxury cabin
*新型豪华驾驶室。
2.Main Specifications: 主要技术参数:
项目Item

参数值Specification

项目Item

参数值Specification

铲斗容量

Bucket capacity

3m³

最小转弯半径

Min. turning radius (outside of rear wheel)

6360mm

额定载重量

Rated load

5000kg

转向角度Steering angle

35°

卸载高度

Dumping height

3100mm

最小离地间隙

Min. ground clearance

478mm

卸料距离Dumping reach

1285mm

轴距Wheel base

3200mm

动臂提升时间

Boom lifting time

6.8s

轮距Wheel tread

2250mm

三项和时间

Total cycling time

12s

发动机型号

Engine model

SC11CB220GB1

最大行驶速度

Max. speed

36km/h

发动机功率Rated power

162kW/2200rpm

最大掘起力

Max. breakout force

170kN

轮胎规格Tyre

23.5-25

最大牵引力

Max. drawing force

150kN

外形尺寸(长*宽*高)Overall dimensions

7960*3070*3490mm

最大爬坡能力

Max. grade ability

28°

整机工作重量

Operating weight

17000kg
Remark: Heavy chassis for standard
备注:标准配置选用大车架
3. Optional: 选配:
(1) Dongfeng Cummins 6CTA8.3-C215 engine
东风康明斯6CTA8.3-C215发动机
(2) ZF TECH WG180 gearbox WG180变速箱
(3) ZF TECH WG200 gearbox WG200变速箱
(4) Air Condition空调
(5) Joystick control先导操纵
(6) Quick-hitch快换装置
(7) Fork托叉
(8) ROPS防翻滚驾驶室
4. Others:其他:
(1) Packing: 1 unit naked within 1 x 40HQ container
包装方式:裸装,一个40尺高柜装1台
(2) Delivery time: 40 days
交货时间: 40天
(3) Guarantee Period: One year
保修期:一年