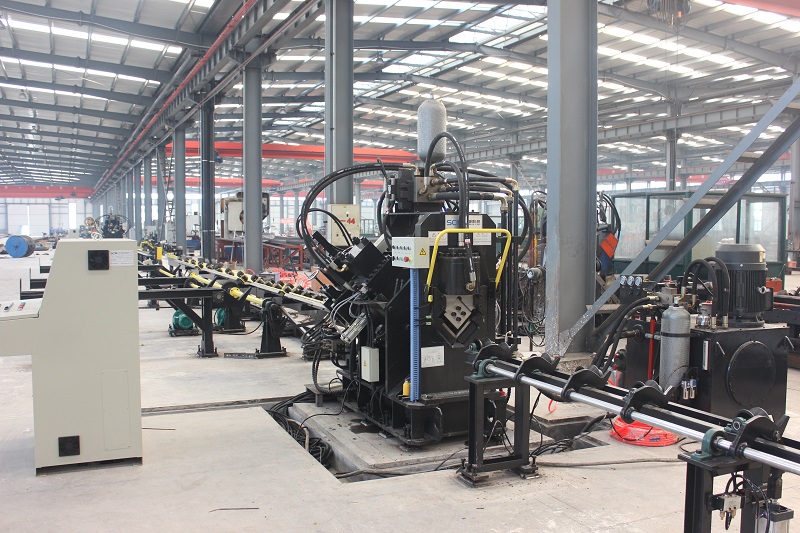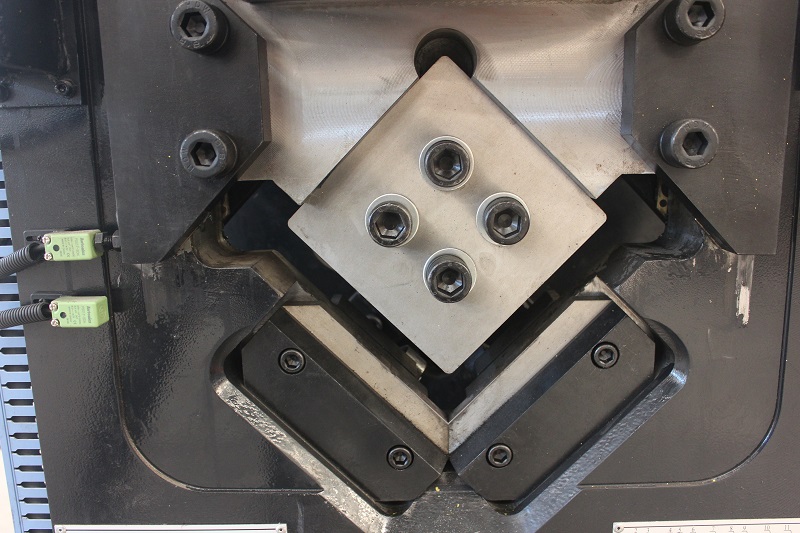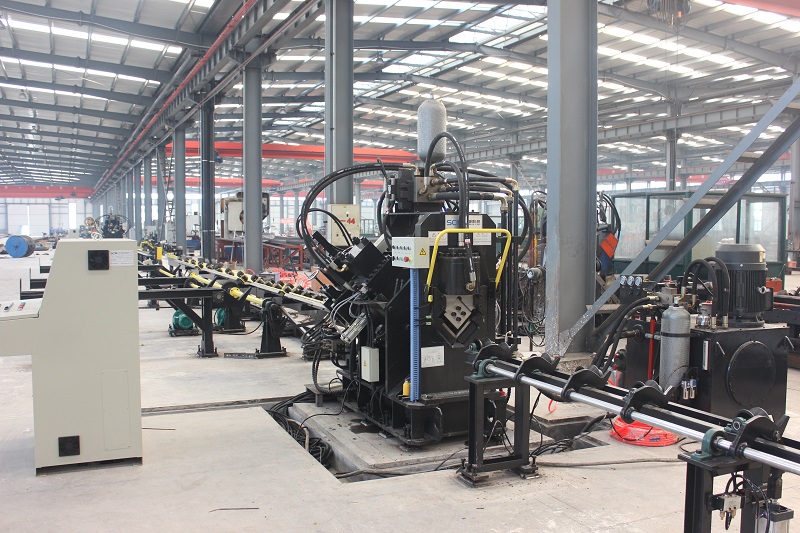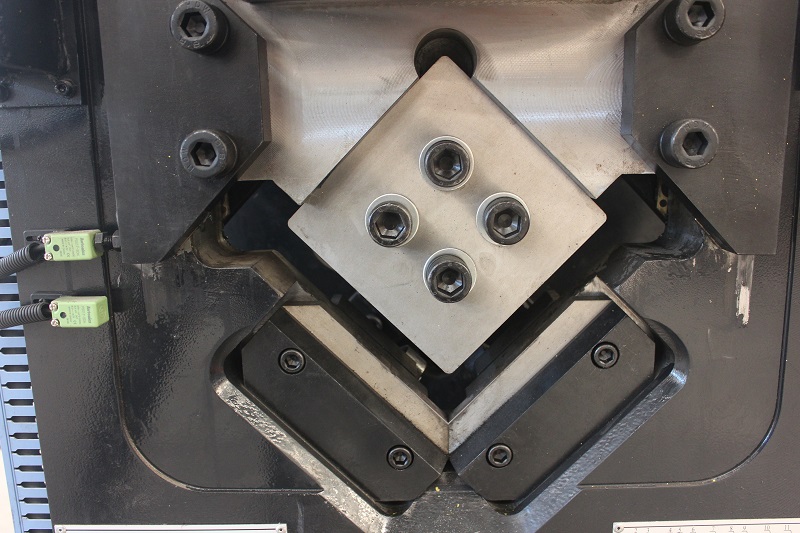 TAPM1010 HIGH SPEED CNC ANGLE PUNCHING MARKING & SHEARING MACHINE
Manufacturer
Recommended by CCCME
Product Details

Company Profile
TAPM1010 HIGH SPEED CNC ANGLE PUNCHING MARKING & SHEARING MACHINE
The machine is the special equipment used for angle steel punching, marking & shearing in the field of angle steel tower industry, electric power fitting, structure storage facilities and structure construction industries etc.
This machine is mainly composed of transverse conveyor, rotating loading system, infeed conveyor, CNC infeed carriage, punching unit, marking unit, cutting unit, unloading conveyor, as well as hydraulic, electrical and pneumatic systems etc.
Product Feature:
1.Feeding speed and punching speed are very fast, greatly improve the production efficiency. For 50×50×4mm angles, it can process 9 to 10 tons per 8 hours.

2.The pressing angle device, NC infeeding carriage, Material supporting device, and clamping claws are Access to the national patent protection.

3.Adopt PLC module control, servo motor in feeding, with high efficiency, stable work piece precision.

4.The program function is perfect, already obtained the national patent, the program is more practical and more powerful.

5.Easy programming, can manual programming and also can use the program generated by lofting software.. It can read NC.1 files generated by TEKLA software.

6.All marking, punching and shearing in automatic completeness, all finished angles can be unloaded by pneumatic turnover device so as to lighten the working strength.

7.Marking unit adopts closed frame with good rigidity.

8.Single blade shearing, save raw material.

9.The feeding conveyors use double linear guide, and the carriage is newest design, which improve the machine speed and accuracy.

Special advantages:

1. Enclosed marking unit. It is more stable, safe and prolongs the marking unit life.

2. All main cable, such as rotary encoder cable, PLC communication cable is shielding twisted-pair cable imported. Thus, it avoids accuracy error caused by signal interference.

3. Linear guide and detection gear for feeding conveyors, which ensure the accuracy and stability.

4. Double accumulators to improve the punching speed.

5. DENISION pump for hydraulic motor, better quality and lower noisy.
| | |
| --- | --- |
| Model | TAPM1010 |
| Functions | Punching, marking, shearing |
| Angle size (mm) | 40x40x3~100x100x10 |
| Max. Punching (dia. х thi.) (mm) | Φ26x10 (Q345) |
| Punching force (kN) | 600 |
| Marking force (kN) | 630 |
| Cutting force (kN) | 1200 |
| Max. length of blank (m) | 10 or 12 |
| Max. length of finished (m) | 8 |
| Punches per side | 2 |
| Group of Marking letters | 4 |
| Dimension of letter (mm) | 14x10x19 |
| CNC axes | 3 |
| Cutting mode | Single blade cutting |
| Feeding speed of angle (m/min) | 80 |
| Programming mode | Lofting software or manual program |
| Overall size(mm) | 25000x6500x2500 |
| Net weight(kg) | About 13000 |
| Total power(KW) | About 38 |