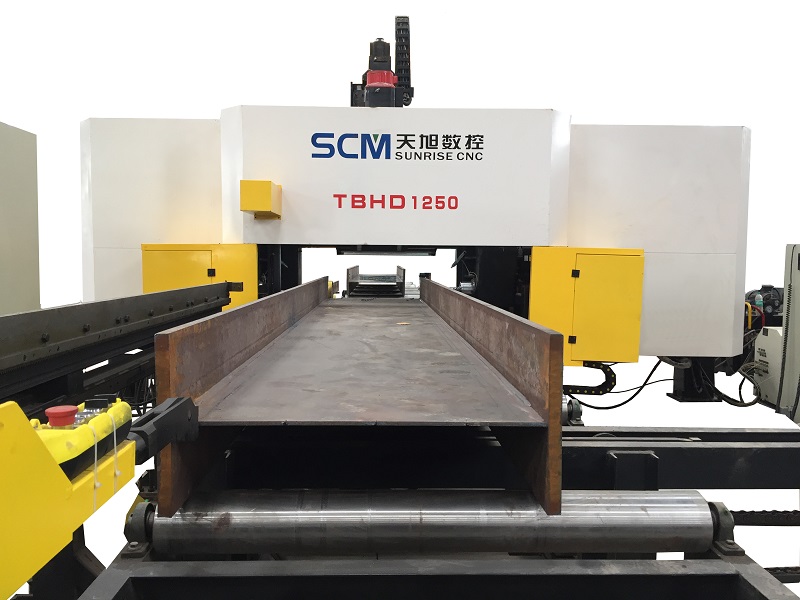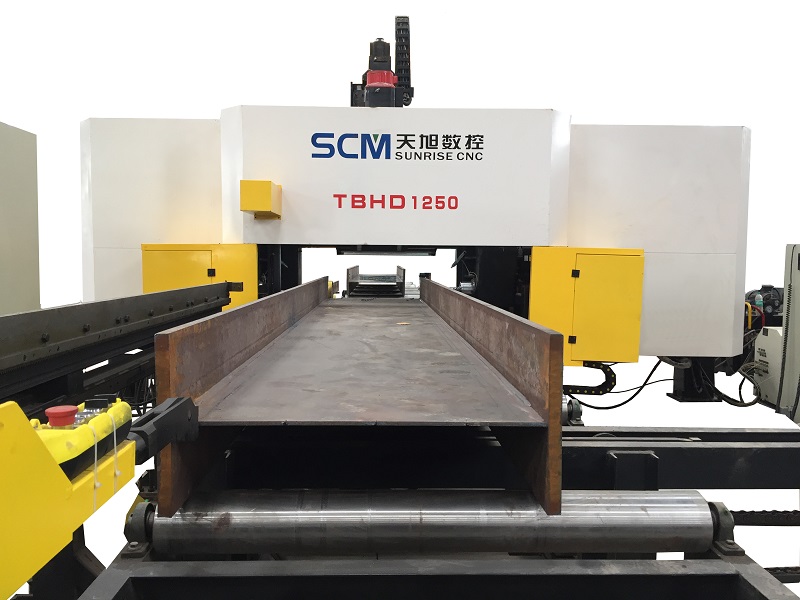 TBHD1250 HIGH SPEED CNC BEAM DRILLING MACHINE
Manufacturer
Recommended by CCCME
Product Details

Company Profile
TBHD1250 HIGH SPEED CNC BEAM DRILLING MACHINE
Application:
This machine is mainly used for processing holes on H-beam, channel beam with high speed, the positioning, feeding of three spindles are all driven by servo motor. It adopts spindle servo motor, controls by CNC system, and in-feeding by CNC carriage, high efficiency, and high precision; and it is wildly used in construction, bridge and other industries.
Product feature:
1. The whole machine is optimized integrated design, with high quality casting machine body and drilling units, which ensure high stability and high rigidity when high speed drilling.
2. Used high-speed precision spindle from Taiwan's well-known brand, model BT, which can meet the using demand of both hard alloy and high-speed steel drill. Every CNC axes are guided by the heavy loading roller linear guide, driven by the servo motor and roller screw which ensure the rigidity and positional accuracy.
3. With the trolley conveyor system and surface detector which realize the accurate positioning, ensure the processing precision.
4. Installed 3 inline type tool magazine, which realize the automatic tool change, also meet the demand of drilling multiple diameter's hole. Oil spray and air spray cooling, has inner cooling and outer cooling efficacy.
5. The CNC control system is the FAGOR. Strong anti-interference, high precision, because of the digital communication, thus overcome the defect of easy be interference in traditional pulse analog transmission.
6. In order to ensure the accuracy, reliability and stability of transmission system, electrical system, hydraulic system, all the key components are from international famous brand.
Model

TBHD1250

Work piece size

H beam

Web (mm)

150~1250

Flange (mm)

75~600

Max. material length(mm)

12000/15000(optional)

Spindle

Quantity

3

Spindle taper

BT40

Spindle rotation speed(r/min)

200~3000

Feeding speed(mm/min)

0~5000

Max. hole diameter(mm)

Cemented carbide:φ30

Twist drill:φ40

Center line movement scope(mm)

Center slide table/

Horizontal direction

45~1200

Fixed side/movement side

Vertical direction

30~570

Tool Magazine

Tool Magazine Quantity

3

Tools quantity for each Magazine

4 pieces

Motor power

Spindle motor power S1/S6(kW)

11/15.5

Feeding servo motor(N.m)

3×14.8

Position servo motor(N.m)

3×11.9

Feeding carriage servo motor(N.m)

27.3

Control system

CNC system

FAGOR 8070

CNC axes quantity

7+3

Hydraulic system

Max. Hydraulic Pressure (MPa)

7.5

Motor power(kW)

5.5

Cooling system

No. of nozzle

3

Pressure of compressed air (Mpa)

0.5

Cooling way

Internal cooling & external cooling

Working environment

Working power

Three phase four wire system 380±10%V, 50HZ

Control power

220±10%V 50HZ

Operate power

24V DC

Working temperature

0℃ ~ 40℃

Humidity of environment

≤75%

Overall dimension(L×W×H)(mm)

About 6000×2100×3500

Main Machine weight (Kg)

About 8500