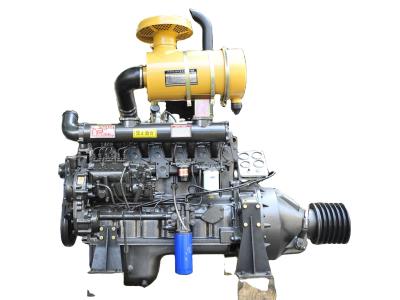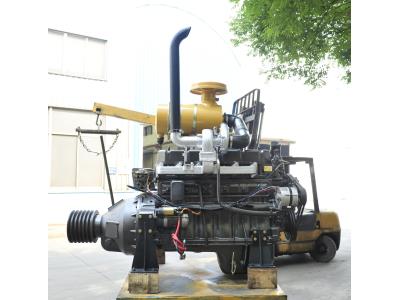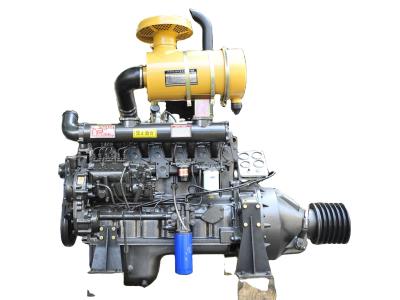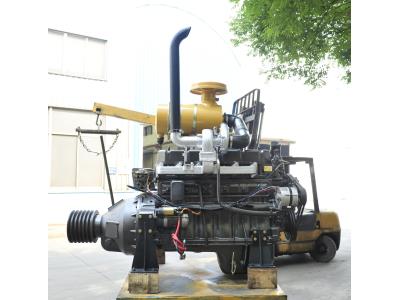 Weifang Ricardo stationary diesel engine 94kw/127Hp R6105ZP 2000rmp fixed power diesel eng
Trading Company,Manufacturer
Recommended by CCCME
Product Details

Company Profile
R6105ZP with output 84kw/1500rpm,,94kw/2000rpm
Ricardo Series Diesel Engine
Ricardo series diesel engine is a four–stroke,water-cooled,in-line and direct injecting combustion chamber type,high-speed diesel engine.This series diesel engine is specially designed for our country.
Ricardo Consulting Engineers Co.,Ltd.manufactured and developed firstly.But a new generation product is manufactured and signed by Ricardo company and Weifang Huadong Diesel Engine Co.,Ltd.The new type diesel engine possesses performances of high power,economy and easy starting. Under the environment with temperature higher than -10℃,the diesel engine can be easily started without preheating.The first overhaul period is 8000hours.It's reliability and service life achieved a advance level among the same kind products all over the world.
Ricardo series diesel engine have naturely aspirated,turbo-charged and turbo-charge and inter-cooled.The bore of Ricardo diesel engine is 100mm and 105mm.Cylinder of engine have four and six cylinder number.
Our R-series diesel engines have a power output range of 26.5 kW to 135 kW and a rotational speed of between 1,500 rpm and 2,800 rpm.Key characteristics of our R-series diesel engines include low fuel consumption, high operational reliability, high torque performance, easy ignition, low emission, small footprint, high power output and low maintenance. Our R-series diesel engines are ideal for operating various types of machinery and equipment in the power generator, marine engine for generator,marine engine for power,agricultural machinery,construction machinery industries and for stationary power.
We continuously strive for excellence in everything that we do. Besides utilizing technology transferred from Ricardo of the United Kingdom.we imported various technical expertise and advanced manufacturing equipment from Europe to extend the useful life of our R-series diesel engines. Hence, we believe that our R-series diesel engines are technically comparable to the best-in-class in the diesel engine manufacturing industry globally.
Engine Series/Model
Bore (mm)
Stroke (mm)
Displacement
(liters/cylinder)
Cylinders NO. L = In-Line
Output Range Prime Power

Dimension (mm)

KW@1500rpm

KW@2000rpm

KW@2000rpm

KW@2000rpm

ZH495G
95
115
3.26
L 4
26.5
35.3
38
40.4
1360*640*920
ZH495ZG
95
115
3.26
L 4
36
47




1360*640*920
ZH4100G
100
115
3.61
L 4
30.1
39


45
1360*640*1000
ZH4100ZG
100
115
3.61
L 4
41.2


55


1470*700*1000
R4105P
105
125
4.33
L 4
42
48
50
60
1400*800*1200
R4105ZP
105
125
4.33
L 4
56
61
68
75(AZP)
1400*800*1200
R6105P
105
125
6.49
L 6
58
72
75
81
1830*740*1040
R6105P20
105
125
6.49
L 6

85@2600rpm

1830*740*1040
R6105ZP
105
125
6.49
L 6
84
94




1830*740*1040
R6105ZLP
105
125
6.49
L 6






135
1930*740*1040
R6105AZLP
105
130
6.75
L 6
110
121




1930*740*1040
R6105IZLP
105
135
7.1
L 6
132


135


1930*740*1040
6126ZLP
126
130
9.726
L 6


235
235


2830*780*1539
6126IZLP
126
155
11.596
L 6


275




2730*780*1539
6126IZLP1
126
155
11.596
L 6
295kw@2150rpm
2730*780*1539