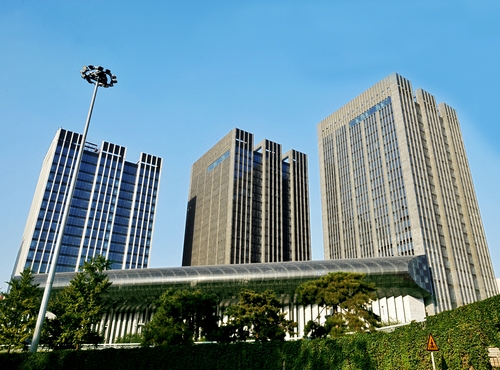 China National Electronics Import & Export Corp. (CEIEC) was founded in April, 1980. With honesty and diligence, and 30 years operation, CEIEC has built wide-ranged cooperation relationships with more than 160 countries and regions, and has made great contribution to the reforms and Opening-up of China and to the development of Chinese electronics industry.
CEIEC is honorably entitled to a number of A-grade certificates in the business of world trade, international engineering, tendering, exhibition and advertisement. By the end of 2011, CEIEC's total assets and sales revenue has respectively reached RMB 21.2 billion and RMB 25.1 billion.
At the present time, CEIEC's strategy is focusing on the following three "integrations": business solutions integration, overseas engineering integration, defense electronics system integration. The next five years is critical for CEIEC to seize opportunities and implement the strategy.
BUSINESS SOLUTIONS INTEGRATION
Business solutions integration is the joint business of exhibition and advertisement, modern logistics, tendering, and world trade. By providing integrated and customized solutions to the customers, the operation efficiency in different links of commodity circulation could be upgraded simultaneously, and the win-win situation could be achieved.
OVERSEAS ENGINEERING INTEGRATION
Responding to the call of "going out strategy" of the state, CEIEC started its overseas engineering business. With years of effort, CEIEC has developed comprehensive integrating capacity of engineering planning, designing and supervising, procurement of complete equipments, and project construction and management in the field of energy development, municipal construction, TV and broadcast, intelligent building, stadium and gymnasium construction, intelligent control, and comprehensive agriculture development. In the year of 2008, CEIEC has been listed as one of the top 225 International Contractors by ENR.
DEFENSE ELECTRONICS SYSTEM INTEGRATION
Defense electronics system integration mainly involves the import and export of electronics equipments of national defense. CEIEC has developed the manifold ability in design, integration, and construction of national defense electronics system. With the efforts of CEIEC, China Electronics R&D Center for Overseas Project was founded in 2009, which is playing an important role in the design and integration of top-level defense electronics system.