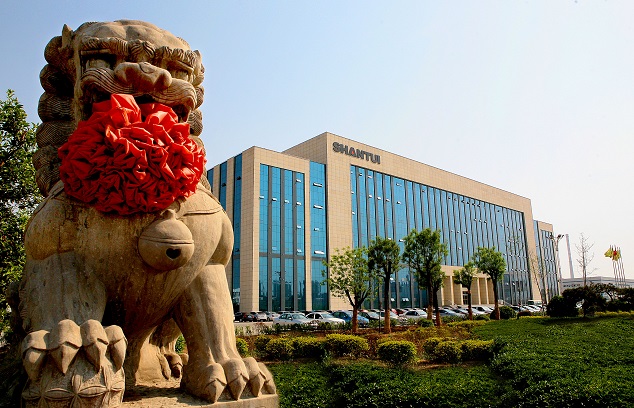 Shantui′s name is synonymous with bulldozers in China.

Shantui is one of the top 50 global manufacturers of construction equipment and one of the top 500 Chinese manufacturers.

Shantui Construction Machinery Co., Ltd. Was established in 1952 as Yantai Machinery Factory. In 1980, Shandong Bulldozer General Plant was established by Jining Machinery Plant, Jining General Machinery Plant, and Jining Power Machinery Plant. It belongs to a state-owned joint-stock listed company and is headquartered in Shandong. Jining City, the province, covers a total area of over 2700 acres. The products cover more than ten types of mainframe products such as bulldozer series, road machinery series, concrete machinery series, loader series, and excavator series, as well as supporting parts for construction machinery such as chassis parts, transmission parts, and structural parts. At present, the annual production capacity reaches 10, 000 bulldozers, 6, 000 road machinery, 500 concrete mixing stations, 150, 000 track assemblies, 1 million "four wheels" of construction machinery, 80, 000 sets of torque converters, and 20, 000 sets. Set of gearboxes. The bulldozer has ranked No. 1 in global production and sales for 16 consecutive years. It is a top 50 global construction machinery manufacturer and a top 500 Chinese manufacturing company.

Shantui has a sound sales system and a complete marketing service network, and its products are exported to more than 160 countries and regions overseas. There are 27 offices, 53 agents and 320 marketing outlets throughout the country. More than 100 agents and distributors have been developed overseas, and more than ten overseas branches have been established in South Africa, the United Arab Emirates, Russia, Brazil, and the United States. In terms of service model, Shantui Co., Ltd. Aims to "build an enterprise that pays most attention to the individual needs of customers and services, " and provides customers with integrated construction solutions. Humanized and intelligent high-quality services have won customers′ reputation and improved The company′s brand value.

In recent years, Shantui insists on promoting sustainable development with technological innovation, is committed to the research of remote control, intelligent networking, high-horsepower products, etc., and leads the industry. In 2019, the world′s first 5G remote-controlled high-power bulldozer was commercialized, and the level of 5G technology application and intelligent manufacturing was further improved. The country′s largest horsepower bulldozer was successfully delivered to customers, filling the technical gap of domestic high-power bulldozers and localizing the high-power bulldozers. Foundation. At the same time, digital transformation has achieved staged results. Smart factories built through 5G networks are becoming more mature, and intelligently designed intelligent production lines and assembly and testing equipment are put into production.

In the future, Shantui will create top-ranking international brand of constuction machinery, become a leader in new energy and intelligent equipment, and a construction machinery manufacturer with core technologies.