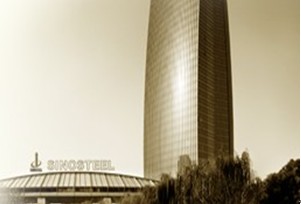 Sinosteel Corporation abbreviated as Sinosteel is a central enterprise under the administration of the State-Owned Assets Supervision and Administration Commission. There are 86 subsidiaries under the administration of Sinosteel, among which 63 are in China and 23 abroad. In 2009, the core businesses revenue of Sinosteel reached RMB 164 billion, ranking the 352nd of World Top 500 according to the 2010 Fortune's list.
Sinosteel is mainly engaged in developing and processing of metallurgical mineral resources, trading and logistics of metallurgical raw materials and products, and related engineering technical service and equipment manufacture. It is a large multi-national enterprise with clear-defined core businesses that integrate resources development, trade & logistics, engineering project and science & technology, equipment manufacturing and specialized service, providing comprehensive auxiliary service for steel industry, especially steel mills.
Sinosteel is one of the state-owned enterprises that first 'Go Global' pursuing economic and technological cooperation, Sinosteel has been long striving for the exploration and application of the global distribution of metallurgical mineral resources. As early as in the 1980s, having actively responded to the national call of 'utilizing two kinds of resources and facing two markets', Sinosteel stepped further to develop overseas resources, in terms of iron ore, chrome ore, manganese ore, nickel ore and uranium ore, and has established safe, stable and reliable resource supplying system.
Sinosteel possesses global-running sales network and logistics service system. It is the raw material supplier and sales-agent for major Chinese steel mills, many of which Sinosteel has entered into long-term strategic partnership. Its trading transactions in iron ore, chrome ore, DRI, fluorspar, coke, manganese ore, scrap, steel products, manganese and rare earth are in the leading position in China, which generate important influence in steel industry.
The scientific & technological companies under Sinosteel have solid research foundation and strength in the fields of geological exploration, beneficiation, heat engineering, environmental protection, refractory materials, metal products and engineering design, etc. Boasting several stand-alone intellectual property rights, they accommodate 10 state-level research centers and are qualified to carry out master and doctor education. As a result of industrialization of research findings, dozens of production lines have been established with products prevailing in domestic and international markets.
Sinosteel is qualified to undertake project engineering & purchase, construction and auxiliary supply. As the agent for many Chinese and international equipment & technology suppliers, Sinosteel provides financing and bidding services for big Chinese steel mills on technique modification and project import. Sinosteel consultancy is the only metallurgical company in China that is given exclusive investment evaluation entrusted by National Development and Reform Commission.
Sinosteel vigorously establishes internationally competitive heavy metallurgical machinery manufacture base that integrates heavy machinery research and development, core products manufacture and general and sub-project bidding, and the largest domestic manufacturing and researching & developing bases in refractory, carbon, ferroalloy with the highest comprehensive strengths. Via improving the supporting role of its industrial enterprises, Sinosteel unceasingly promotes capabilities at providing comprehensive auxiliary services to steel industry, especially steel mills.
After dozens of years of development, Sinosteel has accumulated strong driving force. Looking into perspective, Sinosteel will fully exert its advantages. The commitment will remain that Sinosteel endeavors to establish a large group enterprise that highlights major specialized operations on the global interface supported by our tech-research dynamics and extensive sales network. With all these missions bearing in mind, Sinosteel strives for a leading company of the circle, highly innovative and well managed, with clear-defined core businesses and efficient global-running system.