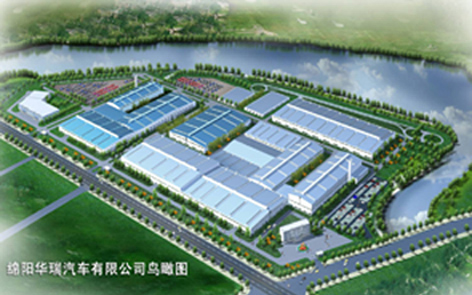 Mianyang Huarui Automotive Co., Ltd. (hereinafter referred to as Huarui Auto) was established in December, 2004, which is the wholly-owned subsidiary of Brilliance Auto.
Huarui Auto is located in the high-tech district of Mianyang City, Sichuan Province, which is China Science and Technology City. With an area of 800,000 square meters, Huarui Auto sets independent research and development, production, sale & export as a whole, has four main production lines (Stamping, Welding, Painting, Assembly), and is specialized in manufacturing and selling Jinbei SUV, Pick-up and Mini-truck. Products have been exported to Egypt, Algeria, Nigeria, Morocco, Syria, Uruguay, Peru, Thailand, Viet Nam, Indonesia, Botswana, Iran, Iraq, South Africa and other countries.
Except co-brand BMW, Brilliance Group has created two independent brands—ZHONGHUA and JINBEI, which makes it the leader of independent auto brands in China. South Base of Brilliance Auto includes Mianyang Huarui Automotive Co., Ltd, Mianyang Xinchen Engine Co., Ltd, Brilliance Industrial Park of Auto and Engine Parts.