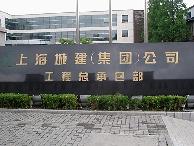 Shanghai Urban Construction (Group) Corporation, established in October 1996 with the approval of Shanghai Municipal Party Committee and the Government, is a comprehensive enterprise particularly supported by the Ministry of Construction and Shanghai Municipal Government. It is authorized by Shanghai State-owned Asset Management Committee to manage the state-owned assets within the Group.
Shanghai Urban Construction (Group) Corporation has the special-class qualification for municipal public works, the first-class general contracting qualifications for highway construction, housing, etc.. Among its subsidiaries are 1 special-class and 9 first-class general contracting construction enterprises and 5 A-grade design institutes. This is a large-scale enterprise group with general contracting of construction projects as its chief business, real estate development and management as its important support, integrated with various engineering design, construction, management and materials supply.
The Group Corporation and its subsidiaries are the main force in municipal construction in Shanghai and constructed and partly constructed during last decade more than 150 key projects in Shanghai including elevated roads (Inner Ring Elevated Road, Outer Ring Elevated Road, South-North Elevated Road, Yan'an Elevated Road, etc.), metro and track traffic projects, sewerage treatment projects, trans-river tunnel projects (Dapu Rd Tunnel, Yan'an Rd Tunnel, the Pedestrian Tunnel), expressway projects (Shanghai-Jiading Expressway, Shanghai-Nanjing Expressway, Shanghai-Hangzhou Expressway, Shanghai-Qingpu-Pingwang Expressway, Tongjiang-Sanya National Highway, Outer Ring Road), Hongqiao Airport, Pudong Airport, Nanpu Bridge, Yangpu Bridge and Xupu Bridge, the comprehensive reconstruction of the Bund and the People's Square, etc., and is now undertaking construction of the largest immersed tunnel in Asia and the first two-storied tunnel in China --- Fuxing Rd Tunnel. Also they have built houses with a total floor space of more than 6 millions square meters. In these years the Group has actively participated in construction outside Shanghai, including Xiamen Airport, Baiyun Airport in Guangzhou, Changle Airport in Fuzhou, Hangzhou-Jinhua-Quzhou Expressway,
Zhapu-Jiaxing-Suzhou Expressway, Jiaozuo-Xingzhuang Expressway, Ningbo Beilun Port Power Plant, Changhong Tunnel, Shanxi Wanjiazhai Yellow River Water Intake Project, Chongqing Egongyan Bridge, Haikou Century Bridge, Harbin Sun Bridge, metro projects in Guangzhou, Shenzhen and Nanjing, etc., and has been contracting for projects in Singapore, Hongkong, Thailand and so on.
Adhering to the quality principle of "Constructing top projects, establishing the Group Brand and satisfying the customers", Shanghai Urban Construction (Group) Corporation engages three academicians from the Academy of Engineering of China and the Academy of Sciences of China as senior technical consultants, and sets up Shanghai Municipal Natural Gas Consultants' Office consisting of academicians and experts at home and abroad so that the Group may lay a good foundation for raising the Group's technology level and technical force and promoting development of the enterprise. In recent several years, the Group has won Luban Awards for 13 projects, Chinese Municipal Engineering Gold Cup Awards for 25 projects, Shanghai Municipal Engineering Gold Awards for 85 projects. The Group Corporation has also obtained the honorable titles of the State Excellent Enterprise, the Advanced Enterprise for Application of New Technology to Building Industry in China and so on. Together with 80 percent of its subsidiaries, the Group has already successfully obtained the Quality System Certification with ISO9000.