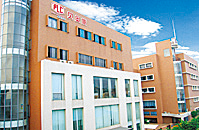 Welcome to us
Professional Group PLC was established in 1988, is the first professional production of automotive anti-theft alarm system manufacturers. Professional development and production of automotive anti-theft alarm, car reversing radar, car audio and video navigation, car central locking, HID xenon lamps and other automotive products, is a group, standardization, development, production and sales in one of the modern enterprise.
● Our advantages
With the domestic automotive electronics development and utilization of software programs, the company insist on the strategies of both technology and personnel to ensure high product quality and marketing of high stability.
Currently, the company has automotive software development, electronics research and development, design and development of more than 50 experts and senior engineers, more than 700 professional staff, the introduction of advanced production lines more than 30 articles, equipped with a comprehensive analysis of the world's top equipment HP8921A, YD2816 Broadband LCR Digital Bridge, XPD1251-ARF broadband Sweep, SMT production equipment, dual-band digital oscilloscope, Fm-Am signal generator (frequency 200KHZ-1100MHZ), sa-7270az, 7GHZ spectrum analyzer, multiple high-grade shielding Housing and environmental testing, high and low temperature test system, ICT detection system. High-tech talent, advanced equipment and first-class enterprise management forging the best quality of products, the company passed the ISO/TS16949, ISO9001, FCC, CE, CCC, such as system certification.
● Main products:
LCD alarm system, alarm combo system, window lift electronic system, reversing radar system, central locking system, remote central locking system, anti-theft chip sensor system, car audio navigation system, HID Xenon lighting A total of nine series of the system hundreds of products. Companies adhering to the classic products, honor, and aesthetic principles; adhere to people-oriented, good faith, the concept of ergonomics. Products with its noble appearance, excellent performance, quality of service by domestic and foreign customers. Firmly occupy the domestic market at all levels, are exported to Europe, the Middle East, Southeast Asia, dozens of countries and regions. And for a long time Honda, Isuzu, pickups and many other well-known automobile companies supporting the production of security products.
The company attaches great importance to the production skills of staff, quality management, concept awareness, team building and corporate culture of training, so that every employee to go beyond self-love, love level, multi-skill, the courage to sacrifice.
TWelcome to Wikipedia, sincere Zhiyuan. PLC technology-oriented to serve the global human responsibility, professional scientific and technological innovation allows you to enjoy life!