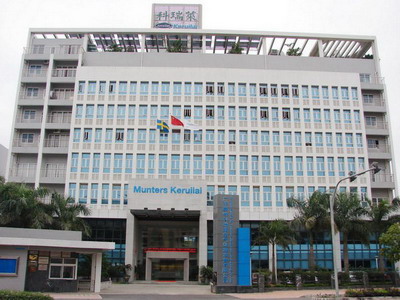 Established in December 2011, Munters Keruilai Air Treatment Equipment (Guangdong) Co.,Ltd. is a Chinese-foreign joint venture limited liability company, which was invested mutually by a Swedish company Munters AB and a local company Dongguan Keda Electrical & Mechanical Equipments Co., Ltd.
Being a global leader in energy-efficient solutions for air treatment, Munters is well expertized in technologies for humidity and climate control technologies. While Keda is a leader in evaporative cooling industry of China market with strong sales network. The cooperation of both parties will definitely bring infinite business opportunities for further development of the joint venture.
With a total area of around 60,000 square meters, Munters Keruilai has a headquarter located in Wanjiang area of Dongguan, and another two branch plants in Wang Niudun town and Chashan town separately. Our business focus in Spot Climate Control area, providing range of products for the ideal temperature and humidity control, as well as solutions for various applications. Our trusted quality brands include Munters, Keruilai.
Munters Keruilai will keep pace with the current trend, and based on high starting point of strategic development. With advanced core technology, modernized management system, professional manufacturing & RD equipment and outstanding talent, we will continue to provide more comprehensive energy-efficient solutions for the customers around the world.
www.spotclimatecontrol.com
www.munters.com