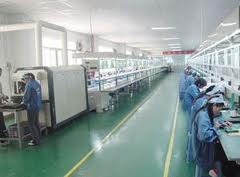 Sheng Tianlong Shenzhen City audio-visual technology company limited, was founded in 2003 June, is located in Shenzhen City, Baoan city subway next to the mouth, is a company specializing in digital audio-visual product development, production, sales as one of the private high-tech enterprises. The company has invested nearly 30000000 yuan of independent Arts crafts emporium, has the international first-class production equipment, clean production workshop and modern office. By virtue of the consistent product quality strict requirements, the company in 2004 with outstanding quality control system and achieved ISO9001 quality system certificate of conformity.
Sheng Tianlong, after years of development and growth, has been formed from the mold manufacturing, speaker manufacturing, plastic molding, SMT mountable, machine assembly for one-stop international advanced production line of production; from manufacturing to create, the company continued R & D efforts, from product design to product function R & D, the company has formed a team with leading international horizon product design and R & D team. In 2007, with more exclusive invention " lifting system " access to national technical invention patent. So far, already in 32 countries and regions, access to a number of product function and the appearance of patent. In the United States Apple international brand iPod/iPhone peripheral products market and the rapid development of today, Sheng Tianlong, by virtue of its excellent condition, obtained the United States Apple Corp awarded the Made for Ipod and Works With iPhone certification.
Sheng Tianlong has its own brand of " Semitic samesay " digital audio system, products include personal audio, home audio about two series of more than 40 products, all products have passed international safety and environmental certification, and exported to Europe and the United States, Japan, Southeast Asia and other countries ( including the United States, Germany, Japan and other developed countries ), and the SONY, ROHM, SAMSUNG, SUNPULS and other well-known enterprises to establish a long-term friendly partnership in supply chain. In the customers have established a wide range of professional visual brand image.
The next ten years Sheng Tianlong will continue to construct and the integration of design, quality, marketing and consumer experience as one of the " samesay " Semitic " system, the Semitic samesay" into the most creative international brand.
Corporate vision: to become your music partner
Enterprise mission: for consumers to create happy to create opportunities for staff, creating benefits for the enterprise social responsibility
Enterprise spirit: integrity, innovation, professional, energetic
Corporate values: the pursuit of quality, the pursuit of excellence.
·business strategy: quality is the customer is the sail. The market is the sea . Talent is the rudder