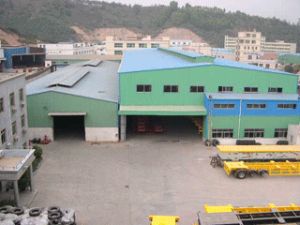 The good times for trailers Co., Ltd. of Shenzhen City, is a professional semi-trailer and special vehicle design, manufacture and sale of the National Development and Reform Commission of New automobile production enterprises. The company is located in Bao'an District, Shenzhen Mission Hills town sightseeing road next to the north of Dongguan, Longhua Town, south, close to "Meiguan", "Dongguan-Shenzhen", "Dragon" high-speed. Import and export of low transport costs, land and sea transportation is convenient.
The company covers an area of 100,000 square meters, plant and office buildings over 30,000 m2. Main production equipment over 80 sets of more than 300 employees, of which more than 30 engineers and technicians, more than 90 senior technical workers, the vast majority of employees in the semi-trailer and special vehicle for many years, with a wealth of experience .
My company already has an annual output of 3000 container semi-trailer and special purpose vehicle production capacity will be based on market demand for container transport semi-trailer, multi-species (dump trucks, vans, tank trucks, sanitation garbage truck engineering machinery vehicles, vehicle transporters, etc.) development assistance, and all aspects of expanding domestic and international markets.
Natural conditions, geographical conditions, and public facilities. In the face of new opportunities and challenges, the company will use advanced technology and equipment equipment, positioning of supporting suppliers of famous brand, as the quality policy of "full participation, continuous improvement, innovation, customer satisfaction, adhere to the ISO9001-2000 quality management system to provide customers with quality transportation equipment.
The good times staff will be professional and efficient innovation team to provide customers with the most satisfactory service for business purposes