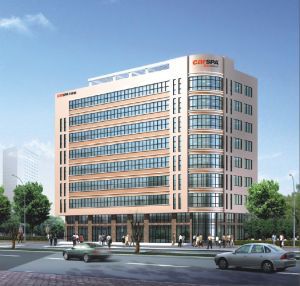 Caspar Zhejiang New Energy Limited ( CARSPA NEW ENERGY CO., LTD ), formerly known as Wenzhou Caspar Electronic Technology Co., Ltd., located in China's electrical appliances are New River Jia Industrial District, geographical conditions be richly endowed by nature, the company west of Wenzhou airport, adjacent to the Leqing Railway Station, the state-level scenic Yandang Shan Lu, near by 104 National Road line, the Yongtaiwen Expressway and motor car railway, water, land, air transportation is very convenient.
The company set industrial investment, import and export trade in one, specializing in the production of automotive power inverter, household power inverter, solar and wind power inverter, scenery complementary inverter, grid-connected inverter, battery charger, solar charger, controller, central power source CPS, UPS uninterruptible power supply, fire emergency power supply EPS, DC-DC, AC-DC power supply switching power supply series of high-tech power energy-saving products, the company has Shenzhen, Shanghai and Wenzhou three R & D base, Wenzhou and two production bases in Yueqing, has more than 20 domestic and international sales branches and offices, more than 300 employees, total assets amounts to 8000 yuan, the company covers an area of 41 acres, the total construction area of 12000 square meters.
The company products are exported to Europe, the company's annual output value rising year after year, 2011 has exceeded 5000 yuan, the company is the Chinese Solar Energy Association member units, is the " advanced enterprise ", " star enterprise ", " the contract and trustworthy enterprise " and other honorary title units, for many years been rated as China CITIC Bank credit AAA grade enterprise " ", is TUV international certification body ISO9001:2008 quality certification enterprises, products have passed CE, R&TTE, E-Mark, RoHs and many other international certification.
Company to rely on scientific and technological innovation, promote enterprise R & D, production and quality management ability. Establish a strict standardized modern enterprise management mode, the full implementation of ERP management, the use of advanced ATE equipment to achieve detection data automatic collection, statistics and analysis, reflect the quality distribution and trends, improve the quality of detection accuracy, enhanced the quality of prevention, control and management, for the production of high-quality products provide a solid and reliable safeguard.
The company guided by the market, continuously expand new energy industry, increasing new product research and development, laid the Zhejiang Caspar company solid professional development pattern, in order to better serve the emerging energy development made contribution. The company is constantly in the world to establish, perfect after sale technical service network, has been in the world major area and outlying areas set up branches and customer service technical service center, to provide users with comprehensive and timely technical service and sufficient spare parts support, praised by users.
The company stresses integrity, heavy brand, seeking truth and being pragmatic, with excellent quality and excellent service, in the inverter industry flower bloom, become an independent school, has been more and more recognized by the users trust. Face the challenge of economic globalization, Caspar look far ahead from a high plane, to brand the banner, it is motivation with science and technology, determined to develop new energy sources, adhere to the "internationalization, technology, industrialization of the" direction of development, creating a new energy a brilliant new career.