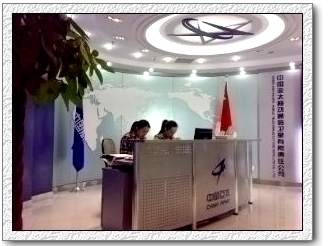 China Asia-Pacific Mobile Telecommunications Satellite Co., Ltd. ("China APMT") was founded on 27th March 1998, and is now a holding company of China Academy of Launch Vehicle Technology (CALT), which is attached to China Aerospace Science and Technology Corporation(CASC).
China APMT mainly provides the satellite application, electronic engineering and international business, especially developing the communication network system integration, international business and trade service, information communication electronic products. China APMT is a core and international cooperation window company of CALT in developing civilian industrial.
China APMT has an international and professional operation management and project management team which has rich international cooperation experience, strong system integration ability and operating service experience for many years. The product of Chian APMT includes satellite communication equipment, wireless communication equipmeng, information electrotronic products, satellite operation service, international bussiness service and trade agent service.
China APMT will inherit the spirit of aerospace, adhere to market as oriented, innovation as impetus, benefit as center, industrialization as ultimate aim. Utilize the advantages of overseas platform. Make great effort to expand international cooperation. Improve the company's core commpetitiveness and sustainable development capacity constantly. And finally become an international system integrator and business and trade servicer.