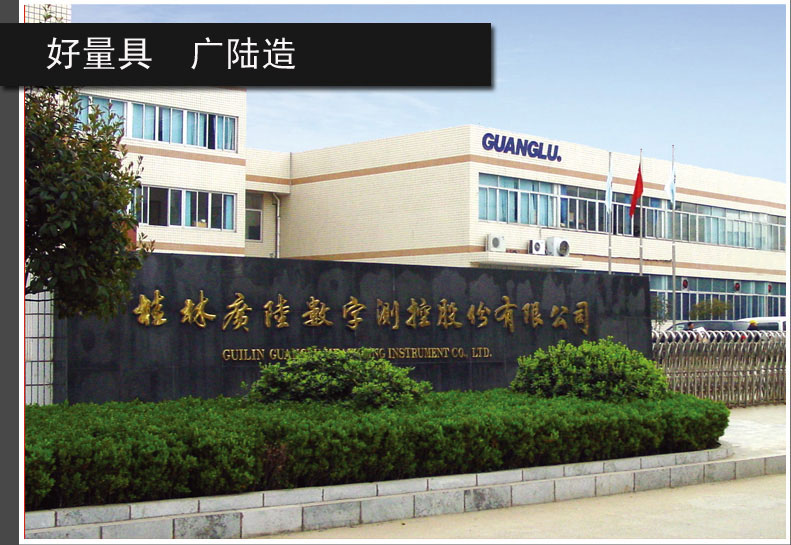 Guilin Guanglu Measuring Instrument Co. Ltd. is a high-tech enterprise in China with a registered capital of RMB42,430,000. Wuxi Guanglu Instrument & Meter Limited Company ,Wuxi Guanglu Measuring Instrument Co.,Ltd., Shanghai Guanglu Measuring & Controlling Technology Co. Ltd. and Shanghai Guanglu Company are subsidiary to Guilin Guanglu Measuring Instrument Co.,Ltd. The products Guanglu manufacture mainly come in four categories, including electronic digital caliper series ( for general and special), electronic digital micrometer series, electronic digital indicator series, tester series and other intelligent and digital precision instruments. The annual production capacity is up to 1,000,000 sets and over 80% products are exported to more than 30 countries and regions. The output accounts for over 50% in domestic market. The output, export volume and sales volume are rising by 30% for consecutive 10 years. All economic indexes rank first among the similar industries in China.
Guanglu series products won the First Award of Guangxi 2000 Sci-Tech Progress,
Among which the SXR-02 Capacitance Grid Digital Measuring Instrument was listed on listed on "the Export Catalogue of China High-tech Products (2003)" by the Ministry of National Science and Technology, the Ministry of Commerce, Custom Bureau, the Ministry of National Finance and the General Bureau of National Taxation.
Guanglu is a leading member of Digital Products Association of CMTBA (China Machine Tool & Tool Builders' Association) and the base of state electromechanical equipment export. It has been both ISO9001(2000) and Europe CE certified. Guanglu has independent right of import and export. It was awarded both AA Class Credit Unit by all Commercial Bank such as Bank of China, the Advanced Unit Title of Guangxi Economic Benefit and Grade A
enterprise with sound tax and financial reputation in 2003.
Guanglu carries out the strategy "Science and Technology Going First",owning many patents and technological achievements. It set up a Research & Development Center between Shanghai Guanglu Measuring & Controlling Technology Co. Ltd. and Shanghai Jiaotong University , in which there are many professionals, Doctor assistant and advanced engineers. Guanglu plans to develop 9 types of products covering about 100 new items and high-tec new products ranging over thousands of specifications during " the11th 5-year Project". Guanglu achieves the intellectual property as its core tec, ensuring the launch of high-value added products into market on end.
Guanglu introduces ERP managerial system, setting up advanced PC managerial platform and forming brand-new managerial pattern in production, supplying, sale and human resources.It continues to broad customers network, enhancing customers management, perfecting agency system. It set up "hanghai Guanglu Company " to reinforce and pierce into market in Delta; actively attend professional shows at home and broad to set up good corporal image and brand.
Guanglu emphasizes the corporal culture to form corporal competition. It works by the corporal motto "Good Sincerity and Technology Goes before anything". It regards 'Good Sincerity'as corporal brand and Innovation as corporal spirit to bring more cohesion and team-work to the company.
Guanglu will carry out two projects----- one is industrializing project for annual output of 600,000 pcs of IP67 High-Precision Electronic Digital Water-Proof Caliper; the other is extension project of annual output of 1,600,000 sets of capacitive sensor Electronic Digital Measuring Tool and Instrument. Guanglu is developing very fast; it'll realize economies of scale to create profit to customers and fortune to society.