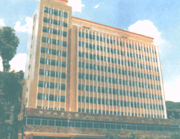 Guangxi Wuzhou Foreign Trade Co., Ltd. was established on the basis of Wuzhou professional import and export companies.

Wuzhou foreign trade has a long history, With Pearl Ristributing center in the east Guangxi. With a history of nearly 50years, the export volume of Wuzhuou Professional I/E companies of chemicals, textiles medicines and health, products arts and crafts metals and minerals etc...topped 100million US dollars in1987. ushering in the highest record in Wuzhou foreign trade. Wuzhou Professional I/E companies deal in nearly2000 kinds of commodities, covering native produce, cereals, oils and foodstuffs, light industrial products, arts and crafts, textiles. metals and minerals, chemicals, medicine and health products and machinery, etc. Wuzhou professional I/E companies have established business relationship with 120 countries and regions all over the world, owning a lot of old and new customers from Hong Kong, Macau and overseas.

In order to adapt China foreign trade enterprises to the reform and to meet the needs of international trade development, and also for better development of Wuzhou foreign trade, Wuzhou Professional I/E companies concentrated their superiority and registered Wuzhou Foreign Trade Co., Ltd. in February 2000. In April, the company got the import and export rights issued by Ministry of Foreign Trade and Economic Co-operation. Owing to abundant funds, rich supply of goods, clear about rights and responsibilities and scientific management, the company's business is becoming more ands more flourishing. The company abides by the principle of "paying close attention to the contracts, keeping one's promise, regarding the customers as the highest and putting service in the first place/" On the basis of equality and mutual benefit, the company makes vigorous efforts to develop foreign trade and undertakes the business of Sino-joint venture, compensation trade, compensation trade, processing and assembling with materials supplied by customers, cooperation in forms of joint venture of cooperative venture.

We warmly welcome all customers in the world over to approach us for discussion of business and commercial cooperation.