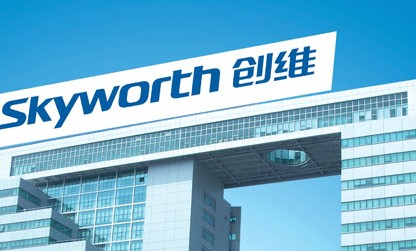 Skyworth was established in 1988, with the head office located within Shenzhen High Tech Industrial Park that's honored as the "China's silicon valley", having more than 20 thousand employees. Based in China and facing the world, Skyworth is a large-scale high-tech corporation mainly engaged in the development and manufacturing of consumption electronics, display devices, digital set top box, security monitors, network communication, semi-conductors, fridges and washing machines, 3C digital, LED lighting, listed on the main board of HK in 2000 (HK00751). After a development of 24 years, Skyworth has grown to be one of the top ten color TV brands in the world and a top brand in China's display industry and was ranked 14th among the top 100 electronics China. In 2011, the brand value of Skyworth has reached 28.169 billion RMB.
Skyworth has adhered to the strategy of "making the core industries strong and relevant industries big", with HK Skyworth Digital Holding Co., Ltd. as the leader, under which dozens of industrial companies like Shenzhen Skyworth-RGB Electronics Company, Overseas Development Company, Digital Technology Company, Qunxin Anfang Scientific Company, Liquid Crystal Device Company. It owns three logistics centers in Chengdu, Nanjing and Yichun; five production bases in Guangdong, Inner Mongolia, Jiangxi and Jiangsu, etc; seven scientific research institutions in America, HK, Shenzhen, Beijing, Guangzhou and Nanjing, etc. It takes the first place in six aspects including the domestic market share of color TV, digital set top box and security monitor, the market share of LCD, the sustainable profitability in the color TV industry and the annual number of invention patents. After years of layout and development, an internationalized operation mode has gradually come into being and marketing and service branch agencies cover the whole world. It has set up 42 branch companies, 200 offices in China, having over 20 thousand clients who have signed contacts with Skyworth. And a meticulous distribution and a perfect service system have permeated into the market in the level of county and town.
Skyworth is based on quality, advocating "thorough productism", adhered to the development philosophy of technical innovation, having lead and pushed the industrial transformation and upgrade in the field of color TV, the core industry and made independent development in the 3rd generation of display technology OLED to renew the history of color TV, all of which has solidified the status of Skyworth as a leading brand in the industry. Skyworth has kept expanding business with an international view. Products such as color TV and digital set top box have been exported to countries and regions like the European Union, the US, Japan, Russia, Southeastern Asia, South America and Middle East.
Skyworth Digital Tech. Company is the largest enterprise of set top box in China, with an annual sales volume over 10 million sets, ranked top in domestic business and fifth in global business. Skyworth Software Co., Ltd. under it is a key software enterprise in the layout plan of China.
The relevant industries like Qunxin security monitors, liquid crystal devices, LED chips, LED capsulation, semi-conductor, automobile electronics, precision molds, fridges and tablet PC have also entered a period of fast development, to be big and strong gradually. They become the core competitiveness of the group together with the business of color TV.
Skyworth has introduced the core value of "integrity and win-win" and "growth value", recruited and cultivated various excellent talents; the development of various industries has provided the talents with a broad stage.
Skyworth is brave to hold the social responsibility and keeps sending care to the society. For the past years, it has donated a total of 120 million RMB to the society and thus won the honor of Shenzhen Top 10 "loving enterprises".
Looking into the new decade of 21st century, Skyworth has made a strategic plan to achieve operational revenue of 50 billion RMB in five years and 100 billion RMB in ten years and to build an in-depth industrial chain of digital consumption electronics. It aims to provide customers with complete solutions of digital life and bring Skyworth's video and audio products into common households to let people of different countries and groups to enjoy the fun and joy of digital audio-and-video life, dedicated to becoming a "Globally Leading Group of Consumption Electronics"!