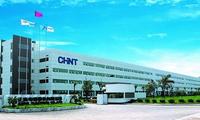 Founded in July 1984, CHINT Group Corporation is composed of seven specialized companies. Its sales network expands from over 2,000 domestic sales centers to over 40 overseas distributors. Moreover, its product line covers Low-voltage electrical products, power transmission & distribution products, instruments & meters, electric products for building & construction, industry automation products and solar energy products, all of which are popular in more than 70 countries around the world. CHINT is the Top10 among Chinese private-owned enterprises 500. And "CHINT" brand is recognized as "Top Chinese Brand".
Zhejiang CHINT Electrics Co. Ltd.;, the core enterprise of CHINT GROUP Corporation, owns 6 professional product manufacturing factories, 6 holding companies and parts manufacturing departments like mould manufacturing department, plastic components manufacturing department, metal components manufacturing department, etc. As a company of the largest production and sales turnover in Chinese low-voltage electric industry, Zhejiang CHINT Electrics Co. Ltd.; mainly engages in the R&D, manufacturing and sales of over 120 series of low-voltage products with over 1,000 specifications, such as modular din-rail products, moulded case circuit breaker, control products, power relays, inverters, soft starters, transformers, automatic voltage regulators, capacitors, switch disconnectors, etc.
CHINT Power Transmission & Distribution Co. Ltd;, one of the holding companies of CHINT Group, is located in Songjiang, Shanghai, as the largest global power transmission & distribution facility manufacturing base. It engages in the manufacturing and sales of power transformers, distribution transformers, HV surge arrestors, transformers, insulators, MV&LV switchgears, prefabricated substations, etc. Moreover, it carries out electric power projects. Its products are applied in important domestic projects, such as Chinese State Grid, the Grid South, West-East Electricity Transmission Project, West-East Gas Transmission Project, the Three Gorges Project, the Beijing-Tibet Railway Project, China Central Television, China Capital International Airport, etc. Also, its products are introduced to overseas projects of over 30 countries, like Russia, Japan, Italy, Australia, India, Vietnam, Congo, Nigeria, Columbia, etc.
CHINT Solar Energy Company, founded in October 2006, is a leading global photovoltaic manufacturer. It engages in the manufacturing and sales of thin film PV, crystalline silicon, thin film solar cells, modules, etc. Its thin film has achieved >9% conversion efficiency, while its crystalline silicon achieves 17% conversion efficiency. Through continuous innovation, the annual production capacity of CIHNT Solar Energy is expected to reach 240MVV by 2010, will be among the first photovoltaic producers in the world, as well as to reduce module cost in US$1 / Wp.
CHINT is one of the first companies that gained ISO9001, Quality System Certificate, ISO14001 Environmental Management System Certificate, OHSAS18001 Occupation Health and Safety Assessment Series. Also, CHINT gains CCC, Chinese compulsory certificate, CB, UL Certificate of USA, FI Certificate of Finland, CEBEC certificate of Belgium, KEMA Certificate of the Netherlands, VDE of German, etc. Owning over 380 items of patent, CHINT takes part in the drawing and reversing work of over 30 items of industry standard.
Besides self-developing, CHINT contributes to the society. Up to now, CHINT has contributed over 100 million RMB to the social welfare work.CHINT win several important awards, such as the" National Quality Management Award, "National Outstanding private-owned High-Tech Enterprise" ," Top 10 of most Competitive Enterprise in Chinese Machinery Industry" "Top 10 Leading private-owned Enterprise in Innovation" "The Advanced private-owned Enterprise in Employment and Social Security", etc.
Mr. Cunhui Nan, the founder and board chairman of CHINT Group Corporation is awarded several titles, such as National Top10 Outstanding Youth, the World's Outstanding Young Entrepreneurs, Innovative Chinese Young Entrepreneurs in management. And he is also be elected as vice chairman of USA-China Entrepreneur Association, vice chairman of China Electrical Equipment Industry Association, vice chairman of China Association for Quality, vice chairman of Chinese young entrepreneurs Association, vice director of the committee of National Accreditation Board for Certificates, Chairman of the China Federation of Industrial Economy and a committee member of National Federation of Industry and commerce.
Facing the challenges of economic globalization, CHINT adheres to the developing strategy of "internationalization, technologization, industrialization", to establish the international advanced low-voltage electrical products manufacturing base.