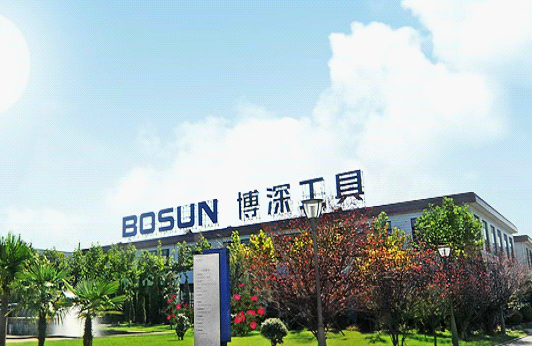 BOSUN Tools Co., Ltd., is a National Hi-tech Enterprise specialized in researching and manufacturing of diamond tools, power tools and TCT tools, situated in Shijiazhuang State Hi-tech Zone with total area of more than 110,000 square meter. BOSUN has two subsidiaries in USA and Singapore respectively and has an Office in Europe. BOSUN's sales network covers every city of China mainland and more than 30 countries in the world. The "BOSUN" brand was authorized as Well-known Trademark of China by the State Administration for Industry & Commerce。August 21, 2009, BOSUN was successful listing, becoming the first private enterprises that landing A-share market.
BOSUN Company is fully exploiting the domestic and foreign market, and establishes a solid, perfect marketing network. BOSUN has strong technical strength, product innovation and cultivates a comprehensive high-quality and experienced technical support and sales service team to achieve cooperation balanced growth all world. At home, BOSUN company's marketing network covers 30 provinces, municipalities and autonomous regions more than 200 cities, with more than 300 dealers to establish a long-term stable cooperative relations, the market share among the domestic counterparts for many years the first place. In overseas, BOSUN company marketing network has covered 30 states of the United States, becoming the North American market is very influential diamond tool suppliers; i more than 20 European countries have developed a stable of more than 50 loyal customers for example the Germany. sales volume was rapidly growth trends; in the Southeast Asian market, BOSUN company insisted to promote their own brands, "BOSUN" diamond tools market in Southeast Asia has become a well-known brands.
BOSUN Company is a key high-tech enterprise of National Torch Plan, China's export of electromechanical products to support enterprises. Have been named as " China Top 500 Trademark of science and technology", "2007 top 100 Chinese Enterprises of growth", "2008 China Most Growing Potential Private Enterprises", "2009 Forbes Chinese Potential Enterprises ", "Top 10 private enterprises of science and technology in Hebei Province "," Top 10 enterprises of invention and creation in Hebei Province"," BOSUN "trademark by the State Administration for Industry and Commerce is identified as" China Well-known Trademark". BOSUN Company is deputy director of All-China Industrial &Commercial Union Hardware Machinery Association, and is member of Hebei Business Association Hardware Mechanical & Electric Chamber.
"Develop the Fortune, sharing the world" is corporate values. BOSUN Company is seeking the same community, employees and customers to progress, mutual win-win situation, science and technology to create wealth, using the wealth back to society.BOSUN Company has been donated for the construction of poverty-stricken areas of the six Hope primary schools, in universities set up a "BOSUN Scholarship", donated money and goods to the disaster areas, in the community donated the building of BOSUN Park.
In the past, BOSUN through the meticulous care entrepreneurs and nurturing, growth, BOSUN diamond tool industry enterprises; In the future, it is taken off to towards the international goal of well-known tool manufacturers with financial capital of sailing and deep faith in the invincibility.